It was a relatively quiet weekend in college basketball in terms of marquee matchups, but as things tend to go in this sport in February, there was plenty of craziness. Three top 15 teams lost to unranked opponents, and another lost to the No. 25 team in the country. There are now just 27 days until Selection Sunday, adding to the importance of every game. Here are the six biggest takeaways from the college basketball weekend:
1) The selection committee's early top 16 release was a good thing for the sport
For the first time ever, the NCAA Tournament selection committee released an early snapshot of their top 16 overall seeds on Saturday. Some thought the exercise was pointless given the fact that a few of those teams lost later that day, but it's actually a really good thing for the sport. Along with creating topics of conversation that will keep college basketball in the spotlight, it also gave both teams and fans insight as to where teams stand at this point in the season and what the committee is valuing this year. Transparency is always a good thing.
2) St. Mary's is vastly overrated & Gonzaga will go into the NCAA Tournament undefeated
The game of the year in the West Coast Conference, and the marquee game of the weekend, was anything but. This figured to be the last good chance of undefeated Gonzaga losing a regular season game, and they controlled St. Mary's throughout the entirety of their 74-64 win. The game showed us two things - no one in the WCC can beat Gonzaga (meaning they'll go into the NCAA Tournament undefeated), and that St. Mary's is vastly overrated.
The Gaels were the No. 20 team in the country and a No. 6 seed in ESPN's bracketology coming into the game and I honestly have no idea why. They are 22-3, but Dayton is the only team they have beaten that is ranked in the top 76 in KenPom.com's rankings. St. Mary's has beaten the teams they are supposed to beat, but don't have any quality wins. They are well coached, but are very unathletic and really struggle to defend teams that are quicker than them. I fully expect them to lose in the first round of the NCAA Tournament.
3) Cincinnati is overrated, too
Much like the Gaels, No. 11 Cincinnati entered a Sunday showdown against SMU with a need for validation of their 22-2 record without a real signature win this season. Instead, their offense fell flat (as expected) against SMU in a 60-51 loss. Yes, the Bearcats did beat SMU earlier in the season at home, but this gave Cincy a chance to finally add a good road win to their resume - and they couldn't do it. Mick Cronin's squad goes through extremely long stretches were scoring is a major struggle, and no matter how good they are defensively, they aren't talented enough to overcome that.
4) Northwestern will make the NCAA Tournament for the first time in school history
Now, to one of the happy stories in college basketball. Northwestern is famously one of the handful of original Division I schools that have yet to make the NCAA Tournament, and are the only one from a Power 6 conference. They've been very good this year and held a solid No. 8 seed in ESPN's bracketology coming into the weekend, but had lost two straight games to Purdue and Illinois. Northwestern put a stop to that slide in the best way possible, picking up a 66-59 win at Wisconsin. That gives them the signature victory their resume had been lacking, solidifying them as a tournament team.
5) Will the best team in the ACC please stand up?
The ACC is the best conference in the country largely because of their depth, and while they have several very good teams at the top of the league, no has has emerged as the alpha. Duke beat UNC on Thursday, then only beat Clemson by two at home on Saturday. Florida State, who was in a tie for first with UNC, lost by 12 points at Notre Dame. Virginia, who could've moved into a tie for first place on Sunday, lost in double overtime at Virginia Tech. Louisville did get a five-point win over Miami on Saturday, but this came after a 16-point loss to UVA this past week. 
All of those teams are legitimate Final Four contenders, but none have been able to display consistent dominance in league play. This might be the type of year where three or four teams finished tied for the regular season title.
6) NC State might be the biggest trainwreck in the country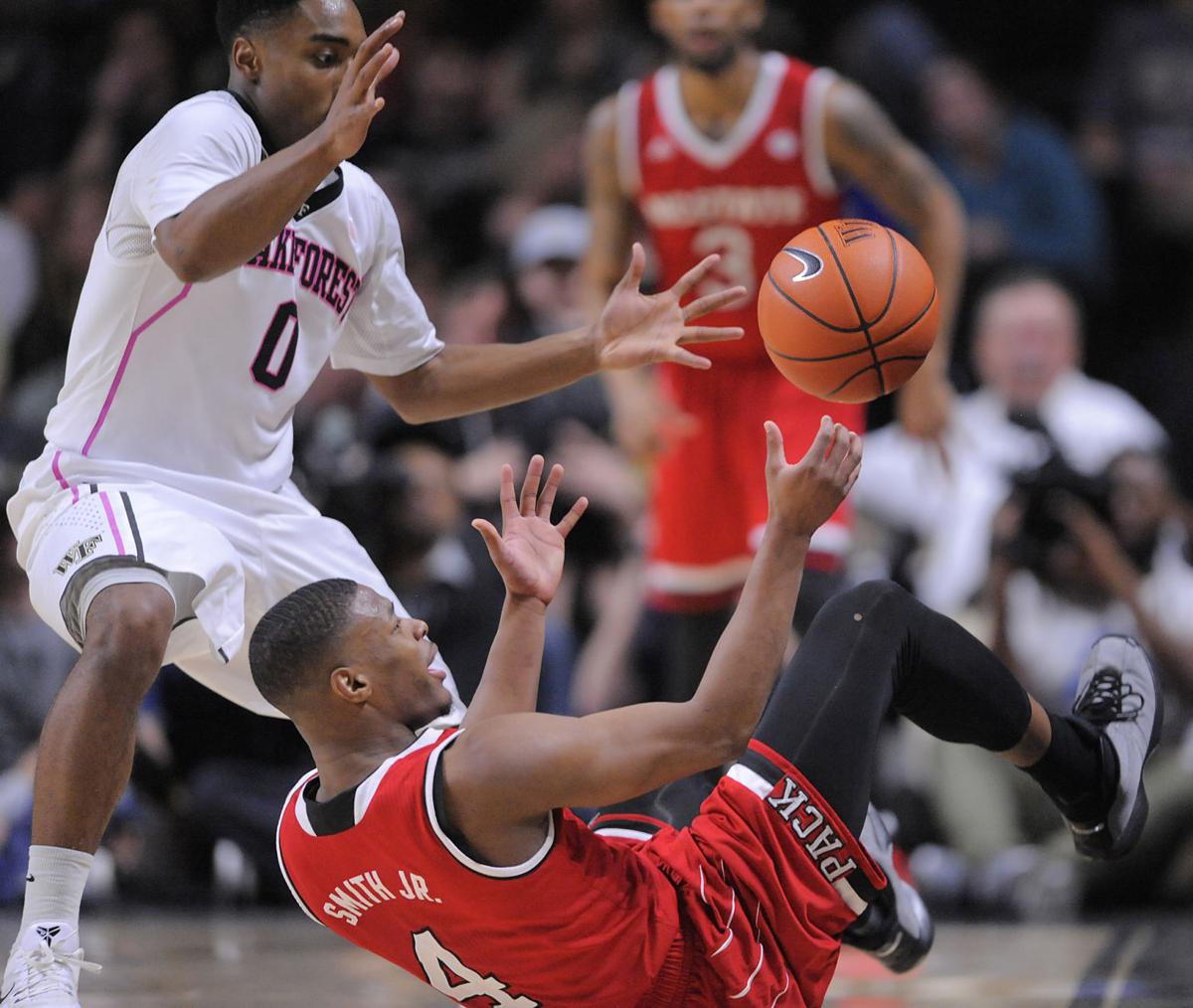 On the flip side in the ACC, we find NC State. Facing increased expectations this season due to the arrival of projected top 10 (maybe even top 5) pick Dennis Smith Jr. and fellow projected first round pick Omer Yurtseven, the Wolfpack have come up well short. They are just 14-12 this season and 3-10 in the ACC, but the season hit a new low on Saturday in their 88-58 loss to Wake Forest, made worse by actions of a few players.
Meanwhile, at NC State ... pic.twitter.com/4FAj3XaIxo

— Mike Rutherford (@CardChronicle) February 11, 2017
Smith defended his actions later saying he was asking out of the game due to fatigue, but many don't see it that way. Smith has been criticized for lackadaisical effort this season, and those at the game saw him asking out of the blowout loss as quitting on the team. As for BeeJay Anya, a fan favorite who has struggled with inconsistent playing time due to his weight, he has also often been criticized for failing to reach his potential, and he apparently reached his breaking point.
All of this signals that Mark Gottfried's time with the program should come to an end this year, allowing them to pursue someone like Dayton head coach and NC State alum Archie Miller. However, AD Debbie Yow has another year left on her contract before she retires, and it's no secret around their athletics department that she doesn't want to make any coaching changes during her final year (many believe this is why football coach Dave Doeren was fired).
Washington and head coach Lorenzo Romar have been the most heavily criticized team in the country for their 9-16 record despite having projected No. 1 pick Markelle Fultz on the roster and for forward Malik Dime slapping a member of the Colorado student section during a game, but NC State is seriously challenging them for being the biggest trainwreck in the country.
Back to the NCAA Newsfeed
Related Topics: St. Mary's Gaels Basketball, Gonzaga Bulldogs Basketball, ACC Basketball, NC State Wolfpack Basketball, NCAA Basketball, Northwestern Wildcats Basketball, Cincinnati Bearcats Basketball