After eight weeks of college football, some coaches seats are starting to get hot. For most of these coaches, the seat has gotten warmer, warmer and now are basically on fire. The five coaches below will need to turn their seasons around as soon as possible or else the heat will continue to get warmer. It starts this week and please come back next week to see if the same coaches made the list.
5.) Jim Mora - UCLA
 
With a win this past weekend, Mora helps keep his butt a little cooler. In the last two seasons at UCLA Mora has eight wins and 11 loses. The bad news for Mora and UCLA is the next four games will not be easy. Coming up for the Bruins is  @Washington, @Utah, Arizona State and @USC. Good luck there. Likely back to back losing seasons for Mora and the Bruins.
4.) Larry Fedora - North Carolina

So North Carolina is 1-7 this season which I don't know if anyone could have predicted. Sure losing Mitchell Trubisky can't help but to be this bad is surprising. Their only win is against Old Dominion. The Tar Heels haven't scored more than 17 points the last five weeks. Things may get really hot after this week against the Miami Hurricanes.
3.) Bret Bielema - Arkansas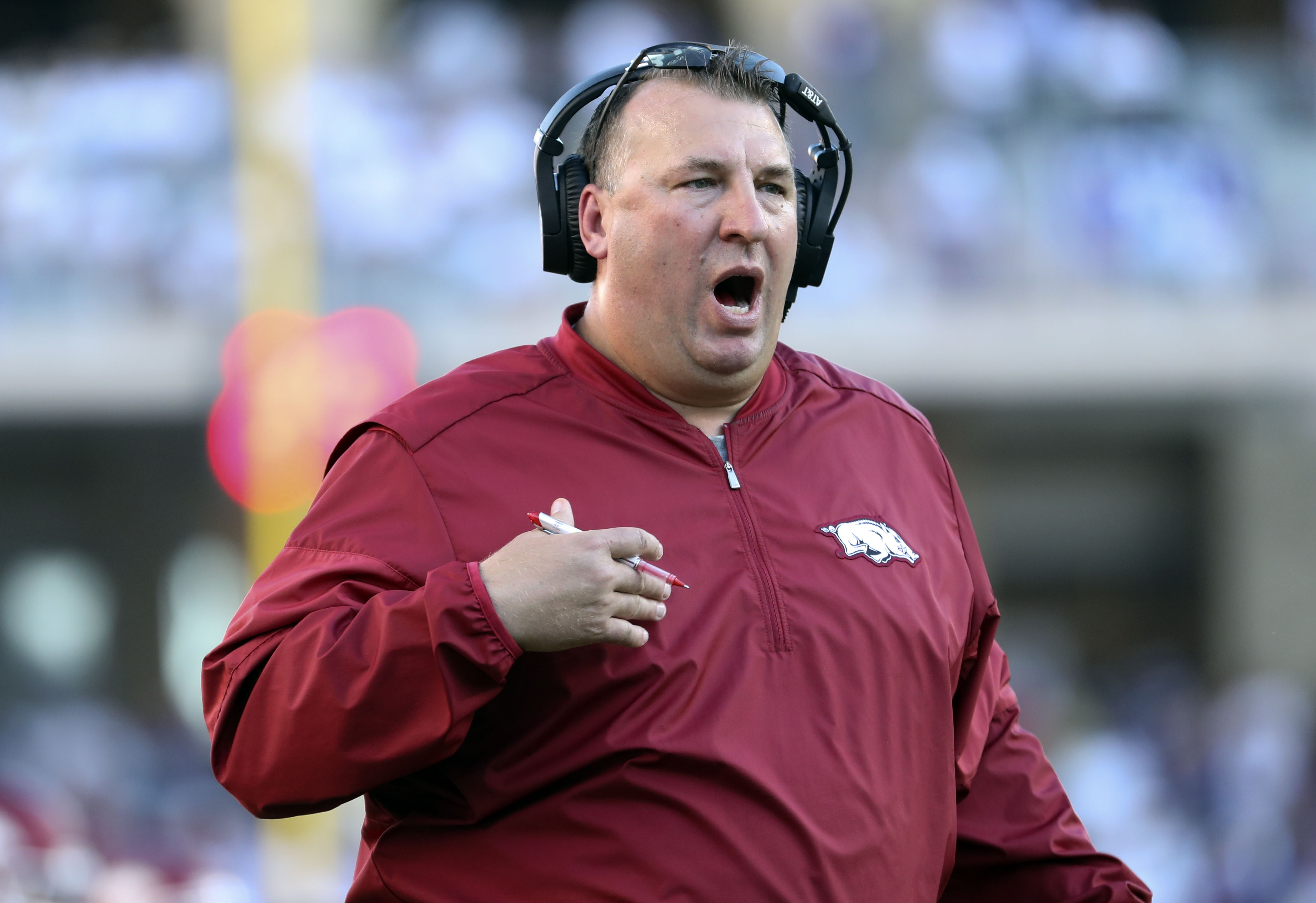 Three straight ugly losses and Bielema has the Arkansas fans going hog wild. Currently, they are 7th in the SEC West with an 0-4 record in the SEC. Getting paid $4.4 million and finishing last in the SEC is something that is simply not tolerable. Since joining Arkansas Bielema is 27-31.
Follow our NCAA page for all the latest college football news!
2.) Mike Riley - Nebraska

Two straight bad losses against two top teams in the Big Ten. Nebraska hasn't shown that they can compete for a Big Ten title. Having a combined 18-15 record at your time in Nebraska isn't going to get it done. Nebraska may be cleaning house soon after a bad start to the season and recent firing of their athletic director. Will Riley be the next?
1.) Butch Jones- Tennessee 

Three straight bad losses to SEC schools and overall winless in the SEC with an 0-4 record. They are a bottom feeder in the SEC division and when you are making $4.4 million that isn't a good return on your investment. Butch Jones needs to win against Kentucky this week or else the seat may just get too hot and he will be fired.
Check out our NCAA page for all the latest on College Football or download the Chat Sports App!
Mitchell Renz is the Senior Writer & On-Air Host at Chat Sports check out his article archive and live videos on Chat Sports Facebook page. Please follow him on Twitter @MitchellRenz365. 
Back to the NCAA Newsfeed
Related Topics: College Football Coaches, College Coaches On Hot Seat, Mike Riley, Larry Fedora, Tennessee Football News, Jim Mora, Butch Jones, Bret Bielema