The college basketball regular season is now over for everyone, and while most automatic NCAA Tournament bids will be clinched in the coming week, Jacksonville State (Ohio Valley), Winthrop (Big South), Wichita State (Missouri Valley) and Florida Gulf Coast (Atlantic Sun) have already punched their tickets to the big dance. Here are the five biggest things we learned from the weekend as we head into conference tournaments:
1) March is already in full effect
March does as March does, as the past weekend provided us with a series of crazy buzzer beaters. Enjoy!
Saint Francis' Keith Braxton just hit this absurd buzzer-beating 3-pointer to beat Wagner & advance to the NEC title game. #marchmadness pic.twitter.com/4xPDAVH0Jq

— Chat Sports (@ChatSports) March 4, 2017
Earlier…
Deshawn Freeman hit his sixth 3 of the year for Rutgers. It mattered!

(via @BigTenNetwork)https://t.co/bAKW345Z2m

— NCAA March Madness (@marchmadness) March 4, 2017
Melo Trimble! He hits the game-winning 3-pointer for Maryland with under a second left to beat Michigan State! pic.twitter.com/Ufies6MeII

— Chat Sports (@ChatSports) March 4, 2017
9 seed Youngstown State stuns 1 seed Oakland at the buzzer in the @HorizonLeague quarterfinals! (via @ESPNCBB) pic.twitter.com/oyZtgR2Yz0

— NCAA March Madness (@marchmadness) March 5, 2017
2) Illinois State is going to be a very interesting case for the NCAA Tournament selection committee
Illinois State split the Missouri Valley regular season title with Wichita State, and despite their 27-6 record, they are on the bubble after losing the conference championship game to the Shockers. Now, they'll be tough for the committee to judge. They are No. 36 in the RPI, but are 2-4 against RPI top 100 teams. Wichita State is the only team they've played that ranks in the top 75, and while they won their first matchup against them, the Redbirds have lost the last two by a combined 61 points.
On the court, Illinois State looks like an NCAA Tournament team. The Redbirds rank sixth in the country in points allowed per game (61.0) and are 14th in adjusted defensive efficiency, according to KenPom.com. They also didn't lose to a team in the Missouri Valley other than the Shockers, showing that they routinely beat the teams they should have beaten. Will they be penalized for succeeding against a weak schedule and get skipped over by a mediocre Power Six conference team, or will the committee use the eye test and put them in the tournament field?
3) Vanderbilt is NCAA Tournament bound
No at-large team has ever made the NCAA Tournament with 15 losses, yet that is exactly what Vanderbilt is trying to do (assuming they don't win the SEC Tournament). The Commodores were 9-11 after losing to Arkansas on Jan. 24, but closed the regular season winning eight of their last 11 games. They needed a big win on Saturday to really get over that hump and find the right side of the bubble, and they got it with a 73-71 victory over Florida.
Vanderbilt has a few things going in their favor - they have the nation's No. 3 strength of schedule, have five wins over teams ranked in the RPI top 30 and have just one bad loss (at Missouri). In a weak bubble year, that should be enough to get them in.
4) Joel Berry reasserted himself as UNC's most important player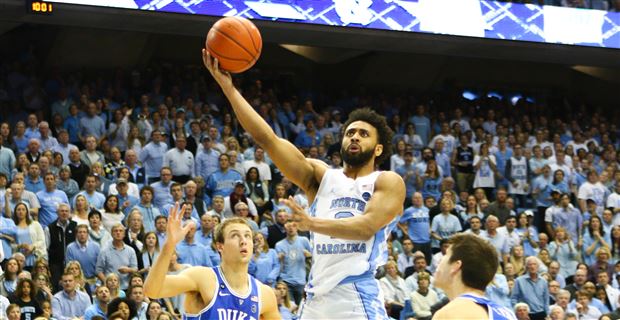 Justin Jackson was named ACC Player of the Year over the weekend, but it was point guard Joel Berry that reasserted himself as "the guy" against Duke. He took over that role at times last offseason, and after Marcus Paige and Brice Johnson graduated, he became the unquestioned on-floor leader for the Tar Heels at the start of this year. It stayed that way early in the season, but after he got hurt in December, Berry took a backseat as Jackson became the No. 1 offensive weapon.
Now, that role is trending back to Berry. Jackson struggled this week and Berry stepped up, dropping 28 points in a win Saturday against the Blue Devils. His three-point shooting and ability to create for others is something no one else on the roster has, and he showed why he's the key if North Carolina is going to make a long NCAA Tournament run. Their offense goes as he goes.
5) Lonzo Ball continues to make his case to be the No. 1 pick
Washington's Markelle Fultz has spent the entire season as the consensus No. 1 pick in the upcoming NBA Draft, but UCLA's Lonzo Ball continues to creep more and more into the conversation. Questions have risen about Fultz's leadership and lack of commitment, particularly on the defensive end, given Washington's MASSIVE struggles (9-21 record). Meanwhile, Ball continues to flash his all-around dominance, averaging 14.9 points, 7.8 rebounds, 6.2 assists and 2.0 steals per game. 
That came to a head on Saturday when he dished out 14 assists in UCLA's win over Washington State, controlling the game without dominating the ball. Given that he is also a proven winner, helping turn the Bruins from a 15-17 team last year to a 28-3 team this year, he is making this a legitimate race for the top pick.
Back to the NCAA Newsfeed
Related Topics: Missouri Valley Basketball, Illinois State Redbirds Basketball, SEC Basketball, ACC Basketball, UCLA Bruins Basketball, Vanderbilt Commodores Basketball, NCAA Basketball, Lonzo Ball, Joel Berry, 2017 NCAA Tournament, Pac-12 Basketball, North Carolina Tar Heels Basketball