We're finally down to the final days that separate us, the fans, from the beautiful game of College Football. In the 2015 offseason we've heard which teams are on the way up, which teams are on the way down, and the experts have told us who's going to climb, or remain, at the top at the end of the 2015 season. Here's how I see 2015 shaping up for each conference, and I'll even throw in my prediction for the second-ever College Football Playoff:
American Athletic Conference
My pick: Central Florida Golden Knights
George O'Leary's squad has seen success in the past three seasons, winning at least nine games in each season since 2012. The Golden Knights return both their leading passer and rusher from the 2014 with junior quarterback Justin Holman and junior running back William Stanback. They face two non-conference opponents in September, traveling to both Stanford and South Carolina in weeks two and four respectively. These two non-conference games will allow the Golden Knights to fine-tune any deficiencies that they might encounter at the beginning of the year. Too win the AAC, Central Florida will have to go through a tough Cincinnati Bearcats team on the road during the last weekend in October, then turn around and play East Carolina at home two weeks later on a Thursday night. 
Atlantic Coast Conference
My pick: Clemson Tigers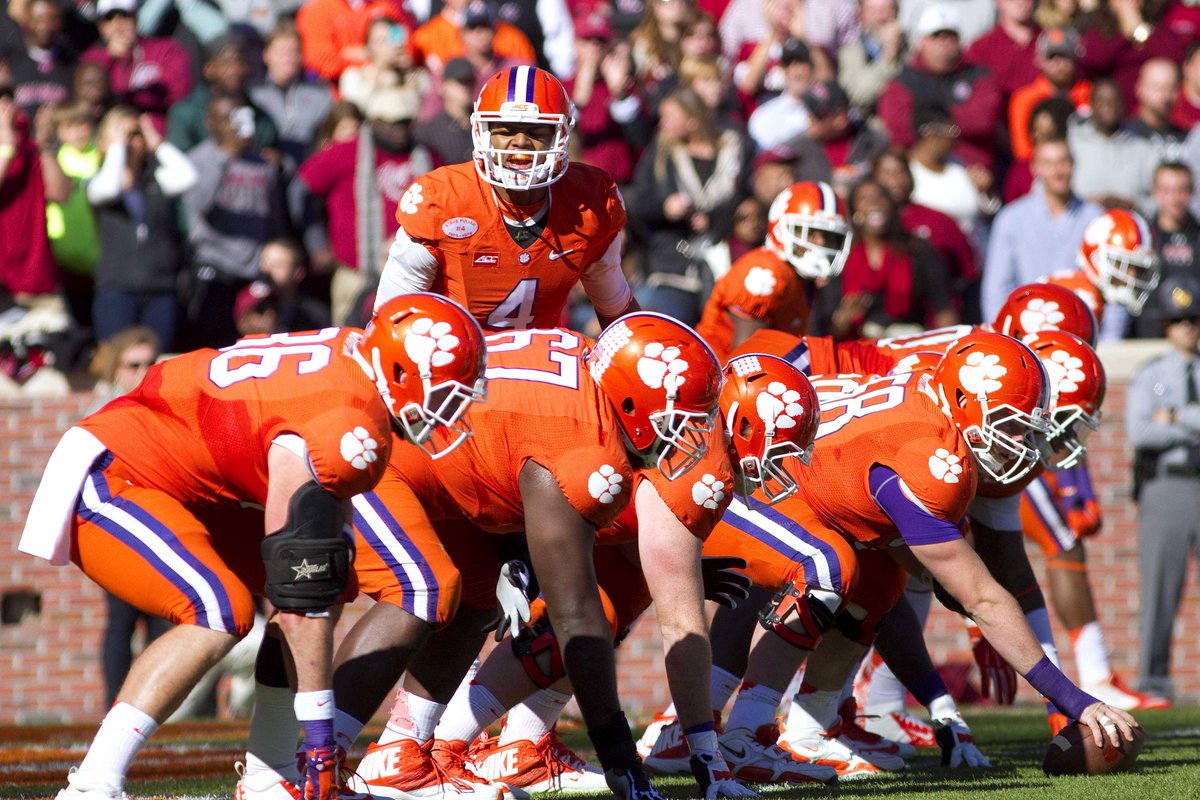 Sure the Tigers lost a lot on defense from last season, but they bring an explosive offense to a conference that will be somewhat down in 2015. Clemson will start the year with one of the best quarterbacks in the country with Deshaun Watson taking the reigns of the offense. The Tigers won't enter the 2015 season with any kind of quarterback controversy like that of 2014, and they won't have to face a guy named "Jameis" when they play Florida State on November 7. The last time the Seminoles took a trip to Death Valley, they manhandled the Tigers en route to the 2013 National Championship game. I think we'll see exactly what kind of potential this Clemson team has on the Thursday night of week three, when they have to travel to play the Louisville Cardinals, who are another team that has a shot in the wide-open Atlantic Division. Whoever comes out of the Atlantic Divison will take the conference.
Big 10 Conference
My pick: Ohio State
Urban Meyer has worked his magic (yet again) in Columbus, as they raised the tropy of the first-ever College Football Playoff in 2014. The Buckeyes bring back one of the best defenses in the country, and Ohio State presents one of the most intriguing quarterback situations in the entire country. J.T. Barrett and Cardale Jones both played "next man up" very well last season when Braxton Miller went down before their year even started. Coming into 2015, Miller has now moved to receiver, with Barrett and Jones battling for the starting position. The Buckeyes have their hardest non-conference test in week one in Blacksburg, Virginia when they take on Frank Beamer's Virginia Tech team. After that game, it's smooth sailing for Ohio State until they meet Michigan State and travel to arch-rival Michigan in the last two weeks of the season.
Big 12 Conference
My pick: TCU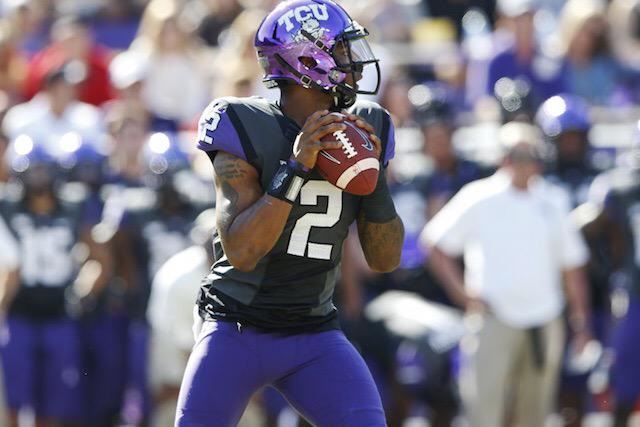 Baylor and TCU were both jumped by the playoff selection committee in 2014, allowing Ohio State to enter the playoff as the fourth seed. TCU returns senior quarterback Trevone Boykin, who three for almost 4,000 yards including 33 touchdowns in 2014. The Horned Frogs return 10 starters on offense, which will spring them to the top of the Big 12 Standings. If there's one knock on TCU, it's got to be the inexperience they face on defense. Gary Patterson's team only returns five starters on defense heading into 2015. The Horned Frogs have some tough road games, traveling to Kansas State, Oklahoma State and Oklahoma throughout their conference schedule.
Conference USA
My pick: Marshall
The Thundering Herd finished the 2014 season with outstanding 13-1 record, with their only loss being an insane score-fest with Western Kentucky. In that game against the Hilltoppers, the first half alone saw 91 points! The Hilltoppers were able to edge Marshall in overtime, beating them 67-66. Coming into 2015, Marshall replaces a four-year starter at quarterback with Rakeem Cato, bringing in junior Michael Birdsong. Birdsong is a transfer from James Madison University, where he was the starter last season that threw for over 3,200 yards. Birdson is a big quarterback, standing at 6-5 and over 240 pounds, and he'll be the catalyst that will aid Marshall with winning the conference championship for the second straight season.
Mid-American Conference
My pick: Toledo
Toledo missed the MAC Championship Game in 2014, despite their 7-1 conference record. Instead, Northern Illinois took their spot by edging the Rockets by three points in a meeting during the regular season to earn the tie-breaker. The Rockets have dropped just one conference game in three of the last five seasons, and Matt Campbell's team returns a lot of defensive experience from 2014. On defense, Toledo returns eight starters that will look to improve their numbers from an up-and-down 2014. The Rockets return a lot of experience at the quarterback position in 2015, as they endured four injuries to their starters last year. A healthier 2015 and more experience on defense will allow the Rockets to win the MAC and possibly go undefeated in conference play.
Mountain West Conference
My pick: Boise State
The Broncos won their first outright Mountain West title in 2014, losing just one conference game to the Air Force Falcons. Boise State cracked the top 25 at the end of the 2014 season for the first time since week one of the 2013 season, when they were hammered by Washigton. Bryan Harsin's team returns most of its depth in 2015, bringing back nine starters on offense and eight on defense. Boise State faces two tough conference road games in consecutive weeks against Colorado State and Utah State in the middle of their schedule. The Broncos will be able to pound the football down opposing defenses, as they're ready to show off the ample replacements for departed Jay Ajayi at running back.
PAC-12 Conference
My pick: Stanford
The PAC-12 is going to be a fun conference to watch this year. I picked Stanford because they bring back a lot of experience on offense, including senior quarterback Kevin Hogan. If the Cardinal can put something special together this season, Hogan could be a legitimate contender for the Heisman Trophy. Stanford will bounce back from an 8-5 2014, which was considered mediocre because David Shaw's team had won at least 11 games in each of his first three seasons as head coach. The Cardinal's toughest road game will be a week three showdown when they battle Cody Kessler and Southern Cal in the Coliseum.
Sun Belt Conference
My pick: Georgia Southern
The Eagles won the Sun Belt in 2014, which was their first official year in the conference. Georgia Southern always finds athletes to fill the roles of their brutal triple-option scheme, and the Eagles return their four top rushers from 2014 that includes two players that rushed for over 1,000 yards. Willie Fritz's team also returns eight starters on defense, and there's a good possibility that he will repeat as the Sun Belt Coach of the Year. This team was extremely close to knocking off Georgia Tech last season, and Georgia Tech finished 2014 by defeating Mississippi State in the Orange Bowl. Their matchup with West Virginia in week one will be a very interesting one.
Southeastern Conference
My pick: Auburn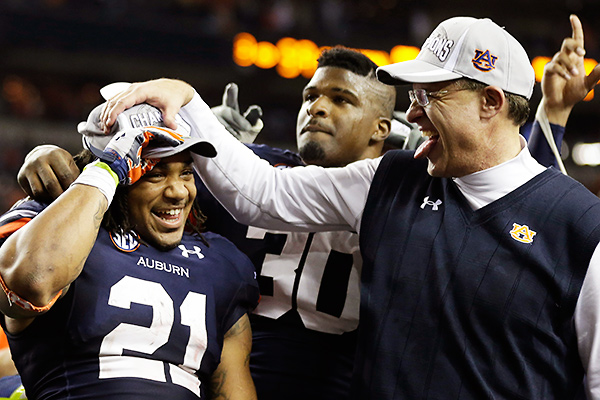 While the Tigers have to replace last year's starting quarterback Nick Marshall, 2015's starting quarterback, Jeremy Johnson, has drawn a ton of comparisons to Heisman Trophy winner Cam Newton. Auburn also hired ex-Florida head coach Will Muschamp to be their defensive coordinator and give him a lot of experience on that side of the ball with eight returning starters. Both the SEC West and the SEC East show a lot of intrigue going into the 2015 season, and I think Guz Malzahn's Tigers will be the team to beat in 2015.
Playoff Picks
Cotton Bowl
My pick: Ohio State beats LSU
LSU is another team that people seem to be sleeping on badly this preseason. A tough SEC West road schedule that drew them games in Oxford, Starkville and Tuscaloosa will render at least one loss and keep them from making a trip to Atlanta. Les Miles has a team that has the ability to beat anybody by running the football, and sophomore running back Leonard Fournette could be on the podium in New York holding a Heisman Trophy before it's all said and done. If they are blessed to make it to this game, I don't see them getting past an Ohio State that's very gifted at staying focused under Urban Meyer.
Orange Bowl
My pick: Auburn beats TCU
This would be an awesome matchup between two up-tempo offenses with dual-threat quarterbacks. The Tigers will be much more skilled and disciplined on defense, and that will be enough to get them back to the National Championship game to avenge a 2013 loss to Florida State.
CFP National Championship
My pick: Auburn beats Ohio State
If this matchup comes to fruition, Ohio State will probably be decently-favored to win their second-straight College Football Playoff. However, I think Auburn will use their experience and skill from their brutal SEC West schedule to find a way to spoil the party for the Buckeyes, and the Tigers are my pick to win the 2015 National Championship.
As always, thanks for reading! Be sure to check out my weekly SEC Power Rankings after each week during the 2015 regular season and follow me on Twitter @griffaldo.
Back to the NCAA Newsfeed
Related Topics: College Football Playoff, Clemson Tigers, Auburn Football, Georgia Southern Eagles, Central Florida, Marshall Thundering Herd, College Football Predictions, Toledo Rockets, Ohio State Football, Boise State Football, Stanford Football, TCU Football