The college basketball season will reach its conclusion tonight with two top seeds going after each other in a title game full of intriguing storylines. The Gonzaga Bulldogs have only lost one game in the entire season and are trying to prove that they are for real. On the flip side, the North Carolina Tar Heels have been arguably the best team in the country all season long, and are looking for redemption after losing in the national championship game last year. Which of these two programs will win the national championship? Here's a complete preview and prediction:
Projected Starting Lineups
(1) Gonzaga Bulldogs (37-1, 17-1 in WCC)
G Nigel Williams-Goss (Jr.) – 16.7 ppg, 5.9 rpg, 4.6 apg
G Josh Perkins (So.) – 8.3 ppg, 3.2 apg
G Jordan Mathews (Sr.) – 10.7 ppg, 3.3 rpg
F Johnathan Williams (Jr.) – 10.3 ppg, 6.6 rpg
C Przemek Karnowski (Sr.) – 12.2 ppg, 5.8 rpg
(1) North Carolina Tar Heels (32-7, 14-4 in ACC)
G Joel Berry II (Jr.) – 14.6 ppg, 3.6 apg
F Justin Jackson (Jr.) – 18.2 ppg, 4.7 rpg
F Theo Pinson (Jr.) – 6.0 ppg, 4.2 rpg, 3.7 apg
F Isaiah Hicks (Sr.) – 12.1 ppg, 5.4 rpg
F Kennedy Meeks (Sr.) – 12.3 ppg, 9.3 rpg
NEXT READ: This North Carolina vs. Gonzaga Hype Video Will Have You Ready For The National Title Game
Keys to the game:
Can Gonzaga neutralize UNC's advantage inside?
Whoever wins the inside battle will largely determine who wins this game. Kennedy Meeks pretty much carried North Carolina to a win over Oregon in the Final Four, and UNC's stable of big men has been the driving force behind their success all season. They lead the nation in rebounding, offensive rebounding, second chance points and rebounding differential - and that last stat usually determines if they win or lose. 
In their six regular season losses, the Heels were outrebounded in four of those games and shot below 35 percent in the other two. And, if anyone can cancel out that advantage on the glass, it's Gonzaga. Karnowski, Williams and freshmen McDonald's All-American Zach Collins all average at least 5.8 rebounds per game - not to mention Williams-Goss' outstanding rebounding numbers from the point guard position - and are one of the few teams in the country who can match UNC's size in the post.
UNC either needs to have that advantage on the glass, or they need to shoot the ball well if they're going to win. Considering that Gonzaga has the nation's best effective field goal percentage defense, that's not necessarily something they can rely on in this game. As such, rebounding will become more crucial that ever. Whoever wins the battle on the boards will likely win this game.
Nigel Williams-Goss vs. Joel Berry II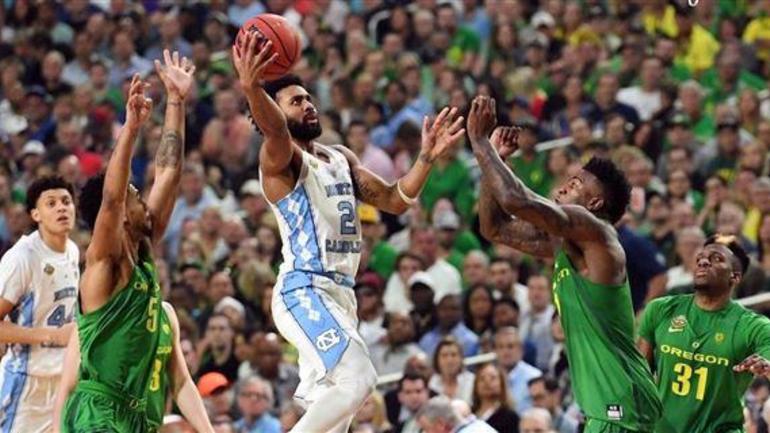 The other big factor in this game is the point guard battle. Williams-Goss is a first-team All-American whose all-around play takes Gonzaga from a very good team to an elite team. When he is on his game, he is unstoppable, and always seems to find his rhythm in terms of finding his own offense and creating opportunities for his teammates.
NEXT READ: This North Carolina vs. Gonzaga Hype Video Will Have You Ready For The National Title Game
As for Berry, he is UNC's on-court leader and the key that makes their offense click. Berry is still dealing with the ankle injury he suffered against Kentucky in the Elite 8, and it clearly effected him in the Final Four against Oregon. He didn't display the quickness or lift we usually see from him, which resulted in him shooting just 2/14 from the field. Meeks and Jackson bailed UNC out with excellent games against the Ducks, but against a team as good defensively as Gonzaga, they need Berry to play well.
Prediction: Gonzaga wins 79-74
The Zags have been the most balanced and versatile team in the country all season long. I expect the rebounding battle to be close enough that UNC won't have a real advantage there. I also think Gonzaga's defense is good enough that they will limit Carolina's offense in the paint. It will be close throughout, but as we've seen from Gonzaga all season, they will tighten defensively and find good shots offensively when they need to. They will go on a run in the last few minutes to win the program's first-ever national title.
Back to the NCAA Newsfeed
Related Topics: Gonzaga Bulldogs Basketball, West Coast Conference Basketball, 2017 Final Four, ACC Basketball, NCAA Basketball, NCAA Tournament, 2017 NCAA Tournament, North Carolina Tar Heels Basketball