The first game of the Final Four pits two programs against each other who have never made it to the Final Four before. The Gonzaga Bulldogs ran through the West Region as the one-seed to reach this stage, while the Cinderella seven-seed South Carolina Gamecocks pulled off three straight upsets to win the East Region. Which of these two programs will advance to play for their first-ever national championship? Here's a complete preview and prediction:
Projected Starting Lineups
(1) Gonzaga Bulldogs (36-1, 17-1 in WCC)
G Nigel Williams-Goss (Jr.) – 16.7 ppg, 5.9 rpg, 4.6 apg
G Josh Perkins (So.) – 8.3 ppg, 3.2 apg
G Jordan Mathews (Sr.) – 10.7 ppg, 3.3 rpg
F Johnathan Williams (Jr.) – 10.3 ppg, 6.6 rpg
C Przemek Karnowski (Sr.) – 12.2 ppg, 5.8 rpg
(7) South Carolina Gamecocks (26-10, 12-6 in SEC)
G P.J. Dozier (So.) – 13.8 ppg, 4.7 rpg, 2.8 apg
G Duane Notice (Sr.) – 10.2 ppg, 2.6 rpg
G Sindarius Thornwell (Jr.) – 21.6 ppg, 7.2 rpg, 2.8 apg, 2.2 spg
F Maik Kotsar (Fr.) – 5.9 ppg, 4.8 rpg
F Chris Silva (So.) – 10.1 ppg, 5.9 rpg
NEXT READ: Final Four Preview & Prediction: North Carolina vs. Oregon
Keys to the game:
Can Gonzaga solve South Carolina's defense?
South Carolina's swarming defense has carried them to the Final Four, forcing an average of 17 turnovers per game in the tournament while holding all of their opponents to less than 40 percent three-point shooting (including two under 26 percent). It has been as impressive as anything in the tournament, and how Gonzaga handles it will largely determine who wins this game.
The Zags have gone up against tough defenses before in the tournament, beating West Virginia in the Sweet 16. Gonzaga did turn the ball over 16 times in that game, but they were also able to consistently break that pressure. And, when they did, they attacked and got easy baskets.
NEXT READ: Final Four Preview & Prediction: North Carolina vs. Oregon
South Carolina doesn't apply the full court press West Virginia does, but they rely on similar pressure in the half court. Gonzaga can take some of that pressure off the perimeter with the 7-foot-1 Karnowski, who is an excellent post score and is great at passing from the block. Look for the Zags to try to run their offense through him to take pressure off their guards and create perimeter jumpers.
Do the Gamecocks have enough offense?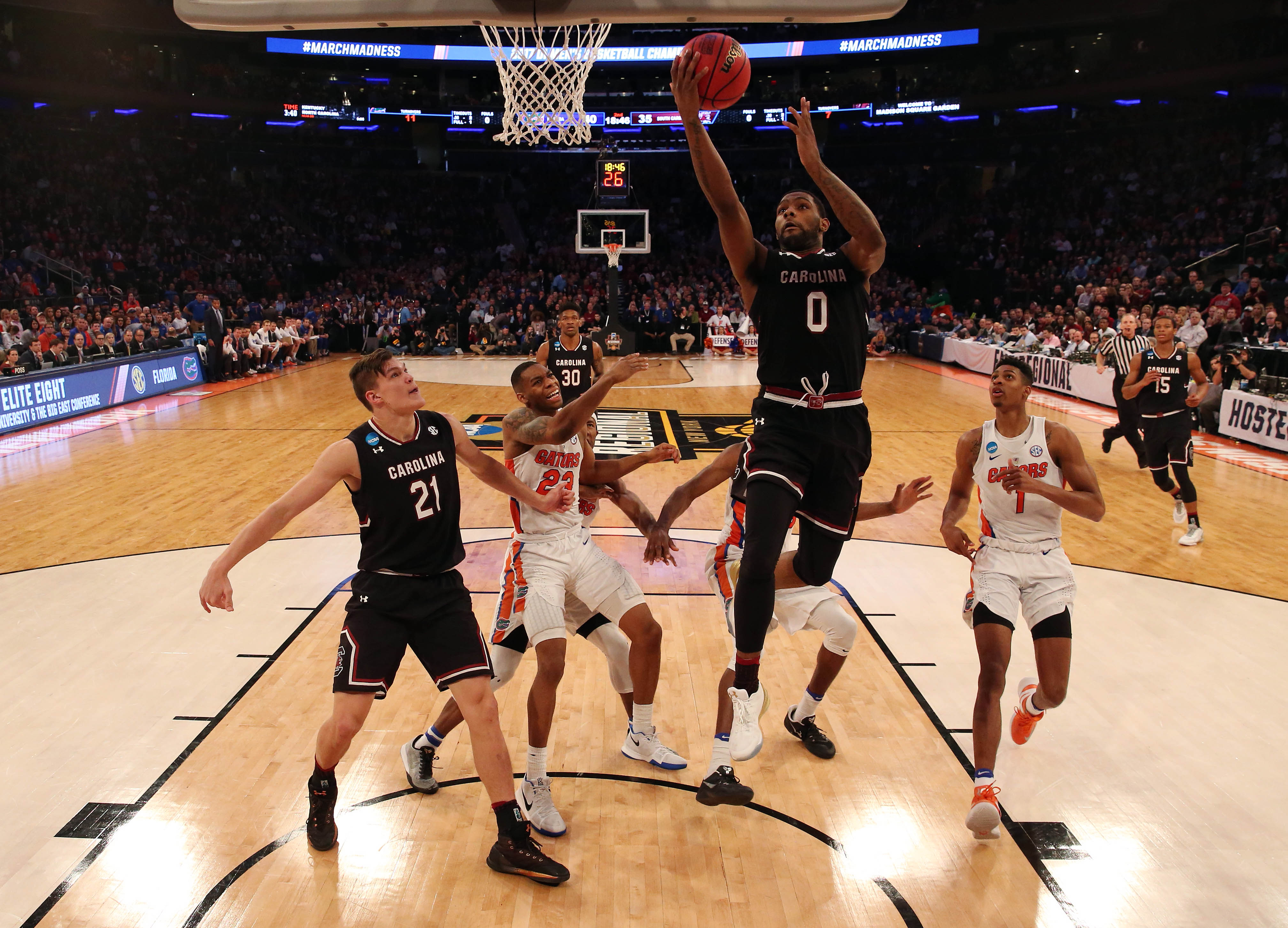 Now is when I admit that I am a South Carolina alum, but that means I have followed this team much closer than most. South Carolina's offense hasn't been an issue in this tournament (82.0 ppg) - and Thornwell has been the single most impressive player in the tournament - but that hasn't been the case all year. Their average of 73.2 points per game ranked just 178th in the country, and they ranked 104th in KenPom.com's adjusted offensive efficiency rankings.
Thornwell, the SEC Player of the Year, has been great all season, but the Gamecocks have been inconsistent in terms of stepping up around him. As we've seen on this run, they have several players - namely Dozier and Silva - who are capable of contributing in a major way offensively as well. However, those contributions were rather inconsistent during the season.
Dozier is averaging 15.3 ppg in the tournament, but he only had 12 games this year in which he scored more than 15 points (five of which came when Thornwell was suspended). Likewise, Silva is averaging 13 ppg over the last two weeks - he scored over 13 points just nine times during the season. We can go on and on down the list, but you get the picture.
Furthermore, all three of those stars rarely all played well in the same game during the regular season, but they've been doing it all tournament long. History suggests they will regress back to the mean at some point, and that could happen Saturday in a huge football stadium (shooting percentages have a history of dropping in such places).
Prediction: Gonzaga wins 69-65
South Carolina's defense will be a problem in this game, but so will Gonzaga's. They actually have the nation's most efficient defense, with South Carolina's ranking second. I expect this game to be relatively close throughout before the Bulldogs create some separation late and hold on for the win.
Back to the NCAA Newsfeed
Related Topics: NCAA Basketball, South Carolina Gamecocks Basketball, SEC Basketball, Gonzaga Bulldogs Basketball, West Coast Conference Basketball, 2017 Final Four, Final Four, NCAA Tournament, 2017 NCAA Tournament