The second game of the Final Four is the marquee game of Saturday night's action. The North Carolina Tar Heels are here for the 20th time, the most in NCAA history, after beating Kentucky in an epic game to win the South Region. The Oregon Ducks took care of business in the Midwest Region, cruising past their first three opponents before upsetting Kansas in the Elite 8. Which of these two programs will advance to the national championship game? Here's a complete preview and prediction:
Projected Starting Lineups
(1) North Carolina Tar Heels (31-7, 14-4 in ACC)
G Joel Berry II (Jr.) – 14.6 ppg, 3.6 apg
F Justin Jackson (Jr.) – 18.2 ppg, 4.7 rpg
F Theo Pinson (Jr.) – 6.0 ppg, 4.2 rpg, 3.7 apg
F Isaiah Hicks (Sr.) – 12.1 ppg, 5.4 rpg
F Kennedy Meeks (Sr.) – 12.3 ppg, 9.3 rpg
(3) Oregon Ducks (33-5, 16-2 in Pac-12)
G Payton Pritchard (Fr.) – 7.4 ppg, 3.7 apg, 3.3 rpg
G Tyler Dorsey (Sr.) – 14.5 ppg, 3.4 rpg
G Dylan Ennis (Jr.) – 10.7 ppg, 4.4 rpg
F Dillon Brooks (Fr.) – 16.3 ppg, 3.1 rpg
F Jordan Bell (So.) – 10.9 ppg, 8.6 rpg
What to watch for:
How does Oregon deal with North Carolina's size?
Many people wrote Oregon off before the tournament when starting center and leading shot-blocker Chris Boucher suffered a torn ACL in the Pac-12 Tournament, but they have thrived in these past three weeks due to their stellar guard play and versatility. However, they haven't had to go up against a team with a lot of size that could exploit them not having Boucher - until now.
North Carolina has size across the board, and they are dominant up front. Kennedy Meeks and Isaiah Hicks two of the best big men in the entire country, and they bring freshman Tony Bradley off the bench - and he's the best NBA prospect of the three. Then there's Luke Maye, who won the game against Kentucky and was named the South Region's Most Outstanding Player. Led by those players, the Heels lead the country in rebounding, offensive rebounding and second chance points.
Jordan Bell has played incredibly well in this tournament in Boucher's absence, but he's the only legitimate big man Oregon has in their rotation. How they handle all of UNC's size will be key.
How healthy is Joel Berry II?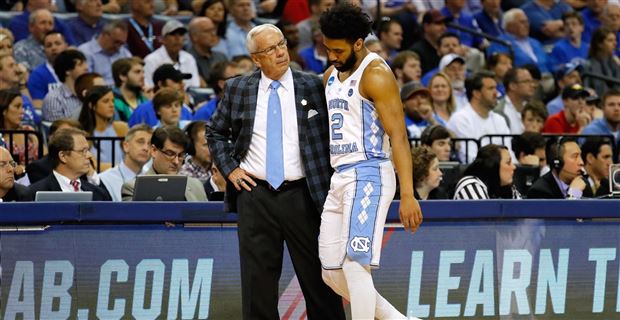 As big of an advantage as UNC has down low, they will struggle if Berry is limited in any capacity due to the ankle injury he suffered against Kentucky. Berry didn't practice until Friday and is expected to play his normal allotment of minutes against Oregon, but the injury has the potential to play a major role in this game.
Even though Justin Jackson is the ACC Player of the Year, Berry is UNC's on-court leader and the key that makes their offense click. When he has missed time this year, whether it be due to injury for foul trouble, the Heels have struggled mightily. His backups, Nate Britt and Seventh Woods, aren't really scoring threats and can struggle with decision making, which has led to turnovers and inefficient offense with Berry off the court. Seeing how his ankle holds in this game could very well determine the outcome.
NEXT READ: Final Four Preview & Prediction: South Carolina vs. Gonzaga
Prediction: North Carolina wins 84-75
In the end, I think Berry plays relatively well (though he'll be limited) and Carolina's size will simply be too much. This will be the game where Boucher's absence becomes very obvious in Oregon's defense and hurts them. Carolina also has the size in the wing positions to bother Dillon Brooks and Joey Dorsey, Oregon's stars that have carried them in the tournament so far.
Back to the NCAA Newsfeed
Related Topics: NCAA Basketball, Oregon Ducks Basketball, ACC Basketball, 2017 Final Four, Final Four, NCAA Tournament, Pac-12 Basketball, 2017 NCAA Tournament, North Carolina Tar Heels Basketball