Week 3 of the college football season was chock full of suspense and amazing moments, but it was also chock full of injuries, recruiting news and other juicy tidbits for us to dissect the coming week. With that in mind, here's our College Football Rumors Roundup: Injuries, Recruiting & More.
Notre Dame S Drue Tranquill Out For Season
Notre Dame Fighting Irish safety Drue Tranquill tore the ACL in his right knee after falling awkwardly following a chest bump with teammate Joe Schmidt. He is out for the season -- the sixth key Irish player to suffer a season-ending injury.
Irish head coach Brian Kelly is aware of just how the team's hospital bill will affect the team, especially if the team's run of bad luck continues.
"Certainly we can't afford to lose any more players at key positions: Quarterback, running back, you start to get into true freshmen, and that will be obviously a significant change in what we look like," Kelly said.
Tranquill joins starting quarterback Malik Zaire (broken right ankle), starting running back Tarean Folston (torn right ACL), starting tight end Durham Smythe (torn right MCL), starting defensive tackle Jarron Jones (torn right MCL) and starting nickelback Shaun Crawford (torn ACL) on the shelf.
Is The Age Of Alabama Over?
Formerly #2 Alabama took one on the chin from Ole Miss for the second-straight year with Saturday night's 43-37 loss in Tuscaloosa -- a game that is prompting many college football experts to ponder whether Tide head coach Nick Saban's constructed dynasty is beginning to show cracks in the facade.
Via Dan Wolken of USA TODAY Sports:
"Here are Alabama's last nine games against top-15 teams (at the time of the game) since blowing the doors off Notre Dame in the 2012 BCS championship: Beat Texas A&M 49-42, beat LSU 38-17, lost to Auburn 34-28 on the epic "Kick Six," lost to Oklahoma 45-31 in the Sugar Bowl, lost to Ole Miss 23-17 early last season, held off Mississippi State 25-20, beat Auburn 55-44, lost soundly to Ohio State while giving up 42 points in last year's playoff semifinal and lost Saturday to Ole Miss."
If you weren't counting, that's a 4-5 record against top-15 opponents since the 2012 BCS Championship. While that's not a top-tier mark by any stretch, it still bears notice that Alabama made the College Football Playoff last year and was considered a near lock by some to do it again this year. So, perhaps this is all an overreaction?
Bret Bielema Responds To Kliff Kingsbury's Pointed Comments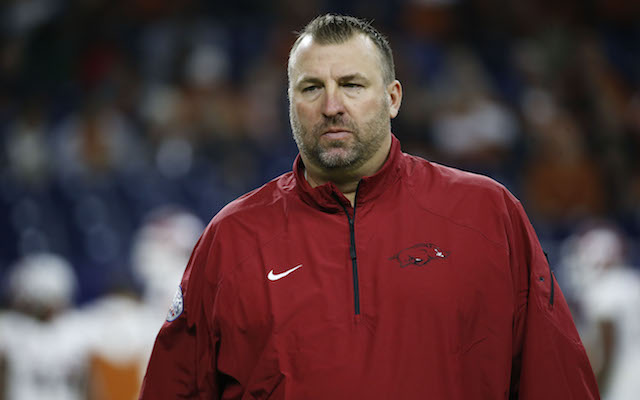 Arkansas coach Bret Bielema has rubbed plenty of folks the wrong way during his time with the Razorbacks, including Texas Tech head coach Kliff Kingsbury following comments made at a summer convention which basically put the Red Raiders on blast for running a "no-huddle, hurry-up offense" that Bielema feels leads to increased injuries across the board.
Kingsbury fired back after Texas Tech beat Arkansas 35-24 on Saturday, quipping that "[Bielema] just got his ass kicked twice in a row and probably next week by [Texas] A&M as well."
Bielema responded to Kingsbury's comments to an assembly of reporters on Monday:
"Kingsbury and I weren't talking before so I am sure we won't be talking now. I am surprised he said. I am not sure what part he was referencing to. I didn't reference to Texas Tech,. If you start digging into what people said at coaches convention it will be a weird world. The Texas HS coaches invited me in I am not worried about my relationship with them. We have a good relationship. I guess I struck a nerve with someone at Texas Tech. If that was an ass kicking Saturday night, I would like to see what the one last year was."
Elite Cornerback Delays Announcement Date
4-star Madison (MS) cornerback Nigel Knott was scheduled to make his college announcement this Wednesday at an Under Armour ceremony, but he has decided to delay his choice for an indefinite period of time.
Sorry for inconveniences to coaches, Media, and people interested in my recruitment. I have decided to call off the commitment on the 23rd.

— Nigel Knott (@nigelk09) September 21, 2015
Knott is considered to be a heavy Alabama lean by many national recruiting outlets, but Oregon has been gaining steam as of late -- perhaps one of the major factors in Knott delaying his decision.
Urban Meyer Not Yet Settled On A Starting QB
After a turnover-happy Cardale Jones was benched in favor of JT Barrett on Saturday against Northern Illinois, speculation once again swirled around the starting QB situation in Columbus -- a lack of clarity that seems to have led to this cheeky Twitter profile update by Cardale Jones:
Well, now this is something: A quick change in Cardale Jones' Twitter bio: pic.twitter.com/4atvVxiKGP

— Eric Seger (@EricSeger33) September 20, 2015
He later changed his bio tag to "Nothing Worth Having Comes Easy." Regardless, it seems that no one -- not even Cardale Jones, JT Barrett or (perhaps) Urban Meyer -- has a real idea as to just who the clear cut #1 will be as the schedule segues into October-December.
Rashan Gary Says Michigan Is "One Of My Top Schools"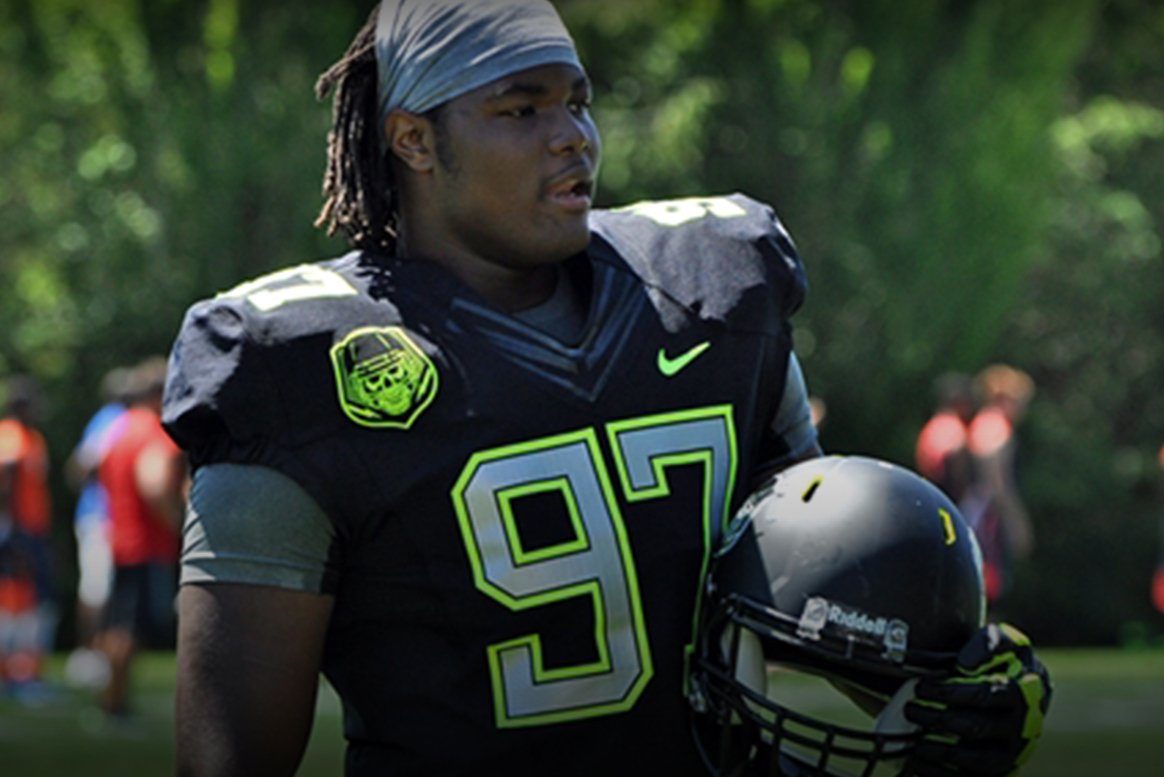 #1 overall 2016 prospect and defensive tackle Rashan Gary is by far the most coveted recruit out there right now, with SEC powers such as Auburn and Alabama having solid positioning to bring home a pledge from the Paramus (NJ) Catholic star. 
However, it may be Michigan (who boasts former Paramus head coach Chris 
Back to the NCAA Newsfeed
Related Topics: Nigel Knott, JT Barrett, Cardale Jones, College Football, Rashan Gary, Ohio State Buckeyes, Ohio State Football, Notre Dame Fighting Irish, Kliff Kingsbury, Bret Bielema