The first edition of this year's College Football Playoff rankings stirred up plenty of controversy, rocketing the Clemson Tigers to #1 in spite of #3 ranking in this week's AP Poll while dropping the defending champion Ohio State Buckeyes (#1 in the AP Poll) to #3 behind the aforementioned CU squad and LSU.
You can view the full rankings at this link. However, this article's purpose is to look deep into the rankings and play an in-depth guessing game about the motivations of the committee's members in selecting this particular order. Here's our College Football Playoff: 4 Things We Learned From The Committee's First Rankings.
1. The Gators got screwed
Here's a conundrum. The #10 Florida Gators' only loss was to the #2 LSU Tigers on the road. The #4 Alabama Crimson Tide suffered their one loss to a much more vulnerable #18 Ole Miss Rebels team at home -- a team which Florida blasted in a 38-10 romp.
It's plausible that the committee is waiting on the Gators' performance in their regular season finale against Florida State, considering that UF's non-conference schedule isn't that impressive otherwise. Alabama, on the other hand, has a neutral-site win against Wisconsin. However, UW is likely the most paper thin of 7-2 (or better) teams going right now and didn't even crack the first CFP reveal. Why is Bama getting a bump for that win? We don't really know...
What is this likely to mean? It means the Gators got screwed, partially in part to projected TV ratings if the Tide are to squeak into the Final Four. Bama has that New York Yankees love/hate thing going on with the general public. Florida is just reclaiming its spot as an elite CFB program. The TV gods rule in favor of Bama on this one, and that's actually a really sad thing.
2. However, in the case of Ohio State...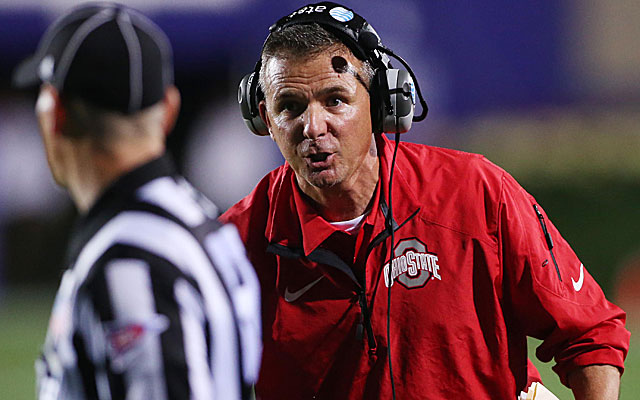 The committee got it right. If we're talking about the here and now and not OSU's reigning champion pedigree, the Buckeyes are at best the third-most qualified undefeated team in the nation when it comes to a CFP spot. Clemson's win over #5 Notre Dame is the best non-conference W of the undefeateds. LSU has Leonard Fournette and a win over #10 Florida. That's an automatic #2 slot.
Ohio State's biggest win is against an unranked Penn State squad. They also failed to put away two patsies (Northern Illinois, Indiana) until the very last moment. Heck, if they weren't OSU and the defending national champs, both TCU and Baylor would be ahead of them.
Buckeyes fans will counter with the old Ric Flair adage -- "In order to be the man, you have to beat the man." We're more apt to reward teams for this year rather than past performance. College football is a year-by-year beast, at least we like to think so.
3. There will be no Cinderella in the CFP
The most impressive of the Group of Six undefeated teams is #13 Memphis, and that seems like more like an indictment than a reward. The Ole Miss win still gives them an outside chance to crack the Top 8 with chaos above, but that's where the glass ceiling comes in. The biggest game left on their schedule is at #22 Temple -- a game which would have been MUCH MORE of a boost if the Owls had somehow closed out Notre Dame at home last week.
We'd like to think the Tigers will be rewarded handsomely if teams start to drop like flies ahead of them, but it's more likely that a two-loss Michigan team or a one-loss Oklahoma squad (or others) will leap frog them before they even sniff the top four. Them's the mid-major breaks.
4. Upcoming games have new meaning
LSU-Alabama this Saturday could be the equivalent of a quarterfinal game for the Tigers. If they add a road win over Bama to their resume, it'll take two losses in their final five to knock them off the CFP perch. #8 TCU @ #14 Oklahoma State is an undeniable elimination game, especially considering how low the Horned Frogs are positioned comparitively to their impressive "eye test" results. Last week, you could have convinced us that TCU would be able to lose that game and still have an outside CFP shot.
Every game and every team now knows EXACTLY where they stand, rather than guessing how close to the AP Poll their true rank is. It's going to lead to some tense November showdowns, and undoubtedly some upsets of teams that come in pressing in an attempt to prove their worth.
All in all, it's gonna be insanity.
We wouldn't have it any other way.
Back to the NCAA Newsfeed
Related Topics: College Football Playoff, 2016 College Football Playoff