Week 11 of the 2015 college football season was chock full of upsets, statements and results which will shake up the foundation of the College Football Playoff picture. We're here to break down the biggest moments of the week that was with our College Football Final: Everything You Need To Know From Week 11's Action.
Welcome Back, Oklahoma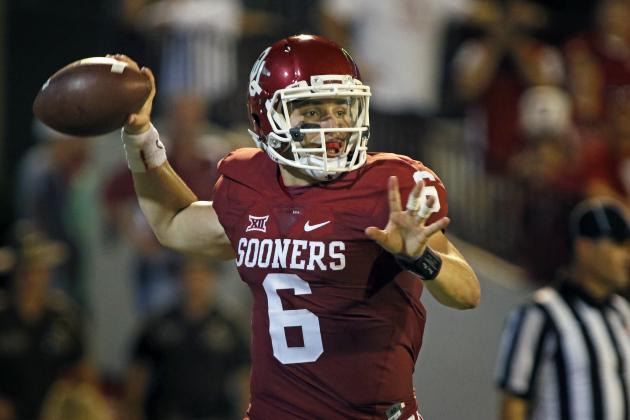 The #12 Oklahoma Sooners have rewritten the narrative of their season over the past five weeks, putting a gutting road loss to an inferior Texas squad behind them with impressive win after impressive win. Saturday was the most impressive of all, as the Sooners went into Waco in prime time and handed #6 Baylor their first loss, 44-34.
It was a back-and-forth contest like you'd expect from these Big 12 rivals, but it was ultimately Sooners QB Baker Mayfield and RB Samaje Perine who got the last laugh. Perine ran for 166 yards and two scores, Mayfield threw for three touchdowns including an effective game-sealer in the fourth after a quick Baylor score cut the OU lead to three, and the Sooners did what they came to do in statement fashion. The road doesn't get any easier with games left against #15 TCU and #8 Oklahoma State, but count the Sooners in as a major College Football Playoff contender.
Oregon Returns To Form
Did you forget about Oregon? A trendy preseason pick to return to the College Football Playoff for the second straight year, the Ducks quickly disappeared from the CFP picture after an early loss to Michigan State and an absolute drubbing at the hands of Utah. However, it's time to welcome them back to national relevance after a heart-stopping 38-36 win at #7 Stanford which effectively knocked the Cardinal out of CFP contention.
Oregon's defense has been maligned all year, and perhaps for good reason, but they gutted up right at the end -- following up a disheartening Kevin Hogan TD pass with seconds left by denying him on a game-tying two-point conversion attempt. Riding two touchdowns from QB Vernon Adams and another big day from RB Royce Freeman, Oregon has now won four straight and still has an outside chance to chase down Stanford for the Pac-12 North title if Stanford falls to Cal in next week's rivalry game.
LSU Continues To Reel
Two weeks back, the #9 LSU Tigers looked like the class of the SEC and a favorite to reach the College Football Playoff. Now, they're left dizzied and looking for answers after a pair of embarrassing defeats. One week after falling flat in a 30-16 road loss to #2 Alabama, LSU was manhandled at home by an emerging Arkansas Razorbacks squad in a 31-14 loss. Things got so bad that the normally high-strung, high-energy crowd in Death Valley started quietly filing for the exits with about ten minutes left in the game.
By the time the game ended, about 20% of the crowd was left and LSU's College Football Playoff hopes were extinguished. Razorbacks RB Alex Collins outrushed Heisman contender Leonard Fournette 141-91, marking the second straight week that Fournette has been outperformed by an SEC rival (Derrick Henry). Add in five sacks by Arkansas' defense in the first three quarters after they'd tallied just eight all season, and you have a glimpse into just how things went so terribly wrong for LSU.
The Top Four Hold Serve
We won't be surprised if there's very little drama surrounding the College Football Playoff top four on Tuesday, as #1 Clemson, #2 Alabama, #3 Ohio State and #4 Notre Dame all took care of business on Saturday. The #1 Tigers were challenged by a game Syracuse squad on the road, but eventually pulled away thanks to QB Deshaun Watson's 461 total yards and four touchdowns in a 37-27 win. #2 Alabama may have done them one better, absolutely manhandling #17 Mississippi State in a 31-6 road drubbing where they posted nine sacks on defense and enjoyed the fruits of RB Derrick Henry's second straight 200-yard rushing game.
#3 Ohio State faced barely a peep from Illinois' offense, giving up just 20 rushing yards in a 28-3 win that was much more of a blowout than the score makes it out to be. Finally, #4 Notre Dame survived its worst offensive day of the year in style, riding a franchise record 98-yard TD run by Josh Adams to an easy 28-7 home win over Wake Forest. Four top contenders, four wins. Baylor (or Oklahoma) may stake claim to one of these teams' spots, but it's not due to anything these teams did wrong.
Keep Your Eye On The Little Guys
#24 Houston and #20 Navy won't be busting the College Football Playoff bubble, but they're likely going to battle later this month for a prize that may mean just as much to both programs. Navy won its first game as a ranked team in over a decade on Saturday, blasting SMU 55-14. Houston had a MUCH tougher test against #21 Memphis, but a scintillating rally from 20 points down led by backup QB Kyle Postma (after Greg Ward Jr. went down with an ankle injury) did the trick in a 35-34 thriller.
If Houston and Navy take care of business in favorable road matchups against UConn and Tulsa respectively, November 28th's game between the two will be an all-or-nothing showdown that will likely be for a New Year's Six spot. Circle that game on the calendar.
Back to the NCAA Newsfeed