Another week of college football, another CRAZY slate of games to digest and analyze. Some contenders fell and fell HARD. Some asserted themselves (or reasserted themselves) as big-time forces to be reckoned with heading into October. With that all in mind, we present to you the biggest stories of Week 4 in today's College Football Final.
There Are Two New Pac-12 Powers
#9 UCLA punched #16 Arizona in the throat a good seven or eight times in a 56-23 destruction of the Wildcats in the desert on Saturday night. The #18 Utah Utes picked up what may be the most impressive road win in this or any conference in 2015, rolling over the #13 Oregon Ducks in a 62-20 shocker at Autzen. Neither Arizona nor Oregon are dead per se, and USC is still lurking despite their upset loss to Stanford last week. However, both UCLA and Utah are legit College Football Playoff contenders who have put the entire nation on notice.
November 21st. Utah vs. UCLA. Get your tickets now.
What's Going On At Auburn? It's too early to start the "Gus Malzahn hot seat" rumors, but dang...what exactly has happened to the Tigers? Auburn laid another egg on Saturday, this time sleepwalking through a 17-9 home loss to Mississippi State just one week after getting hammered by LSU on the road. Auburn has fallen from sure-fire SEC contender to low-to-mid level bowl team in just two weeks. Say good night to Auburn as a CFP contender. Say hello to a cache of questions for AU as the season moves on to October.
Notre Dame Remains Alive And Well
The Irish were tested early by UMass in South Bend, leading by just one (21-20) in the 2nd quarter while watching their defense get manhandled in the trenches for a good quarter-plus. This is why we play four quarters, though? Notre Dame reeled off 41 unanswered points, started off by a massive 50-yard punt return for a TD by CJ Sanders and pushed along by a massive day for RB CJ Prosise (149 yards, two scores).
The most impressive thing here was the way the entire Irish team, absolutely devastated by injuries, stood stout with a legitimate upset threat brewing at home. Final score, 63-27 ND. Final verdict, this Irish team is still dang good regardless of the players they've lost due to injury.
Don't Look Now..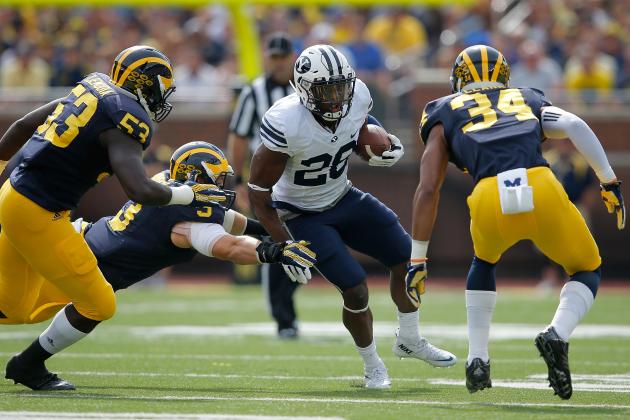 ...but Michigan is 3-1. After an opening loss to a suddenly world-beated Utah team, the Wolverines have reeled off three straight wins, giving up just two total touchdowns in those triumphs. The most head-turning win of those three came on Sunday, as Michigan put together the closest thing they've got to a perfect effort in a 31-0 blanking of #22 BYU in The Big House. Jim Harbaugh's arrival in Ann Arbor came with its fair share of bluster, but his charges are now backing up the hype with their performance on the field.
TCU May Be In Trouble
How else can you explain the 55-52 escape job they pulled on Texas Tech in Lubbock. Yes, the play that won it for the Horned Frogs was simply mesmerizing. But, we're reticent to name the Horned Frogs as legitimate College Football Playoff favorites with just how zapped they are both roster- and talent-wise on defense. Elite squads don't give up more than 50 points to a middling Texas Tech team, road game or not. They have the offensive firepower to go to war against anyone. But, what happens if Trevone Boykin stumbles somewhere between October and December? Can TCU survive that? All signs point to no right now.
The Rich Stay Rich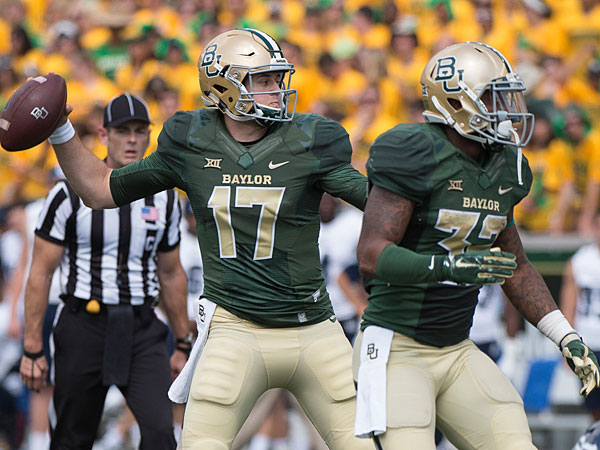 In direct contract to upheaval elsewhere in the AP Top 25, #1 Ohio State, #2 Michigan State, #5 Baylor, and #7 Georgia all put hurtings on lesser opponents and staked their case to either remain entrenched where they are, or in the case of Baylor and Georgia, move up. The biggest benefactor of the craziness elsewhere? Baylor. Their 70-17 stomping of Rice, couple with TCU's fingernail-cracking win over Texas Tech (and Ole Miss' iffy effort in a win over Vandy), could vault them into the Top 3 of Sunday's new AP poll. That's just speculation, but we're pretty certain they'll at least slide into the Top 4.
Back to the NCAA Newsfeed
Related Topics: NCAA College Football, NCAA Football, Josh Rosen, Jim Harbaugh, CJ Prosise, Trevone Boykin, Gus Malzahn