It may not have been as crazy overall as the first two weeks of the regular season, but this Saturday's college football slate taught us plenty about the state of the College Football Playoff chase heading towards the final week of September. Today's Chat Sports College Football Final takes a look at the biggest stories of the third Saturday of the CFB slate, singling out the most telling performances of the day.
Ohio State Is Human Too
The Buckeyes snapped the ball too early in the play clock on its second-to-last drive against Northern Illnois, and while it didn't end up costing them in their 20-13 win, it was emblematic of a sloppy game in all facets for the defending national champions. Whether it was turnovers by both Cardale Jones and his replacement, JT Barrett, or Urban Meyer's inconsistent commitment to Ezekiel Elliott and the run game, Ohio State has plenty of tape to review with a critical eye come the beginning of next week.
Notre Dame Has Plenty Of Firepower Left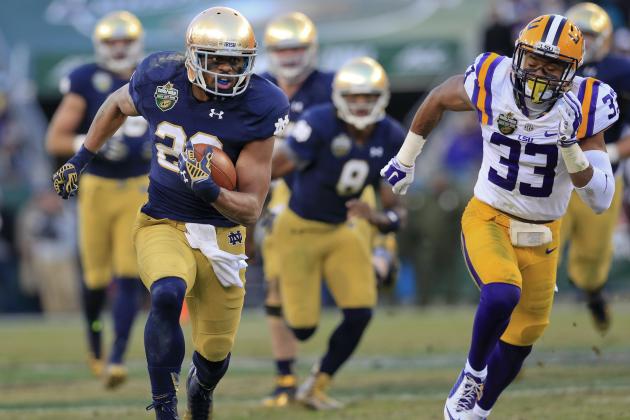 C.J. Prosise's 91-yard touchdown both set a Notre Dame Stadium record and proved to be the game-winning score for the Irish in a 30-22 victory over Georgia Tech. His three touchdowns were the key here, but DeShone Kizer did a fine job too as an injured Malik Zaire's replacement, connecting with Will Fuller for a 46-yard score and generally looking comfortable under the Notre Dame starting QB microscope. The Irish remain a legit College Football Playoff threat, even with massive contests against Clemson and USC coming in the next four weeks.
Auburn's Run Defense Is, In A Word, Awful
LSU gashed the Tigers' front seven all day long on Saturday, including 228 yards on 19 carries to go with three touchdowns for Leonard Fournette in LSU's 45-21 romp over Auburn in Baton Rouge. Former Florida head coach Will Muschamp was brought in to fix the defensive woes that plagued the Tigers for long stretches of the 2014 season. It hasn't happened. LSU is a prime-time, top-tier SEC title contender. Auburn is not. The reason why? Auburn's defense, and their overall ability to get other offenses off the field, just isn't cutting it.
Georgia Is Locked And Loaded
Wow. Just wow. UGA punched South Carolina in the throat a good nine or ten times on Saturday, running over and through the Gamecocks in a 52-20 statement win. Greyson Lambert answered his critics with a near-perfect effort, throwing for 330 yards, three touchdowns and setting a UGA record with 20 straight completions. RB Nick Chubb was equally as impressive, eclipsing 100 yards for the 11th straight time in a 21-carry, 159-yard, two-score performance. If Saturday's romp is any indication, Georgia joins LSU (and other quick starters like Texas A&M) as true threats to Alabama's SEC dominance.
Stanford is ALIVE Let's stop worrying about Stanford's opening loss in what was AM on the West Coast. Let's forget about all of the talk positing the Cardinal as one of the likely-to-disappoint Power Five teams for the 2015 season. Stanford is now an Top-25 team in our opinion, and maybe even a borderline Top-20 team. They've also announced themselves as a legit Pac-12 title contender. Be forewarned. Stanford is alive and kicking.
Meet Your New, Potential Overlords Ole Miss' 43-37 win over Alabama in Tuscaloosa on Saturday didn't just vault them 12 spots into a tie with TCU at #3 in the AP poll -- it announced them as a top-flight contender to win the whole dang College Football Playoff in its second year. Ole Miss sliced and diced the same Bama defense that made Wisconsin's offense look like a JV squad during college football's opening week. People might point to the Rebels' defensive lapses on Saturday as a potential lead-in to later problems, but let Ole Miss fans just savor this moment. Right now, their Rebels are amongst the elite teams of college football (and it may not change soon.)
Back to the NCAA Newsfeed
Related Topics: LSU Tigers, Nick Chubb, Leonard Fournette, South Carolina Gamecocks, NCAA, Notre Dame Fighting Irish, Georgia Bulldogs, Garrett Greyson, CJ Prosise