The final week of college football's regular season did a lot to clear up the College Football Playoff race, but it didn't do a lot to thin out the crowd as most of the top teams have held serve to this point. Here are five we've learned so far today as we head into the postseason:
Derrick Henry is running away with the Heisman
Henry came into this weekend as the favorite to win the Heisman, and he delivered his best performance to date, rushing for 271 yards and a touchdown on 46 carries against Auburn. His play was equal parts impressive and impactful, a key for Heisman voters. Right now, it looks like he's going to have to fall flat on his fact in the SEC Championship Game if someone else is going to win the award.
Michigan State is peaking at the right time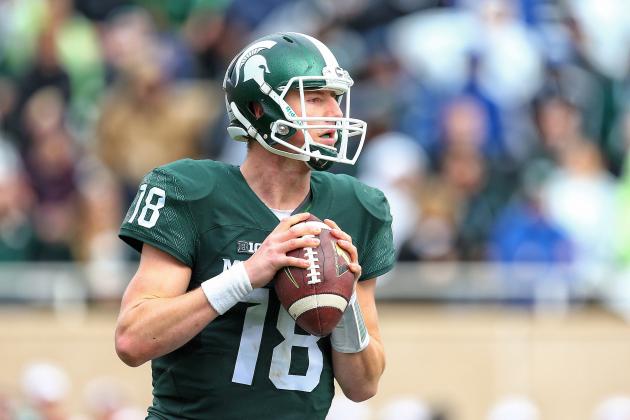 Michigan State was heavily critized throughout much of the season for failing to look impressive in their wins against lesser competition, but they've been at their best in recent weeks. After knocking off defending national champion Ohio State on the road without starting quarterback Connor Cook, they absolutely blew out Penn State, winning 55-16. The Spartans should make the College Football Playoff if they beat Iowa in the Big Ten Championship Game, and with the way they're playing, they'll be expected to do so.
Ohio State's loss to Michigan State was the wakeup call they needed
The Buckeyes had delivered lackluster performances all year, and their struggles came to a head in their loss to Michigan State last week. They responded with a dominant 42-13 win on the road against a top ten Michigan team, playing like the team we all expected them to be this season - unfortunately, that loss to the Spartans looks like it will cost them a chance to defend their crown in the playoff.
UNC is doing their best to impress the College Football Playoff committee
The Tar Heels are the lowest ranked one-loss Power 5 conference team in the country at #14, but they put on another impressive performance in their victory over rival NC State today, and have now won eight of their games by double digits this year. UNC has gone undefeated in ACC play and will get their chance to prove themselves to the committee next weekend against top-ranked Clemson in the conference title game next weekend.
USC should make Clay Helton their permanent head coach Helton took over on an interim basis when USC fired head coach Steve Sarkisian, taking over a struggling 3-2 team that was in a downward spiral. The Trojans are now 5-2 under Helton and won the Pac-12 South after beating UCLA on Saturday, putting them in position to make a New Year's Six bowl by beating Stanford in the conference title game. A lot will be decided over the next week in Los Angeles, but Helton has done enough to keep the job on a permanent basis.
Back to the NCAA Newsfeed
Related Topics: College Football, Ohio State Buckeyes Football, Clay Helton, NCAA Football, Alabama Crimson Tide Football, Michigan State Spartans Football, USC Trojans Football, Derrick Henry, North Carolina Tar Heels Football