Even though there weren't high-profile college football matchups on Saturday afternoon, there were still plenty of exciting games and unexpected results. Here are four things we've learned so far today:
Al Golden Is Going To Be Fired Sooner Rather Than Later
The Miami Hurricanes are 4-3, but after suffering the worst loss in program history at the hands of Clemson (58-0), it's clear that the 'Canes aren't where this storied program should be. At this rate, we wouldn't be surprised if Canes head coach Al Golden was out of a job come Monday. He's been on the hot seat for the past two years now, and it's simply time to move on.
In short, the Al Golden experiment at The U looks to be over, regardless of just how this young Miami team fares over the rest of the 2015 regular season. His stock is pretty much irreparable in the eyes of the majority of Canes fans, bowl game or not.
Charlie Strong Saved His Job
Five games in, Texas was 1-4 and looked to be on the same level of Big 12 doormat Kansas heading into the thick of the conference schedule. Now, back-to-back wins over a ranked Oklahoma team and a solid Kansas State squad has cast the shadows aside and rekindled bowl hopes around Austin. Making a low-level bowl is never the goal at UT, but the way Charlie Strong has raised this team from the dead will keep him on the sidelines for at least one more go-around.
Mike Riley Is On The Hot Seat At Nebraska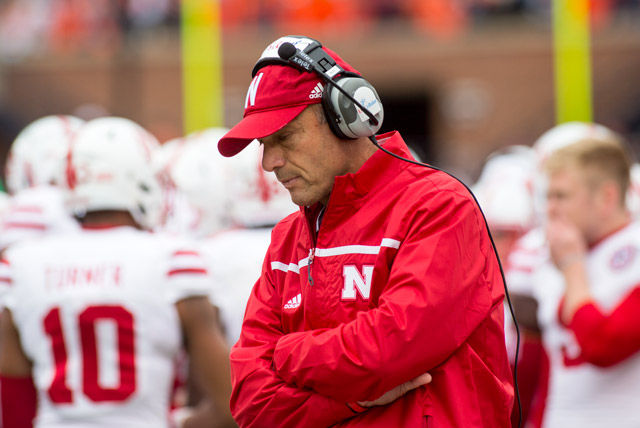 Riley is 96-84 as a college head coach, while Bo Pelini was 67-27 over his seven seasons (plus one game) at Nebraska. Pelini got plenty of guff from Nebraska fans and national football analysts for being "Mr. Nine Wins" - but that's much better than the six wins per season Riley has averaged throughout his career.
That's also an alarming trend. Nebraska's struggles this year aren't an anamoly - they're par for the course for Riley. Mediocrity isn't tolerated at Nebraska, and Riley has been mediocre his entire career. They hadn't lost to Illinois since the Roaring 20s, but that happened. BYU, Wisconsin, and Northwestern aren't good enough to beat this Nebraska team on talent alone, but they did just that.
Now, with a need for the Huskers to go at least 3-1 to make a bowl game, they have two ranked teams left to play in Michigan State and Iowa. Nebraska will be heavy underdogs in both those games, showing that they're actually expected to miss a bowl game now. Riley is turning Nebraska into what Michigan was under Brady Hoke - that's something that has to stop NOW, and fans know it.
Clemson Is A Legitimate National Title Contender Clemson has flown somewhat under the radar all season playing in the ACC, but the No. 6 team in the country has shown all of the ingredients you would expect from a championship team. They have an explosive offense led by a superstar QB, and they now have the powerful, aggressive, playmaking defense to complement them. Their biggest victory came in a sloppy two-point home victory over Notre Dame, but they've handled their business in specatular fashion in every other contest. This team is for real.
Back to the NCAA Newsfeed
Related Topics: College Football, NCAA Football, Mike Riley, Al Golden, Deshaun Watson, Nebraska Cornhuskers Football, Miami Hurricanes Football, Texas Longhorns Football, Clemson Tigers Football, Charlie Strong