It may feel like the college basketball season is just getting started with the conclusion of the college football national championship, but we're already at the midpoint of the year as teams are a few weeks into conference play. This season has been full of the unexpected (as is normally the case in college basketball - who is Monmouth and why have they beaten so many good teams?), but it's been ruled by seniors and players with experience, rather than love affair we've had with the one-and-dones over the last two years.
Here are the players/coaches that have separated themselves and have taken over the headlines through the first half of the season:
Player of the Year: Buddy Hield, SG, Oklahoma Sooners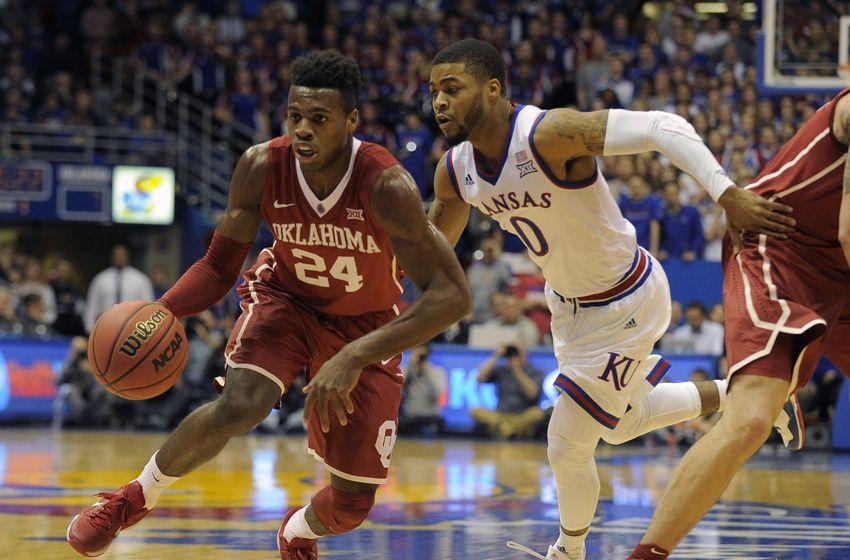 Michigan State's Denzel Valentine looked like he was going to run away with the award over the first month of the season, but an injury forced him to miss several weeks of action. However, that's not to take anything away from what Hield has done. The best pure scorer in the country, Hield is averaging 26.6 points and 5.7 rebounds per game this season while leading an Oklahoma team that will take over the No. 1 ranking next week after Kansas' loss to West Virginia on Tuesday.
Speaking of Kansas, Hield's national profile was raised significantly by his performance against the Jayhawks. The Sooners ended up losing the game 109-106 in triple overtime, but he was clearly the best player on the court, dropping 46 points while grabbing eight rebounds and dishing out seven assists.
That wasn't just a one-time performance, either. He has also scored 22 points or more in every game since December 7 and is shooting an absurd 52.4 percent from the field, including 51.8 percent from three-point range. Even if Valentine had stayed healthy, Hield deserves this award at the midway point of the season.
Freshman of the Year: Ben Simmons, PF/PG, LSU Tigers
If you haven't heard about Ben Simmons by now, you're probably living under a rock. While freshmen have largely had very little impact on the college basketball landscape this year, Simmons is one GIANT exception. The 6'10", 240-pounder is a point guard thriving in a big man's body, averaging 20.3 points, 12.6 rebounds, 5.3 assists, and 1.9 steals per game so far this season. 
Though he's not almost the most aggressive scorer and lacks a consistent jump shot, Simmons has such a significant impact on the game in so many ways that he's guaranteed to be the No. 1 overall pick in this summer's NBA Draft. Some may hold LSU's 10-6 record against him, but it's important to remember that the Tigers didn't have two starters (Keith Hornsby - injury; Craig Victor, transfer) until late December. Expect to hear and see a LOT more of and about Simmons as we head towards March.
Coach of the Year: Bob Huggins, West Virginia Mountaineers
Xavier's Chris Mack and Miami's Jim Larranaga could both easily win this award, but it has to go to Huggins right now. West Virginia was picked to finish sixth in the Big 12 before the season started - now they're 15-1 and coming off a double-digit win over No. 1 Kansas. Though they haven't played the toughest schedule to this point, the Mountaineers do have wins over San Diego State, Kansas State, Virginia Tech, and Oklahoma State, all of whom are bubble teams (though on the outside looking in). WVU's only loss came at Madison Square Garden against Virginia, who is ranked No. 13 in the country. 
The Mountaineers had zero expectations this year, and Huggins has turned them into a top seed through 16 games.
First Team All-Americans
Kris Dunn, PG, Providence Friars - 17.9 ppg, 7.0 apg, 6.4 rpg
Dunn is easily the best point guard in the country and is right in the thick of the player of the year race. The 6'4", 220-pounder is a projected top-five pick in this summer's draft and has carried a fairly pedestrian Providence team to a top-15 ranking.
Buddy Hield, SG, Oklahoma Sooners - 26.6 ppg, 5.7 rpg, 2.5 apg
I think I've gushed plenty about Hield already. Simply put, he's the best player on the best team in the country.
Grayson Allen, SG, Duke Blue Devils - 20.3 ppg, 5.0 rpg, 3.6 apg
Allen has raised his scoring average a whopping 16 points, successfully making the leap from bench-warmer on Duke's national championship team last year to the Blue Devils' unquestioned go-to guy this season.
Denzel Valentine, SF, Michigan State Spartans - 17.8 ppg, 7.9 rpg, 6.8 apg
Even though he has been hurt, Valentine's dominant all-around play can't be ignored. His importance to Michigan State was stressed with the Spartans' struggles without him - they nearly lost to Oakland and Minnesota without him, and they beat Kansas with him in the lineup.
Ben Simmons, PF, LSU Tigers - 20.3 ppg, 12.6 rpg, 5.3 apg
Bar none, Simmons is the best all-around player in the country. He has recorded a double-double in all but four games this season.
Back to the NCAA Newsfeed
Related Topics: Michigan State Spartans Basketball, Buddy Hield, Providence Friars Basketball, Big 12 Basketball, Oklahoma Sooners Basketball, SEC Basketball, Kris Dunn, Denzel Valentine, College Basketball, NCAA Basketball, Grayson Allen, Duke Blue Devils Basketball, LSU Tigers Basketball, Ben Simmons