The 2014 college football season is officially in the books, and the Buckeyes are your first ever playoff-decided national champions. We at Chat Sports feel like it's never too early to take a look ahead at what fans can expect next season, so here's our way-too-early look at next year's top 25:
The Playoff Favorites
1. Ohio State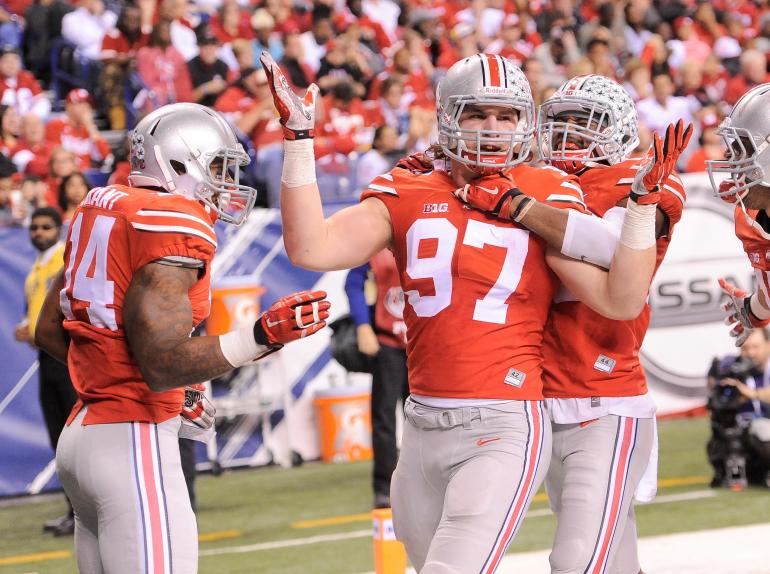 Urban Meyer's team is now 38-3 under his leadership, and Meyer himself has a dizzying 142-26 overall record as a head coach. Looking ahead to their 2015 schedule, it's hard to see this squad taking a step back - the Buckeyes aren't losing as many starters as many of the nation's other top teams, and key contributors like RB Ezekiel Elliott and LB Joey Bosa will be back in Scarlet and Gray next season.
While it's still unclear who starts under center (Braxton Miller, Cardale Jones and J.T. Barrett could all have started for quite a few other Big 10 teams this year), most schools would love to have a dilemma like that at quarterback. Even if Miller ends up transferring, the Buckeyes could be even better in 2015.
2. TCU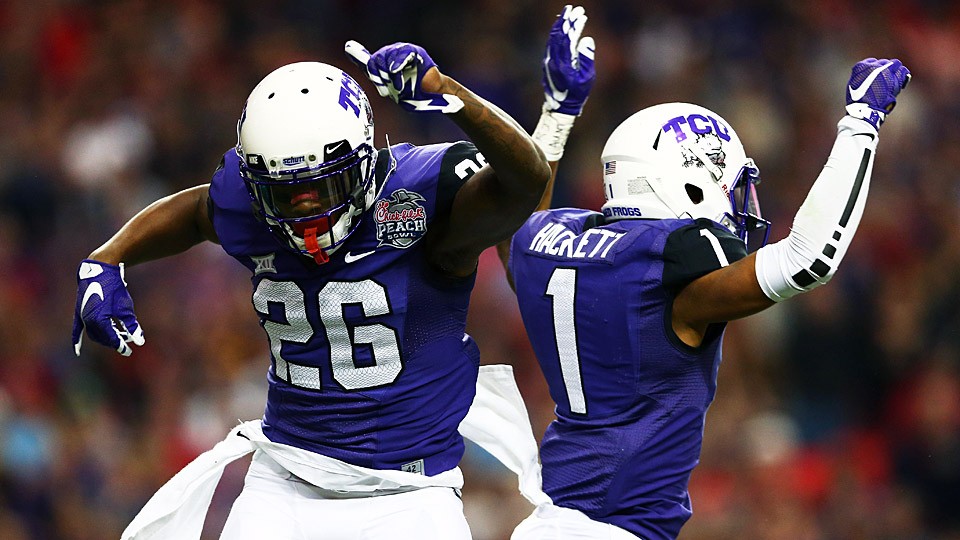 Gary Patterson's TCU Horned Frogs won't surprise anyone in 2015, and that's just how he wants if after his program was left out of the inaugural College Football Playoff with a very solid 11-1 record. Rather than responding by pouting their way into a Peach Bowl matchup with the Ole Miss Rebels, TCU absolutely dismantled the former national championship contenders from the Magnolia State in a 42-3 beatdown. QB Trevone Boykin showed exactly why he finished in the top five of this year's Heisman voting, and he'll be even better next year.
TCU's offense will return almost all of its top skill players next season...and for a team that finished 7th in the nation in passing yards per game (326.2) and 3rd in points per game (46.5), that's a very positive sign for the Horned Frogs. 2014's 8th-ranked scoring defense (19.0 ppg) will lose three key players in tackle in tackle Chucky Hunter, linebacker Paul Dawson, and standout safety Sam Carter, but a relatively soft schedule (aside from the opener at Minnesota and the last two games of the season against Oklahoma and Baylor) should be favorable as TCU looks to the crack the second-ever College Football Playoff.
3. Alabama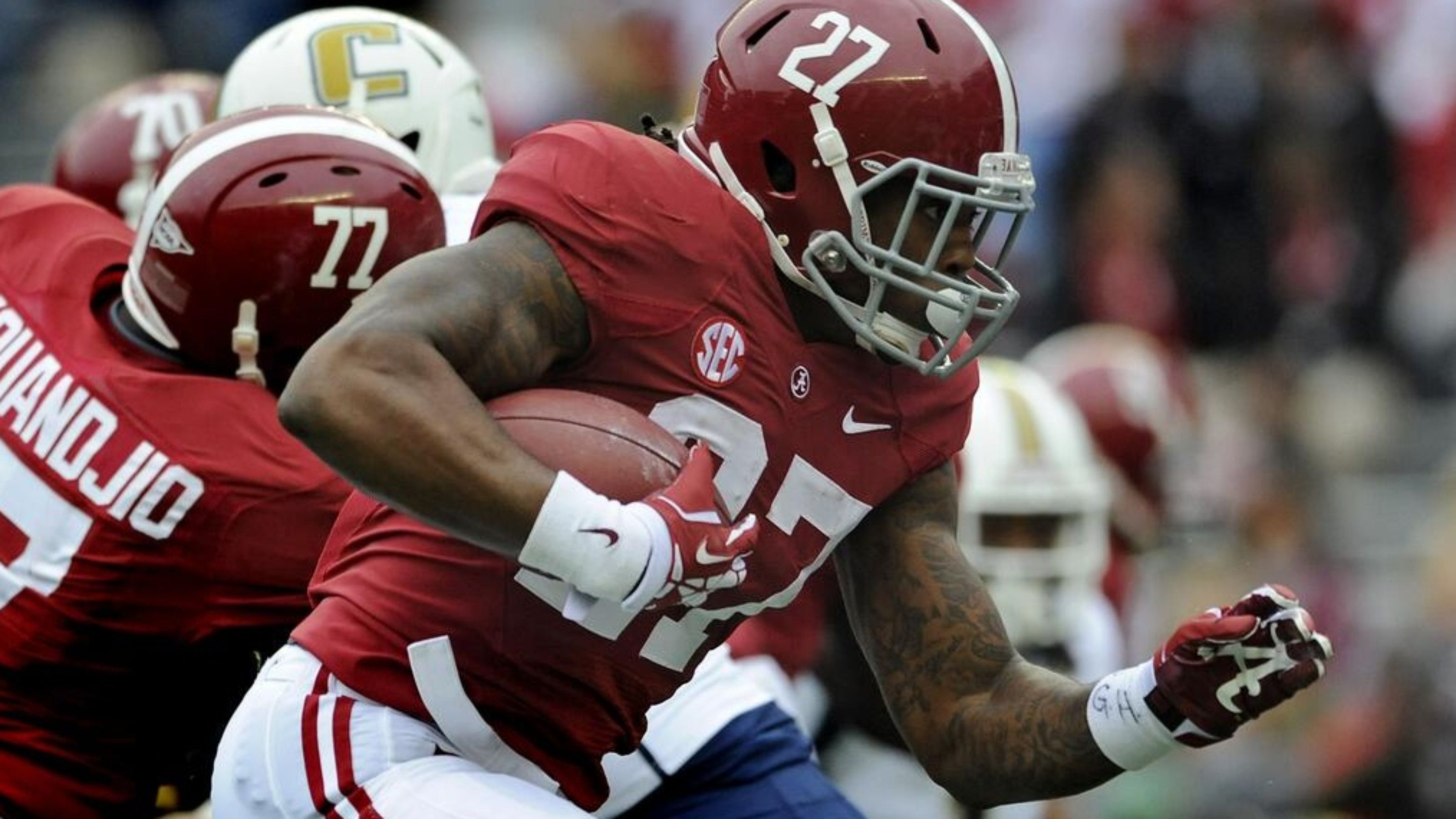 When a team is able to sustain success as long as Alabama has, it would be downright foolish to bet on them falling off next season. Yes, the Crimson Tide are losing key contributors on both sides of the ball on both sides of the ball, but Nick Saban's jaw-dropping recruiting classes (they're about to have the #1 class in the nation for the fifth straight year) make sure there's always someone new to step in and step up.
Alabama is losing nine starters on offense and four on defense, but rising stars like RB Derrick Henry, LB Reuben Foster and OT A'Shawn Robinson will make sure the Tide are right back in contention for the SEC West.
4. Michigan State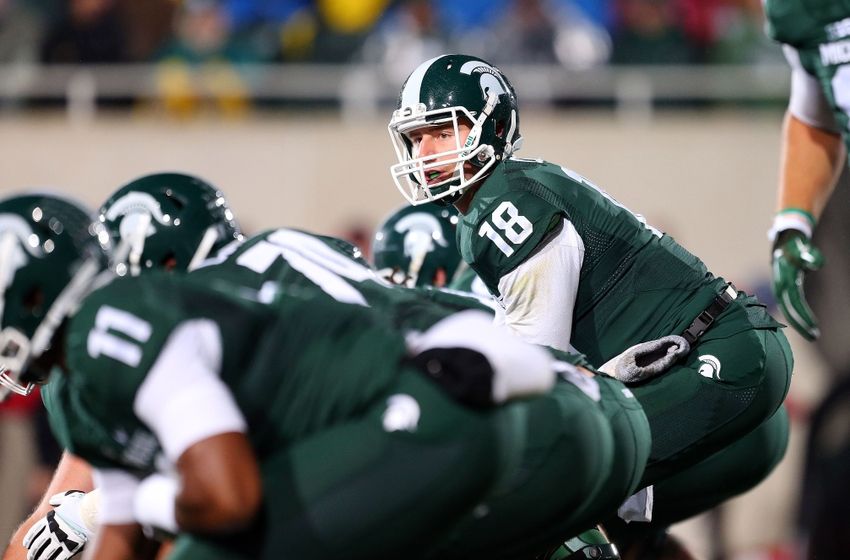 Michigan State is coming off of a dramatic Cotton Bowl victory over Baylor, and they should be able to carry some momentum from that game into next season. Quarterback Connor Cook will be back for his third year starting under center, and he'll lead an explosive Spartans offense that has to make up for the loss of star running back Jeremy Langford.
The team will also have to replace defensive coordinator Pat Narduzzi, who left to take the head coaching job at Pitt. Head coach Mark Dantonio promoted secondary coach Harlon Barnett and LB/special teams coach Mike Tressel to co-defensive coordinators, and hiring from within gives Michigan State's defense the best chance to maintain their high level of play. With no scheme changes for a young (but talented) defense to adjust to, they should be one of the country's best on that side of the ball again in 2015.
5. Oregon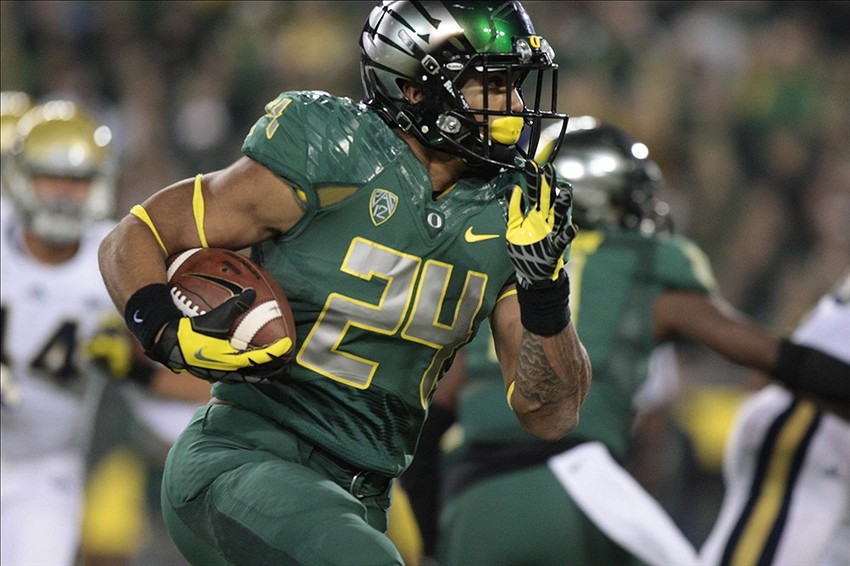 This ranking as a lot more to do with the projected absence of Heisman winner Marcus Mariota than any other factor for the Ducks. If Mariota goes against the grain and decides to play his senior season, a team that we've already penciled in as the Pac-12 favorites could jump back out in front. Without him, the Ducks still have plenty of top-tier skill talent returning, including running backs Thomas Tyner and Royce Freeman, plus a trio of excellent receivers in Devon Allen, Charles Nelson, and Byron Marshall.
The Ducks will be forced to replace three starters on the offensive line and the defense will need of some reinforcements if Arik Armstead and DeForest Buckner choose to jump to the NFL...but if any program has the national profile and the talent pool to retool and reload quickly, it's Oregon. Coach Mark Helfrich will likely have to sift through several intriguing transfer requests this offseason anyway, and coupled with the team's plug-and-play explosive offense, there's just too much going right for the Ducks to not label them a contender in 2015.
6. Georgia Tech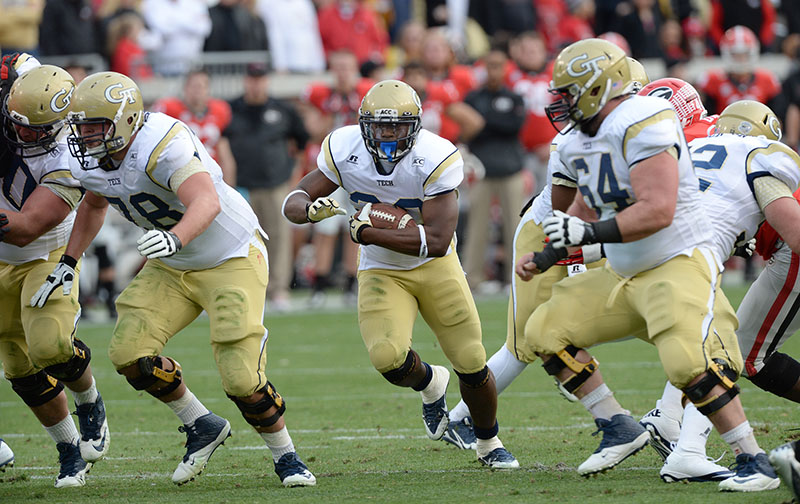 Georgia Tech surprised a lot of people with the way they played Florida State in the ACC Championship Game and how they blew out Mississippi State in the Orange Bowl, but they won't sneak up on anybody next year. Quarterback Justin Thomas returns to lead head coach Paul Johnson's triple-option attack, but they'll have to replace four of their top five rushers. That shouldn't be a problem with Thomas running the show, as he's the one who has to make all of the decisions in the offense.
The Yellow Jackets led the nation in third-down conversions and ranked third in the nation in time of possession - if they can maintain that level of efficiency, GT should find themselves in the thick of the ACC title race.
The Best of the Rest
7. Arizona
Arizona turned plenty of heads with their 2014 success, and the biggest surprises from the previous year always see a nice bump in their ranking when the next year's polls come out.
8. Georgia
Nick Chubb will be back, and that alone would vault the Bulldogs into our Top 25. This is a young team with a huge amount of upside, and that'll be reflected in their ranking.
9. Baylor
Baylor's 2014 squad was younger than most fans realize, and they're returning a number of key players on both sides of the ball. Bryce Petty is headed for the NFL, but Art Briles' team is rarely short on talent at the quarterback position.
10. Mississippi State
Dak Prescott will be back for his senior year, and the Bulldogs are reloading with a top-20 recruiting class. Mississippi State is losing several solid players to graduation, but they won't take anyone by surprise next year.
11. USC
Cody Kessler might have been the most underrated QB in college football in 2014, and he'll have plenty of returning weapons to help him out. SC is also bringing in a top-5 recruiting class as well.
12. Florida State
Even without Jameis Winston, the 'Noles will be in the mix for the ACC Championship. Keep your eye on FSU as a possible destination for Ohio State's Braxton Miller.
Not the favorites, but don't count 'em out
13. Oklahoma
14. Mizzou
15. Clemson
16. LSU
17. Wisconsin
18. Notre Dame
19. Ole Miss
20. Boise State
21. Oklahoma State
22. West Virginia
23. Auburn
24. Texas A&M
25. UCLA
Others receiving votes:
Arizona State, Arkansas, Florida, Kansas State, Tennessee
MORE:
Back to the NCAA Newsfeed