Update 4:30 p.m. PT: Linfield College Wins D-III Baseball Championship
As an update to the original post below, Linfield College beat Southern Maine 4-1 today to win the NCAA Division III Baseball Championship. You should be very happy about this. Reason No. 2 is that their head coach is former MLB "great" and Linfield alumni Scott Brosius. Reason No. 1 is below.
Original post: "You Should Care About the NCAA Division III Baseball Championship"
Today, Linfield College will play for the NCAA Division III National Championship in baseball against Southern Maine, who beat out Ithaca College in a 12-inning dogfight this morning. Linfield will have to like their chances against a depleted team playing the second leg of a doubleheader, and you should too. Here's why.
[caption id="" align="alignright" width="230" caption="Linfield supporter Arnold Owens"]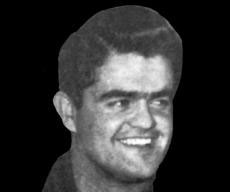 [/caption]
On Saturday, Linfield lost it's biggest baseball supporter, 1954 graduate Arnold Owens. Supporter is an understatement. Owens attended almost every Linfield baseball practice and game, including on the road.
Linfield Athletic Director Scott Carnahan called Owens a "tremendous leader in the Linfield community and a big fan of all Wildcat sports."
Owens was originally given a football scholarship to the school in 1950, but was dismissed from the team when he missed a dorm curfew by 15 minutes.
So Owens turned to professor and baseball coach Roy Hesler. Per the school, their exchange went like this:
"I'm not sure I can stay in school without that scholarship," Owens told Helser.

"That's alright," Helser replied, "we'll just change your scholarship to baseball."

In 1953, Owens was hitting .382 from the left side of the plate during the nonconference schedule. But an injury cut short a promising junior season.

A first baseman, Owens went on to earn all-conference honors the following spring in 1954 while helping the Wildcats to a 19-2 record, one of the best marks in program history.
Owens was in Appleton, Wis. with the team for the finals when he passed away. He is survived by his wife, Marilyn.
Follow the championship game live here or watch live here
Linfield College Athletics: Linfield loses ardent supporter Arnold Owens
Follow Dean Thompson on Twitter --> Follow @_TheDeans_List
Back to the NCAA Newsfeed