Recruiting is never an exact science - college football fans know all too well that the best recruits don't always turn out to be the best players. Just how good did the number one recruits from the last decade turn out to be? We took a look back at the top players in each class (according to Rivals.com) and caught up with each one to find out just how accurate these rankings really are.
Rivals typically rates each recruit on a two-star to five-star scale (five stars indicates a future star who can contribute right away, while two-star prospects are considered much more of a gamble). We decided to rate each #1 recruit on a similar scale, with five stars indicating a college and NFL star and two stars indicating an average player or relative bust. Recent recruits still in school will receive an incomplete rating, with a brief breakdown of which direction they're headed in.
Let's work our way back in time, starting with this year's consensus #1 recruit...
2018: Trevor Lawrence, QB - Clemson
Lawrence was the top overall player in this class for several years before losing that position to UGA QB commit Justin Fields, but he got it back earlier this month. He gave his verbal pledge to Clemson in December 2016 and is set on being Clemson's quarterback of the future.
Rating: Too early to tell
2017: Jaelan Phillips, DE - UCLA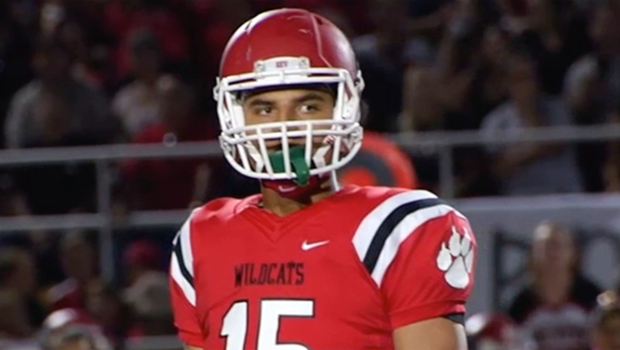 Phillips didn't take over the No. 1 spot in 247sports' Composite Rankings until their final release in January, but he deserves that ranking. He already has legitimate size at 6-foot-6 and 255 lbs., and brings scary speed off the edge. That athleticism also allows him to play outside linebacker in certain situations. He was limited to just six games as a freshman for UCLA but played well, recording 21 tackles, including seven tackles for loss and 3.5 sacks.
Rating: Too early to tell
2016: Rashan Gary, DT - Michigan
Gary was the best prep defensive tackle we've seen in over a decade -- combining great footwork, an NFL-ready frame, fantastic hands and a secondary push which causes offensive lines to collapse from the inside out. He still has all the makings of a star and has shown flashes of dominant ability, but didn't become the overwhelming force we expected him to be as a sophomore. Still, he's one of the most skilled players in the country.
Rating: Too early to tell but trending towards four stars
2015: Byron Cowart, DE - Auburn
Cowart did not contribute at Auburn as expected and was never able to get consistent playing time on the field. He has transferred to Maryland and will be eligible for the 2018 season.
Rating: Too early to tell but really trending towards one star
2014: Leonard Fournette, RB - LSU
Fournette has taken Baton Rouge by storm in his three years, posting back-to-back 1,000-yard seasons (injuries limited him to 843 as a junior) and nearly eclipsing 2,000 in a banner 2015.
Regardless, Fournette is a human highlight reel who combines fantastic edge speed with brute force. Go on YouTube and you'll be able to find multiple videos of him trucking defenders like they were Junior Varsity bench players. He's a shortlist Heisman favorite for 2016 and the biggest reason why LSU is a team to watch in the CFP race.
Rating: Five stars - with a promising NFL future
2013: Robert Nkemdiche, DE - Ole Miss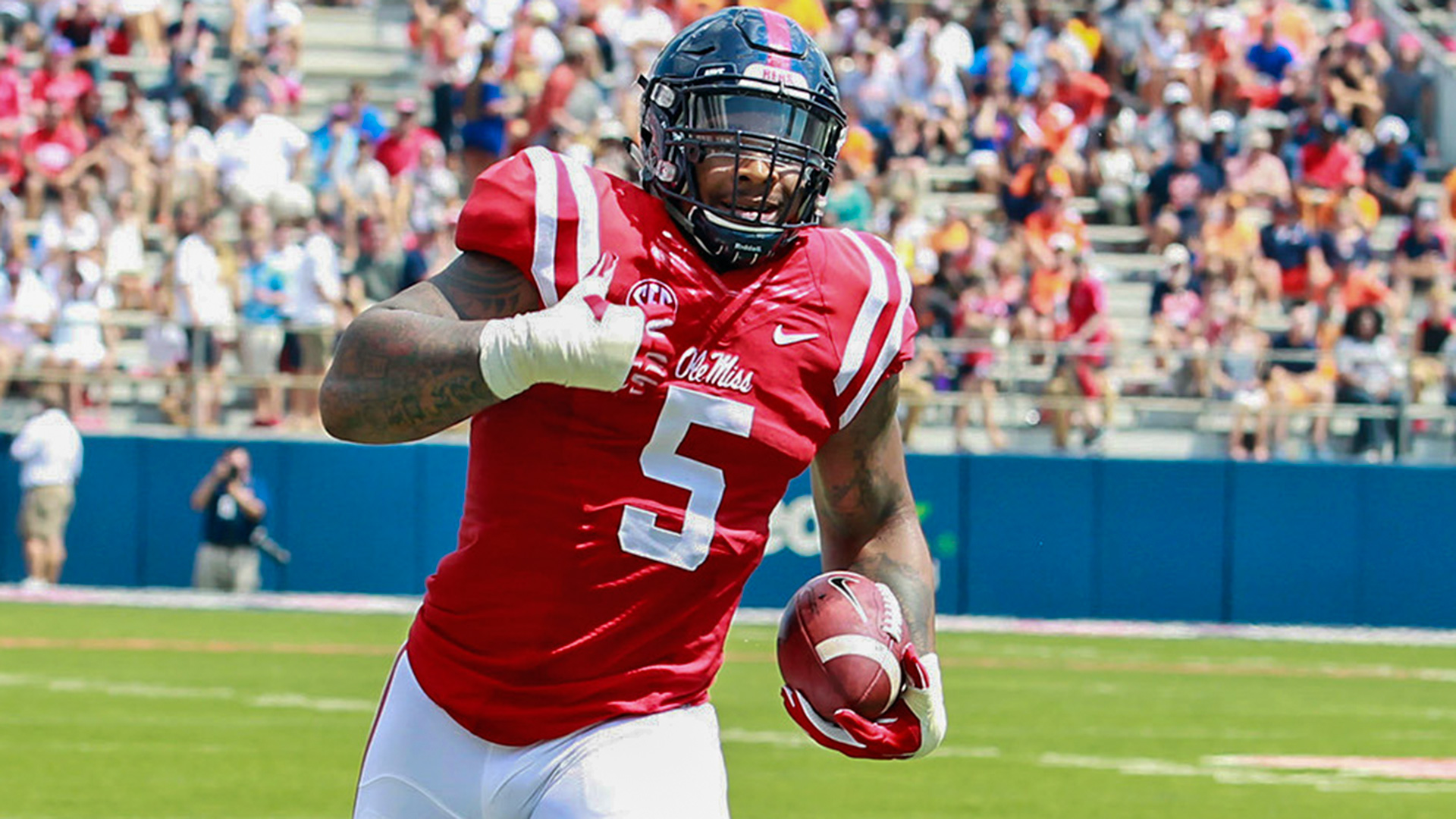 A consensus #1 prospect across all the major recruiting services, Nkemdiche was originally committed to Clemson, but ultimately flipped to Ole Miss in order to play with his older brother. The highest rated Ole Miss recruit since Eli Manning, Nkemdiche racked up 35 tackles (including two sacks) in 2013. The Rebels took full advantage of Nkemdiche's versatility - he featured at linebacker and even at running back (where he picked up 21 yards on four carries) over the course of the season.
The Associated Press, USA Today and CBSSports.com all named Nkemdiche a second-team All-American after an impressive sophomore campaign in 2014. His 2015 season was full of controversy, including an arrest which led to him being suspended from the Sugar Bowl. Injuries limited him to just one tackle in five games as a rookie with the Cardinals.
Rating: Three stars - It definitely doesn't look like he'll be an NFL bust, though, if he gets his head screwed on straight
2012: Dorial Green-Beckham, WR - Missouri
Green-Beckham flashed elite potential on the field for Mizzou, but his decision-making off the gridiron has clouded his future. A second-team All-SEC selection in 2013, Green-Beckham was arrested twice since coming to Columbia on marijuana-related charges, and was suspended indefinitely in April 2014 for an unspecified violation of team rules. After being dismissed from the program, Green-Beckham transferred to Oklahoma, had a waiver request denied, and did not play in the 2014 season. In January, he announced his plan to enter the 2015 NFL Draft.
Picked in the second round by the Tennessee Titans, Beckham had a solid rookie campaign -- catching 32 balls for 549 yards and four touchdowns - which he backed up with a 392 yard season with the Eagles this year. The jury's still out, but it doesn't look good.
Rating: Two stars - Definitely a college bust 
2011: Jadeveon Clowney, DE - South Carolina
No controversy here - Clowney's ranking was dead on. The #1 pick in the 2014 NFL Draft, Clowney has done pretty much everything right except stay healthy. A terrifying high school highlight reel made it obvious why he was so highly touted, and he did nothing at South Carolina to indicate that his ranking wasn't well deserved.
Rating: Five stars - Clowney was a #1 overall draft pick, and he's fulfilling his potential as a game-changing NFL star.
2010: Ronald Powell, DE - Florida
Back in 2011, Powell looked on track to be a dominant DE out of the SEC - his six sacks as a sophomore were a flash of real potential. Unfortunately, a torn ACL suffered in Spring 2012 derailed his ascent, and while he had a respectable comeback season in 2013, he still wasn't quite the same player he was prior to the injury. A fifth-round pick in the 2014 NFL Draft, Powell played in 14 games as a rookie for the Saints - but hasn't played since.
Rating: One star. Hard to blame this one on Rivals - ACL injuries are impossible to predict and can be absolutely devastating for players' careers. 
A massively talented prospect who drew comparisons to Adrian Peterson, Brown struggled to overcome a tumultuous recruitment period and difficult college experience. The NCAA launched an investigation into his trainer and handler before he played a down at Tennessee, and although he was cleared to play, the problems didn't end there. Coach Lane Kiffin abruptly left the school after Brown's freshman year (where he put up decent stats backing up senior Montario Hardesty), and Brown announced his plans to transfer soon after.
New Vols coach Derek Dooley was unable to prevent Brown from transferring to Kansas State, where he had nearly committed during his original recruiting process. After sitting out the 2010 season, Brown played sparingly for the Wildcats, eventually leaving the team in September 2011 and declaring for the NFL Draft.
Brown was drafted in the seventh round by the Philadelphia Eagles, who went 4-12 in his rookie season. Brown rushed for 347 yards and four touchdowns in a two-game span late in the year, but problems holding onto the ball saw him fall back behind LeSean McCoy when McCoy returned from injury. Brown has been a bit player with Buffalo and Seattle in 2014 and 2015 before being out of the league in 2016.
Rating: One star. Brown never made an impact at the college level, and he has had a very limited NFL impact.
2008: Terrelle Pryor, QB - Ohio State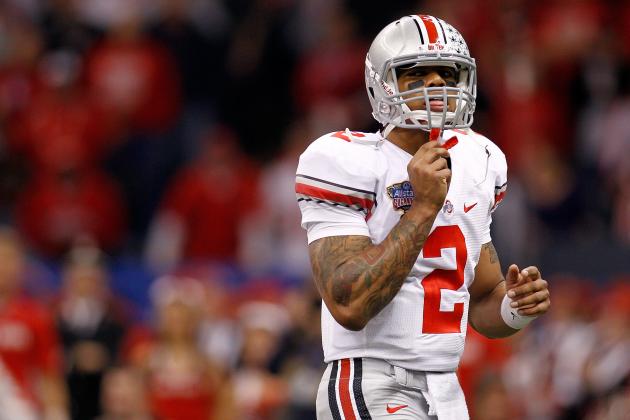 A two-sport athlete in high school, Pryor had a very successful college career with the Buckeyes. The MVP of the 2010 Rose Bowl, Pryor's college achievements were overshadowed by the memorabilia-for-cash scandal that ultimately cost coach Jim Tressel his job. Suspended for the first five games of the 2011 season, Pryor ultimately withdrew from Ohio State and was banned from any contact with the athletic program.
Since the Buckeyes had cut all ties with their former quarterback, he became eligible for the NFL's 2011 supplemental draft. There, the Oakland Raiders took him in the third round with what turned out to be Al Davis' last pick as owner. Pryor played sparingly in 2011 and 2012 before winning the starting job over Matt Flynn in early 2013. Pryor started the year strong, but a dip in form and an MCL injury opened the door for undrafted rookie Matt McGloin, who took over the job until Week 17. Pryor was reinstated as starter for Oakland's season finale, but the team moved on and Pryor was unable to find a team that could offer him playing time in 2014.
Ultimately, he used his athleticism to make the transition to wide receiver - where he has emerged as a star for the Browns.
Rating: Four stars. Pryor was a solid quarterback while still in the Buckeyes' good graces, and he's now a very good receiver in the NFL.
2007: Jimmy Clausen, QB - Notre Dame
Few recruits have ever been as hyped as Clausen, who committed to the Fighting Irish at the College Football Hall of Fame after arriving in a stretch Hummer. Clausen was supposed to take Notre Dame back to the promised land, but instead ended up as one of the most unprecedented disappointments in recruiting history. After a glittering high school career that saw him compared to Joe Namath, Clausen ended up winning just one award with the Irish - a co-MVP nod in the 2008 Hawaii Bowl.
Clausen left Notre Dame after his junior season, and was taken by the Carolina Panthers in the second round of the 2010 NFL draft. After a rough start to his NFL career that saw him throw three touchdowns and nine interceptions (to go along with seven fumbles), the Panthers benched Clausen for journeyman backup Matt Moore five games into the 2010 season. Carolina took Cam Newton with the number one draft pick in 2011, and Clausen (currently a member of the Panthers' practice squad) has barely seen the field since. Semi-decent cameos since haven't changed his bust status.
Rating: One star. In 2009 - the one year Clausen put up decent numbers at Notre Dame - his team went 6-6 and wasn't invited to a bowl game. Has been a colossal bust in the NFL.
2006: Percy Harvin, WR - Florida
Harvin, a decorated multi-sport athlete in high school, was a highly-prized recruit who originally planned to attend Florida State. A change of heart saw him sign with the Gators, and at Florida he won two NCAA titles while garnering praise for his vision and explosive speed. Nagging injuries prevented Harvin from challenging for individual awards, but that didn't stop the Minnesota Vikings from taking him in the first round of the 2009 NFL Draft.
A consensus choice for Offensive Rookie of the Year, Harvin was named to the Pro Bowl in his first NFL season and looked ready to break out as a superstar. A series of illnesses and struggles with migraines prevented Harvin from shining as brightly over the next two seasons, and he was traded to the Seattle Seahawks for three draft picks (including a first-rounder) in March of 2013. A hip injury limited him to just one game in the 2013 regular season, but Harvin was able to play a part in Seattle's Super Bowl win, returning the second-half opening kickoff 87 yards for a touchdown.
Harvin reportedly clashed with teammates, though, and was traded to the New York Jets prior to the 2014 season for a conditional draft pick. He moved on to Buffalo in 2015, but a season-ending injury caused him to retire. He came back for a few games in 2016 before retiring again.
Rating: Three to four stars. Harvin made an immediate impact for Florida, and his 32 TDs for the Gators are nothing to sneeze at. The injuries that limited his numbers and accolades couldn't have been foreseen during his recruiting process. He also had a solid professional career.
2005: Derrick Williams, ATH - Penn State
Williams, who excelled at multiple positions in high school, shocked the recruiting world by committing to Penn State during a live ESPN broadcast. The Nittany Lions had ended four of their last five seasons with losing records, and Joe Paterno was under increasing pressure to retire. Williams said he relished the challenge of returning Penn State to its former glory, and his impact was immediate - the Nittany Lions went 11-1 in his freshman year and ended up winning the Orange Bowl.
Penn State was back on the map, but Williams was never able to reach the heights he seemed capable of in high school. An impressive senior season saw him named First Team All-Big 10, but that turned out to be his last major accolade. Williams failed to catch on with the Detroit Lions (who drafted him in the third round in 2009), and short stints with the Pittsburgh Steelers and the CFL's Toronto Argonauts never panned out. Williams currently lives with his wife and two children in Hollidaysburg, PA, where he works in sales for Blair Companies.
Rating: Two stars. While Williams never made an impact in the NFL, he made an immediate difference for the Nittany Lions and had a successful (if inconsistent) college career.
2004: Adrian Peterson, RB - Oklahoma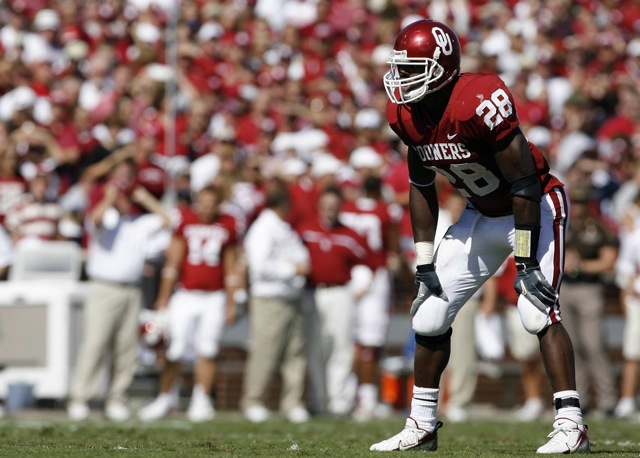 The only player in the last decade who lived up to his ranking (so far) was 2004's Adrian Peterson. A six-time Pro Bowler and the 2012 NFL MVP, Peterson nearly won the Heisman Trophy as a freshman at Oklahoma and broke numerous NCAA records despite missing time with injuries and forgoing his senior season to enter the NFL Draft.
A stellar career with the Minnesota Vikings has seen Peterson develop into one of the best running backs in NFL history, and despite child abuse controversy in 2014, a place in the NFL Hall of Fame is very likely on the horizon.
Rating: Five stars. Of all of the top recruits in recent memory, Peterson is the only transcendent talent able to justify the hype he received coming out of high school.
Back to the NCAA Newsfeed
Related Topics: Adrian Peterson, Byron Cowart