This year's three Heisman Trophy finalists - Melvin Gordon, Amari Cooper, and winner Marcus Mariota - are all set to enter the NFL draft this spring, leaving next year's Heisman race wide open. Who are the favorites to walk away with the award next year?
10) Anu Solomon, QB, Arizona
Season Stats: 3,458 passing yards, 27 TDs, 7 INTs - 259 rushing yards, 1 TD
Solomon led the Wildcats to a berth in the Pac-12 Championship Game and a top-10 ranking as a true freshman, and he'll only improve with a season's worth of experience under his belt. He shined in head coach Rich Rodriguez's up-tempo offensive system...the reason Arizona will be one of the favorites - if not the favorite - to win the Pac-12 next season.
9) Connor Cook, QB, Michigan State
Season Stats: 2,900 passing yards, 22 TDs, 6 INTs
Cook is widely considered one of the top NFL prospects in the college game, but scouts seem to agree that he needs another year of seasoning before he'll be ready. He showed flashes of greatness for the Spartans this season, but he wasn't the focal point of the offense. That will change next year with running back Jeremy Langford headed to the NFL, and his Heisman candidacy will come down to whether or not he can win the big games Michigan State wasn't able to take this year.
8 ) Leonard Fournette, RB, LSU
Season Stats: 891 rushing yards, 8 TDs, 5.1 YPC
Fournette got Heisman hype before he even stepped on campus in Baton Rouge this fall, and while he didn't quite reach that level as a freshman, he was still one of the best backs in the SEC. He'll be more heavily featured next year, and will become the focal point of LSU's power running offense.
7) Nick Chubb, RB, Georgia
Season Stats: 1,281 rushing yards, 12 TDs, 6.9 YPC
Chubb was absolutely dynamite once he saw the field after All-American Todd Gurley's suspension. In fact, he was so good that he got the starting nod over Gurley once Gurley got back. Chubb will be the full-time, featured back for the Bulldogs next year, and he's going to get a very heavy workload as Georgia tries to break in a new quarterback. The opportunities will be there, and if he can produce like he did this year, he'll be a finalist in New York.
6) Cody Kessler, QB, USC
Season Stats: 3,505 passing yards, 36 TDs, 4 INTs
Kessler quietly had a breakout year in 2014, and many think he'll be able to take his game to another level as a senior in his second season under Steve Sarkisian. The Trojans will be among the favorites to win the Pac-12 and make the College Football Playoff, and Kessler - possibly the college game's most underrated QB in 2014 - will be the driving force behind that.
5) JT Barrett, Ohio State Buckeyes QB Season Stats: 2,834 passing yards, 34 TDs, 8 INTs – 938 rushing yards, 11 TDs
Barrett is a bit of a wild card here as Cardale Jones could earn the starting job, but whoever does start will immediately become a Heisman favorite. Barrett seems to have the inside track to earn the nod, but there's still a lot of time left to head coach Urban Meyer to decide. There's also the possibility that his running back will steal the show (more on that later), but Barrett proved this season that if he does end up starting in Columbus, he'll definitely be in the conversation.
4) Samaje Perine, RB, Oklahoma Sooners
Season Stats: 1,579 rushing yards, 21 TDs, 6.6 YPC average
Perine started his freshman season splitting carries with Oklahoma's two other running backs, but he ended any thoughts of a platoon when he rushed for 427 yards against Kansas...a new FBS single-game record. That was enough to put anyone on the map, and he then continued to dominate for the rest of the season. He won't get as many opportunities as Fournette and Chubb because he won't have to carry the offense - Oklahoma quarterback Trevor Knight is still in Norman - but he'll still make a huge impact.
3) Trevone Boykin, QB, TCU Horned Frogs
Season Stats: 3,714 passing yards, 30 TDs, 7 INTs - 642 rushing yards, 7 TDs
Boykin was surprisingly snubbed when invites to the Heisman ceremony went out, but he did manage to finish fourth in the overall voting. He led TCU to the top of the Big 12 and nearly into the College Football Playoff, so it's hard to imagine him having a better season...but if he and the Horned Frogs can force their way into the top four, he won't be snubbed in 2015.
2) Dak Prescott, QB, Mississippi State
Season Stats: 2,996 passing yards, 24 TDs, 10 INTs - 939 rushing yards, 10 TDs
Prescott was the Heisman favorite halfway through the season after he carried Mississippi State to the No. 1 ranking in the country, but his case fell apart late in the year when teams figured out that he isn't the most accurate passer. His bruising and productive running style will keep him in the Heisman hunt for most of the year, but if he can improve as a passer this offseason, he'll definitely help his case.
1) Ezekiel Elliott, Ohio State Buckeyes RB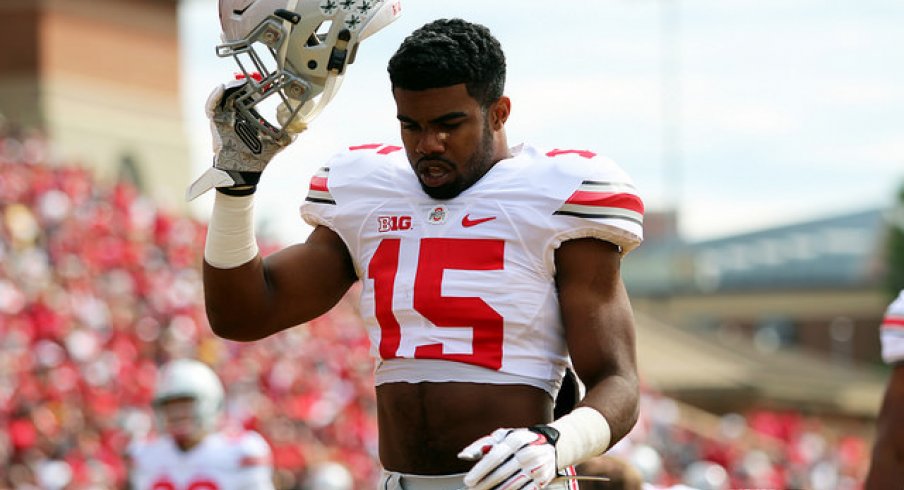 Season Stats: 1878 rushing yards, 18 TDs, 6.9 YPC average
No one finished the season stronger than Elliott, arguably the breakout star of Ohio State's title run. A junior in 2015, Elliott will benefit from a very similar offensive line (just one senior started in '14) and the promotion of Ed Warriner - a line/run game specialist - to offensive coordinator. In Ohio State's last four games of the 2014 season, Elliott rushed for 817 yards and 10 touchdowns. If he can carry that momentum into next year, he'll be hard to catch.
Who do you think will win the Heisman next year? Tweet your thoughts to @brauf33 and leave a response in the comments!
Back to the NCAA Newsfeed