The Big 12 was home to many of the top quarterbacks in the country last season, and that helped many view the conference as perhaps the best in the country. Here are the best players that will try and lead their teams – and the conference – to another great season in 2015:
5) Trevor Knight, Oklahoma Sooners

Knight fell way short of expectations in 2014 as he could back up his amazing Sugar Bowl performance against Alabama. An injury limited him last year, and he should see a lot more opportunities to pass the ball under new offensive coordinator Lincoln Riley. He still has to beat out transfer Texas Tech transfer Baker Mayfield for the starting job, but 2015 could be a redemption season for Knight.
4) Patrick Mahomes, Texas Tech Red Raiders
Similar to Knight, Mahomes has to beat out Davis Webb for the job in Lubbock. Mahomes threw for 1,457 yards and 16 touchdowns as a true freshman last year, and brings a different element to the offense with his dual-threat potential. He only managed 104 yards on 46 attempts in 2014, but the rushing ability gives him a leg up in the dynamic Texas Tech offense.
3) Seth Russell, Baylor Bears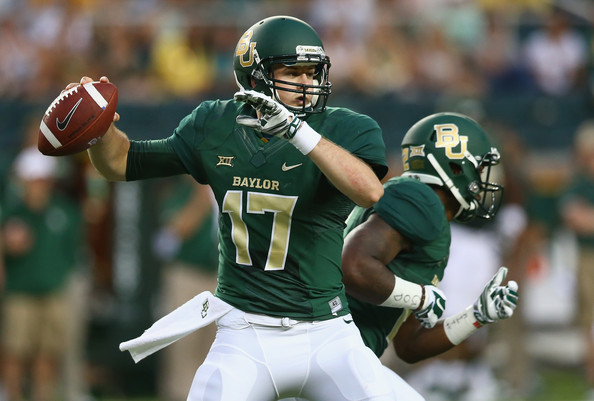 Russell didn't get much playing time in 2014, but he definitely made the most of it – he completed 48 of 85 passes for 804 yards, 8 TDs and 1 interception. It wasn't against the kind of defenses he'll face as a starter, but it definitely bodes well for the next man up in Baylor's offense factory.
Art Briles' team isn't losing very many impact players, and Russell is coming into what might be the most QB-friendly job in NCAA football. Baylor insiders have raved about Russell's potential since he hit campus – if he proves them right, he'll be much higher on this list.
2) Mason Rudolph, Oklahoma State Cowboys

Rudolph filled in as a true freshman for the Cowboys last season, and his play is one of the biggest reasons why many are picking Oklahoma State to finish third, behind Baylor and TCU, in the conference next season. He threw for 853 yards and six touchdowns over the last three game, and has all of his top five receivers back.
1) Trevone Boykin, TCU Horned Frogs

Boykin was surprisingly snubbed when invites to the Heisman ceremony went out, but he did manage to finish fourth in the overall voting. He led TCU to the top of the Big 12 and nearly into the College Football Playoff, so it's hard to imagine him having a better season…but if he and the Horned Frogs can force their way into the top four, he won't be snubbed again in 2015.
Back to the NCAA Newsfeed