The Big Ten is on the rise with Ohio State winning the national championship and Jim Harbaugh hoping to bring Michigan back to prominence, all of which worked wonders for the perception of the conference. Here are the five best players in the conference that will look to continue the Big Ten's momentum in 2015:
5) Christian Hackenberg, QB, Penn State
NFL scouts have been raving about Hackenberg's physical skill set since his freshman year at Penn State. He did not have a great season in 2014, but that's because he rarely had time to throw the ball. Penn State should have an improved offensive line, and another year with the receiving core should help Hackenberg have a breakout season in 2015.
4) Joey Bosa, DE, Ohio State
Bosa has a scary combination of size, strength and speed coming off the edge, which allowed him to make 55 tackles in 2014, including 21 TFL and 13.5 sacks. He's the odds-on favorite to win Big Ten Defensive Player of the Year and will be a top pick in the NFL Draft next year.
3) Connor Cook, QB, Michigan State
Season Stats: 2,900 passing yards, 22 TDs, 6 INTs
Cook is widely considered one of the top NFL prospects in the college game, but scouts seem to agree that he needs another year of seasoning before he'll be ready. He showed flashes of greatness for the Spartans this season, but he wasn't the focal point of the offense. That will change next year with running back Jeremy Langford headed to the NFL, and his standing in the Big Ten hierarchy will come down to whether or not he can win the big games Michigan State wasn't able to take this year.
2) J.T. Barrett, Ohio State Buckeyes QB Season Stats: 2,834 passing yards, 34 TDs, 8 INTs – 938 rushing yards, 11 TDs
Barrett is a bit of a wild card here – Cardale Jones and Braxton Miller will also be competing for the starting job, though Barrett is the favorite to win it. There's also the possibility that his running back will steal the show, but Barrett proved this season that if he does end up starting in Columbus, he'll have a good chance at repeating as Big Ten Offensive Player of the Year.
1) Ezekiel Elliott, Ohio State Buckeyes RB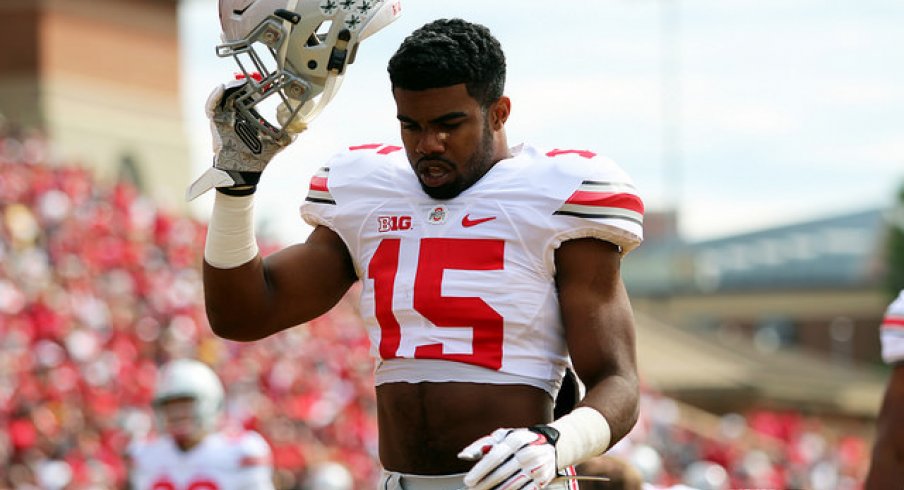 Season Stats: 1,878 rushing yards, 18 TDs, 6.9 YPC average
No one finished the season stronger than Elliott, arguably the breakout star of Ohio State's title run. A junior in 2015, Elliott will benefit from a very similar offensive line (just one senior started in '14) and the promotion of Ed Warriner – a line/run game specialist – to offensive coordinator. In Ohio State's last four games of the 2014 season, Elliott rushed for 817 yards and 10 touchdowns. If he can carry that momentum into next year, he'll be hard to catch.
Back to the NCAA Newsfeed