Hello to all the lucky people clicking on this post –
This is a new weekly post with about as much attitude as you can pack into text, or at least that's the goal. This is a female's take on SEC football. I'm MadGlab, and I'll be pointing out what makes me MAD (ranging from things that make me say wtf to things that make me want to throw my TV out the window) and what makes me GLAD (ranging from things that make me laugh to solid college offensive lines that could compete in the NFL) from the games I watched during the weekend. Also, a few comments about life's happenings. I won't be able to catch all the SEC games, but you can bet I'll watch every Mizzou game. So, here goes nothing:
MADS:
- I had plans to go out with this guy for drinks on Thursday. He asked if it would be okay to go to a wine bar. A wine bar on a Thursday night? No, that is not okay. Have you ever heard of football? There's something called Thursday Night Football, as well as college football on a Thursday night. That was strike #1 for him. I insisted on a sports bar with lots of TVs - I wanted to see the NFL, college football, and NBA games. Thankfully, we sat next to an Alabama alum at the bar. I gabbed with him for quite some time, name dropping as many coaches and players as possible so this guy that invited me out knew that I could talk football just about as well as any guy in that bar. Alabama man said he was sure Alabama would take down Mississippi State...shocking, I know. Strike two came when the guy I was out with told me he doesn't have the free time to watch football, or sports. Bye, just bye. Really? Needless to say, he never even made it to strike three.
- Another thing that just slowly kills my soul is when you see a coach run the same damn plays on offense year after year, just beating the offense like a dead horse. Hey, guess what - star players graduate or move to the NFL. Once they're gone, don't run the plays that played to the strengths of your former players. No matter how hard you try to make new players into those old stars, it isn't going to work. You have to tear part of the playbook out and write a new chapter - it's time to play to the strengths of your new guys. I'm not going to name drop here, because there are plenty of coaches guilty of this...okay maybe just one. Florida's Will Muschamp couldn't move the chains. Now, he doesn't get the chance to move the chains anymore for Florida.
- With all this talk about potential ties in the SEC heading into postseason, I can't help but think about how not exciting these tiebreakers are… it's all 'look at the record between the two, then look at the division record, then the non-division record, then let me YAWN'. After all of this, if the two/three teams are still tied, there's a coin flip. Yes, I said it. A flipping coin flip. This is the SEC. If a tie stands through all of that comparing records crap, there should be some epic event. What about a nationally televised rock-paper-scissors event? Now that would be something to talk about. How about a basketball game between the two teams? That would be hilarious.
- FLORIDA vs. SOUTH CAROLINA
- Didn't catch the entire game, but caught enough to see Florida players block each other AGAIN. Where are your eyes? Did you forget to put your contacts in? That's just a flat-out rookie mistake. Do better, please. I know the feeling though, back in my softball days I've definitely run into a live ball before while running the bases. Oops...but I didn't do that twice. Florida blocking Florida happened more than once. Y'all need some new contacts or glasses. Here's when it happened vs. South Carolina: Florida blocks Florida
[embed]http://www.youtube.com/watch?v=eVOK6asIcv4[/embed]
Here's when it happened less than a year ago against Georgia Southern: Florida blocks Florida Part One
[embed]http://www.youtube.com/watch?v=CYdd35cb6H8[/embed]
- MIZZOU vs. TEXAS A&M
- I saw Mizzou QB Maty Mauk under throw the deep ball for decent yardage more than once. If you're facing a decent defense…when you chuck a ball and let it fly often enough, there's usually double coverage waiting for the ball on the other side. A&M's freshman DB Armani Watts had an interception off of one of Mauk's underthrown passes. That particular pass looked like Mauk didn't put enough power into the throw...use your legs to put the oomph into the ball, son!
- So Mizzou junior RB Russell Hansbrough had a DAY, we'll talk about that later, but one of his TDs could have definitely been avoided if TAMU tried to tackle instead of jumping in the air. On Hansbrough's 45-yard TD run in the 3rd quarter, TAMU junior DB De'Vante Harris was the last defender in the flat who could have stopped Hansbrough from housing it. Instead, Harris looked like he saw a ghost and jumped in the air looking for his mama. That's just bad and sad. You should be ejected for the "bad-tackling" penalty on that. On the upside, this play made for some hilarious conversation on an Aggie message board. Take a look. If you want to watch the awful tackle, which you should, just scroll down this page.
- I think SEC sideline reporter Maria Taylor is great at her job, but one of her post-game questions to Missouri coach Gary Pinkel rubbed me the wrong way. During a previous postgame interview with Taylor and Pinkel, Taylor told Pinkel that Florida beat Georgia and Pinkel chuckled. So, Taylor got a pretty good reaction that social media went crazy over for a few hours. You can watch it here: Pinkel laughs at Florida beating Georgia [embed]http://www.youtube.com/watch?v=lEyZN7LHZ3Q[/embed] Taylor pushed the same comment after Mizzou beat TAMU saying something along the lines of did you know Georgia won? Okay. First of all, the man just finished coaching a football game. If you know Pinkel, he sure as hell doesn't give a damn about who's winning/losing while he's coaching a game. It seemed to me as if Taylor was trying to get another reaction out of Pinkel. No thank you, ma'am. Ask a valuable question instead of making a comment.
- LSU vs. ARKANSAS
- LSU senior center - let me say that again, SENIOR center - Elliott Porter Jr. had a few weak snaps. One in particular was just atrocious. I could have snapped the ball better. This particular snap went sailing over QB Anthony Jennings' head. It was a snap meant for Bigfoot.
GLADS:
- Did you see College GameDay's 'Dancing Fools' segment? If not, take a few minutes out of your workday to laugh. College football coaches and dancing - you put those two together, and there's nothing better in life. I think it's awesome to see a coach unwind for a split second and just enjoy the moment. These guys are so serious all the time that it's great to see them smile. When I covered Mizzou football, about 99.9% of the time Pinkel was Mr. Serious to the media. The .01% when he wasn't was a sight to see.
- We all know that Alabama fans are passionate about their Crimson Tide, which makes for quality entertainment. I think we should all be as passionate as Alabama fans about our favorite college football teams...man, that would be a beautiful thing. Anyways, one Alabama fan took a popular song and remixed the lyrics to make it all about the Tide. It's pretty great; this lady has some mad skills.
[embed]http://www.youtube.com/watch?v=Tw1M3HrdfOc[/embed]
- One more thing about Alabama before I get into real football talk...I think everyone deserves the right to know about The Paul Finebaum Show and Phyllis. It would be terrible to keep this wonderful thing from America. Paul Finebaum is a radio host in SEC country. He's also on SEC Network. Finebaum has the best callers on his show. His cream of the crop is Phyllis. She loves Alabama. Listen to her go ape on the Alabama vs. Mississippi State matchup. Pure entertainment right here. 
- I've said this before, and I'll say it again. I'm a big fan of the hurry-up offense. I see teams really start to gel and get in the groove with the no-huddle offense. If a team needs to start moving the chains, I think the hurry up offense is its best friend. One team that started to use the hurry-up offense this season is Stanford. QB Kevin Hogan can really move the ball when he and his guys don't have long breaks in between plays.
- I think college football has completely trumped the NFL this season. Has anyone else noticed this besides me? There's a huge difference in the number of amazing college football games compared to the amount of amazing NFL games, and it isn't just because there are more of them. It's a bummer because I love the NFL too, but I hope college football has gained a few more fans from this. The primetime NFL games this season have mostly been complete crap.
- This happened on Illinois' sidelines.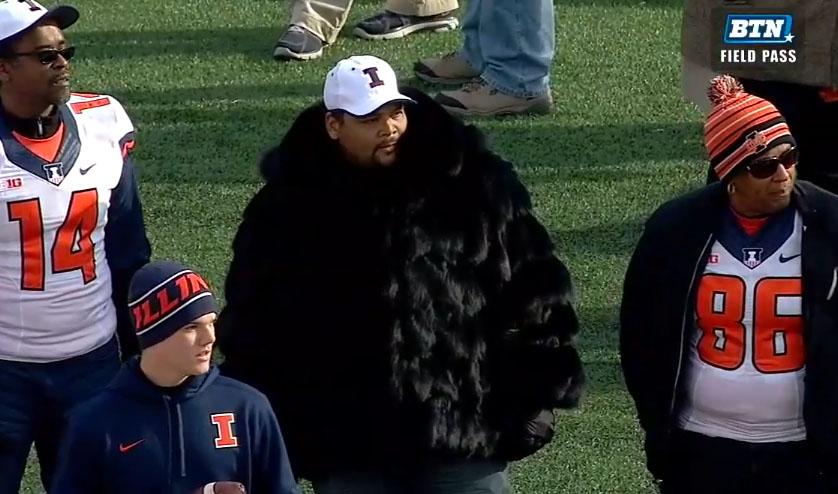 Did he go to the thrift shop with Macklemore to purchase that lovely coat? Can anyone say fashion statement?
- SOUTH CAROLINA vs. FLORIDA
- I saw South Carolina use the perimeter a decent amount. I feel like some schools forget it exists. Grounding and pounding the ball straight up the middle won't work every time. Like, hello, spread the ball around the field. The perimeter can be your friend too.
- South Carolina senior DT JT Surratt put his heart and soul into this TFL. That's why defensive lineman do not skip meals.
[embed]http://www.youtube.com/watch?v=FrFCy6-F5y8[/embed]
- Florida Defensive Coordinator D.J. Durkin tried to lay the magic on his defense to fool South Carolina. Durkin had his defense disguise schemes to confuse South Carolina's offense. I think that's a pretty smart idea. If you have a defense that's knowledgeable enough to mix it up and hide a formation, go for it. I think younger college QBs have a difficult time reading a disguised defense. Don't try this on the almighty Peyton Manning, though. Florida's defense forced South Carolina into a 4th-and-10 situation in the beginning of the fourth quarter, and got the ball. The swamp was electric at that point. In the end, though, the defense couldn't save Florida from a loss.
- One positive I saw from Florida's offense was a beautiful slant route. Florida freshman QB Treon Harris hit a receiver perfectly on a slant for a TD at the end of the second quarter. When a QB can flawlessly place the ball in a receiver's hands on a slant, I stop for a second, mouth wide open, and just marvel at how pretty it was.
- MIZZOU vs. TEXAS A&M
- Mizzou junior safety Ian Simon had an interception in the first quarter to help put the Tigers on the right foot. I'm pointing this out because Simon was everywhere. He caught the INT after it bounced off a receiver's hands - way to be there. You can expect big things from this kid the rest of this season into next season.
- Mizzou junior RB Russell Hansbrough was king of Kyle Field on Saturday. The monster ran for 199 yards off 20 carries for two TDs. He looked unstoppable. You know why he looked unstoppable? It's because he hit the holes. Duh, if you hit the holes you get in a good place to score. BUT, he hit the holes because he was patient. Hansbrough waited for the offensive line to do its job and open up the field. So many RBs aren't patient enough to let the offensive line lead the way. He even gave it up to those guys in the postgame interview, saying it was his teammates up front who created the space. It's truly a work of art to watch.
- Mizzou sophomore QB Maty Mauk (I can't believe he's just a redshirt sophomore) flexed his QB muscles in the third quarter when he had pressure coming at him in all directions, but stayed composed in the pocket and slung it 21-yards down the field to senior WR Darius White.
- TAMU freshman QB Kyle Allen had a pretty decent day - 24/35 with 237 yards in the air, 3 TDs, 1 INT. Allen hit sophomore WR Josh Reynolds with a pretty slant for a TD in the third quarter. Watching Allen run the option as a true freshman shows a lot of promise for TAMU down the road. Not every QB can go out in their third start and run the table that efficiently.
- LSU VS. ARKANSAS
- I wish the battle for the boot was really "DAAAS BOOT" and was filled to the brim with beer for the winners to enjoy. That would be pretty nifty. Oh well. Arkansas has two kickers from Australia, wtf? Yeah, I thought the same thing. There's this program in Australia called Prokick, which converts Aussies into American football kickers and places the kickers all over the country. Pretty cool…Aussies in Arkansas.
- LSU didn't beat Arkansas, but one thing the Tigers have on their side is youth. It's not the best now because the players make rookie mistakes. But, this will definitely play into Les' favor in the next few seasons.
- One thing I noticed about Arkansas' defense was how hard those guys gang tackle. If a ball gets loose, Arkansas is going to grab the ball because there are so many defenders around at all times. Watch out Mizzou…you still have to face these guys.
- Arkansas used the heck out of their tight ends, and I loved it. The Razorbacks didn't just use the TEs for little hitch routes; they played a role in big yardage plays. Arkansas is just doing the right thing - playing to their offense's strengths.
- Speaking of Arkansas' tight ends, I thought this was pretty cool…senior A.J. Derby originally went to Iowa to play QB, left and walked on at Arkansas. Derby obviously wanted to play QB, but Arkansas had different plans. Those plans were placing him at the H back/TE spot, and it's played to his advantage. Derby isn't the touchdown king, but he's helping Arkansas get into scoring situations. That's all that matters, right?
That's it from me for the past week of college football. Peace out friends, I'll be back with more crazy things to say. - @MadGlab
Back to the NCAA Newsfeed