With Oregon getting ready to take on Ohio State in the first ever College Football Playoff National Championship Game, let's take a look back at the last decade of champions...and see who comes out on top:
10. 2007 LSU (12-2, won National Championship Game 38-24 vs. Ohio State)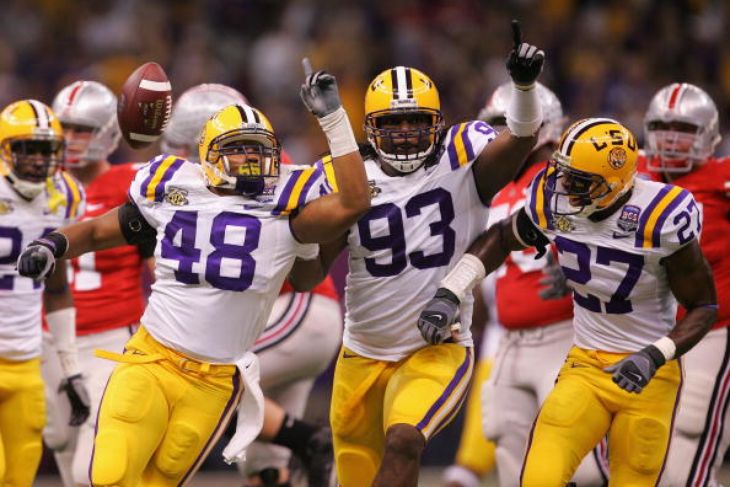 The only two-loss champion of the past decade, Les Miles' 2007 squad managed to land themselves a national title matchup with Ohio State despite losing four starters in the first round of the previous year's NFL draft. Once there, they rode Matt Flynn's four touchdown passes to a 38-24 victory.
It might be hard to imagine a two-loss team getting a shot at the title these days...but 2007 was a strange year. Only two teams - Kansas and Hawai'i - finished with one loss, and LSU's two L's both came in triple overtime.
9. 2006 Florida (13-1, won National Championship Game 41-14 vs. Ohio State)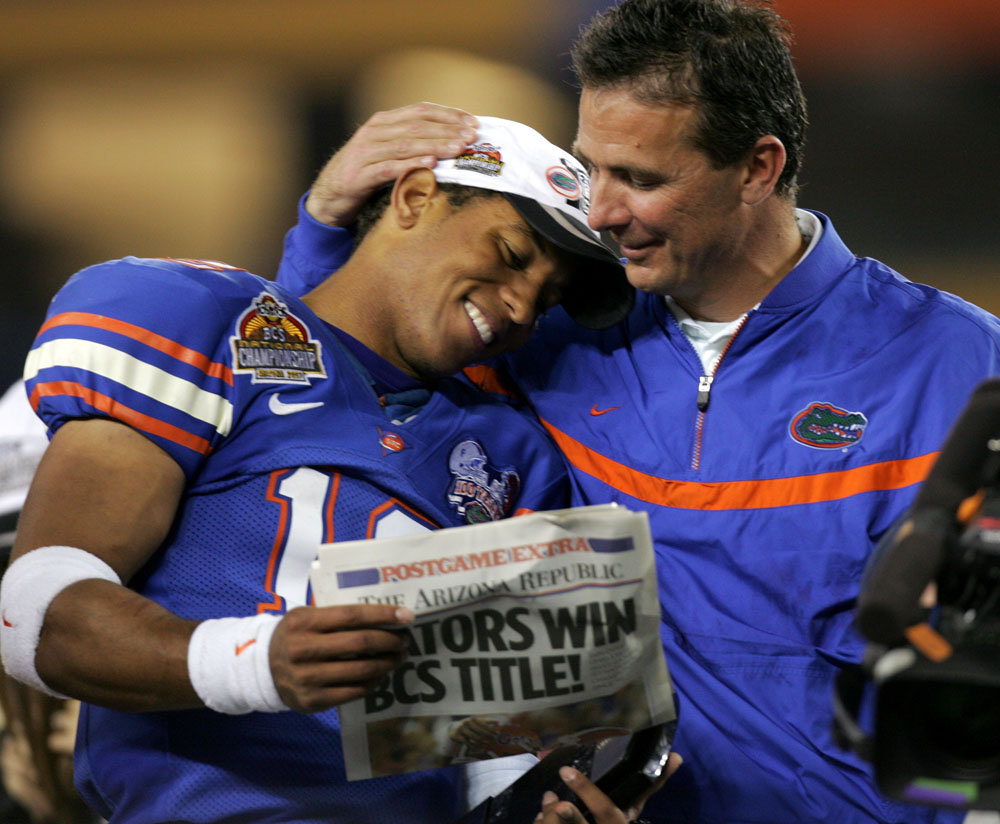 When senior Chris Leak was replaced by a freshman named Tim Tebow early in the season, few observers thought the talented Gators were national championship material.
Tebow had been a five-star recruit in high school, but no one expected him to make the kind of impact he did...and the Gators used his offensive talents, a dominant defense and excellent coaching to land themselves in the 2006 BCS Title Game, where they blew out coach Urban Meyer's future employer 41-14. Tebowmania had officially begun.
8. 2012 Alabama (13-1, won National Championship Game 42-14 vs. Notre Dame)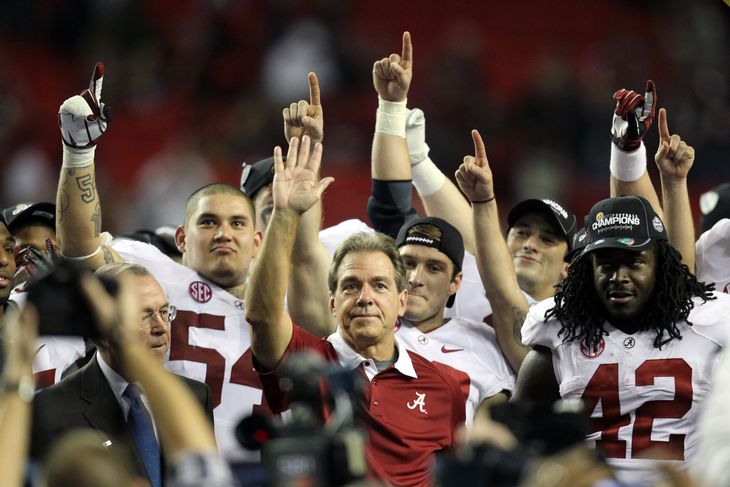 In truth, the loss to Johnny Manziel and Texas A&M in early November was the only blemish on the 2012 Alabama squad's season. Alabama scored fewer than 30 points just twice all year (against A&M and in a road win over #5 LSU), and a 49-0 Iron Bowl demolition of Auburn gave them the momentum they needed to get past #3 Georgia in the SEC Title Game.
The Tide were always favored to beat #2 Notre Dame in the 2012 BCS Championship, and they proved Vegas right - Alabama went up 28-0 at halftime and never gave the Irish a sniff.
7. 2008 Florida (13-1, won National Championship Game 24-14 vs. Oklahoma)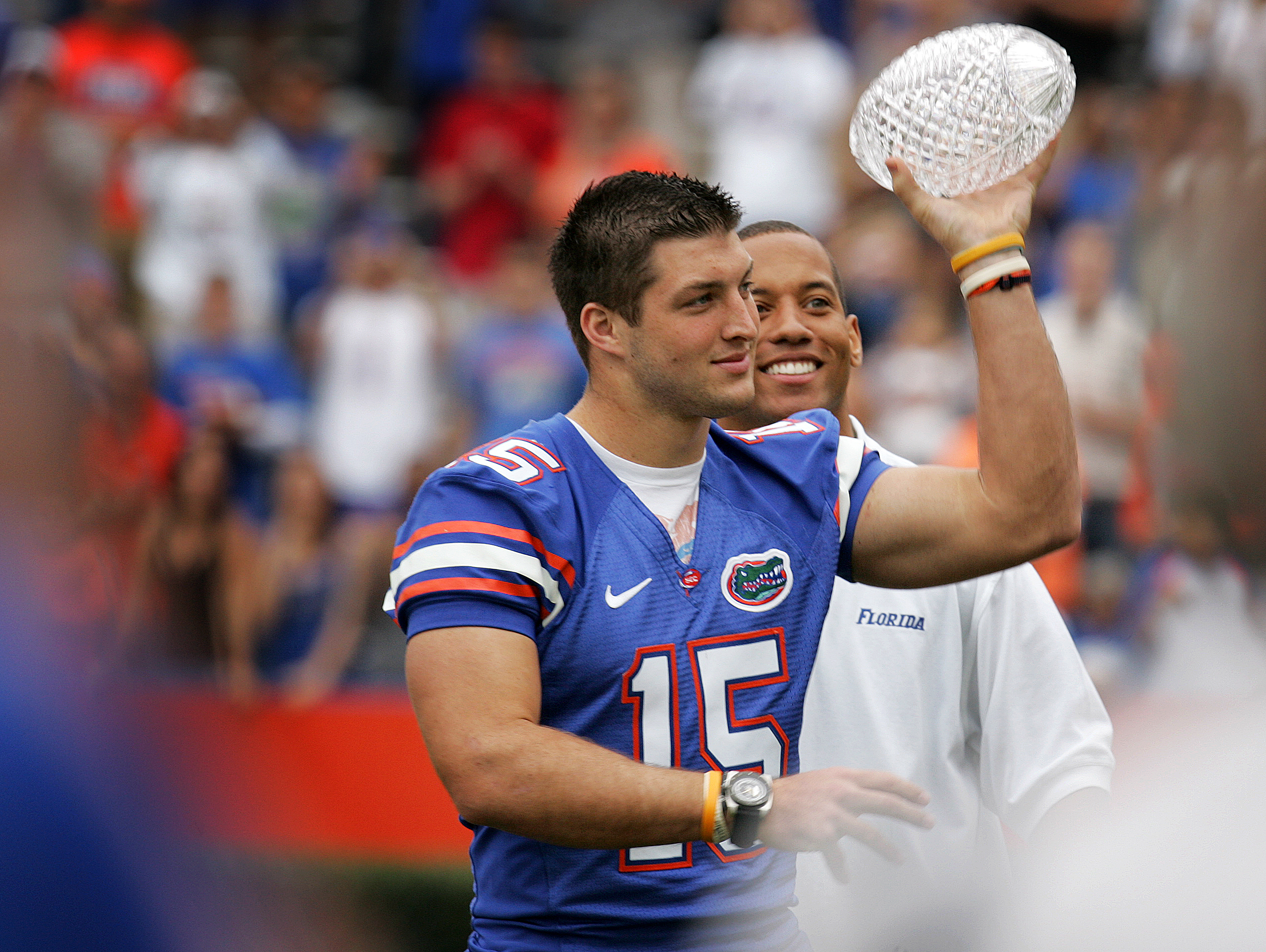 Urban Meyer's second national title in three years with the Gators, this was the win that cemented him as one of college football's leading minds. Florida's 2008 squad started slow - a loss to Ole Miss in week 4 dropped them to #12 in the rankings - but 30-point wins over #4 LSU and #8 Georgia helped the Gators get back on track.
The talented Gators had Tebow, Percy Harvin and LB Brandon Spikes running the show, but also an absurd amount of coaching talent. Current Mississippi State HC Dan Mullen (OC), Texas HC Charlie Strong (DC), Boston College HC Steve Addazio (asst. HC/OL) and North Texas HC Dan McCarney (asst. HC/DL) were all on Urban Meyer's staff that year.
6. 2011 Alabama (13-1, won National Championship Game 21-0 vs. LSU)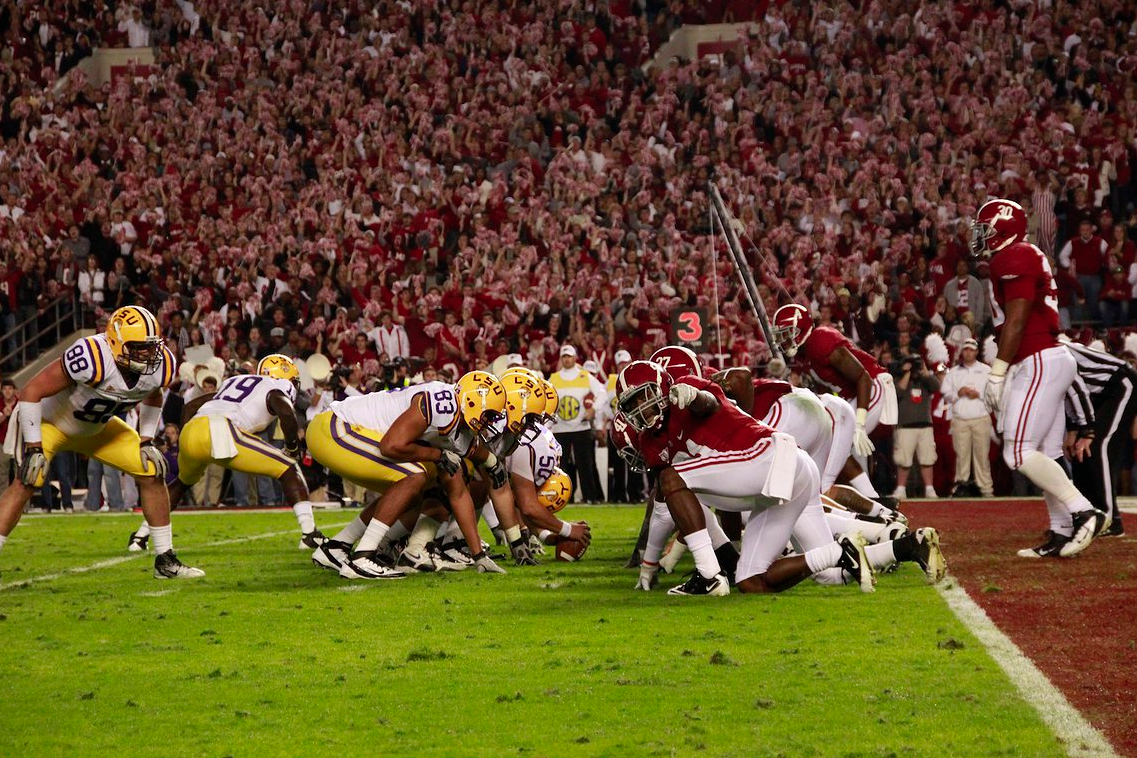 Despite their loss, this Alabama team would give the five undefeated squads ranked above them a run for their money. After dominating a solid Penn State team on the road in week two, the Crimson Tide never allowed more than 14 points in SEC play.
While the 2011 Alabama team lost 9-6 to then-#1 LSU at home in early November, they had the rare opportunity to get their revenge in the BCS Title Game. The Tide shut out the Tigers 21-0, winning Nick Saban's second crystal football as Alabama HC.
5. 2010 Auburn (14-0, won National Championship Game 22-19 vs. Oregon)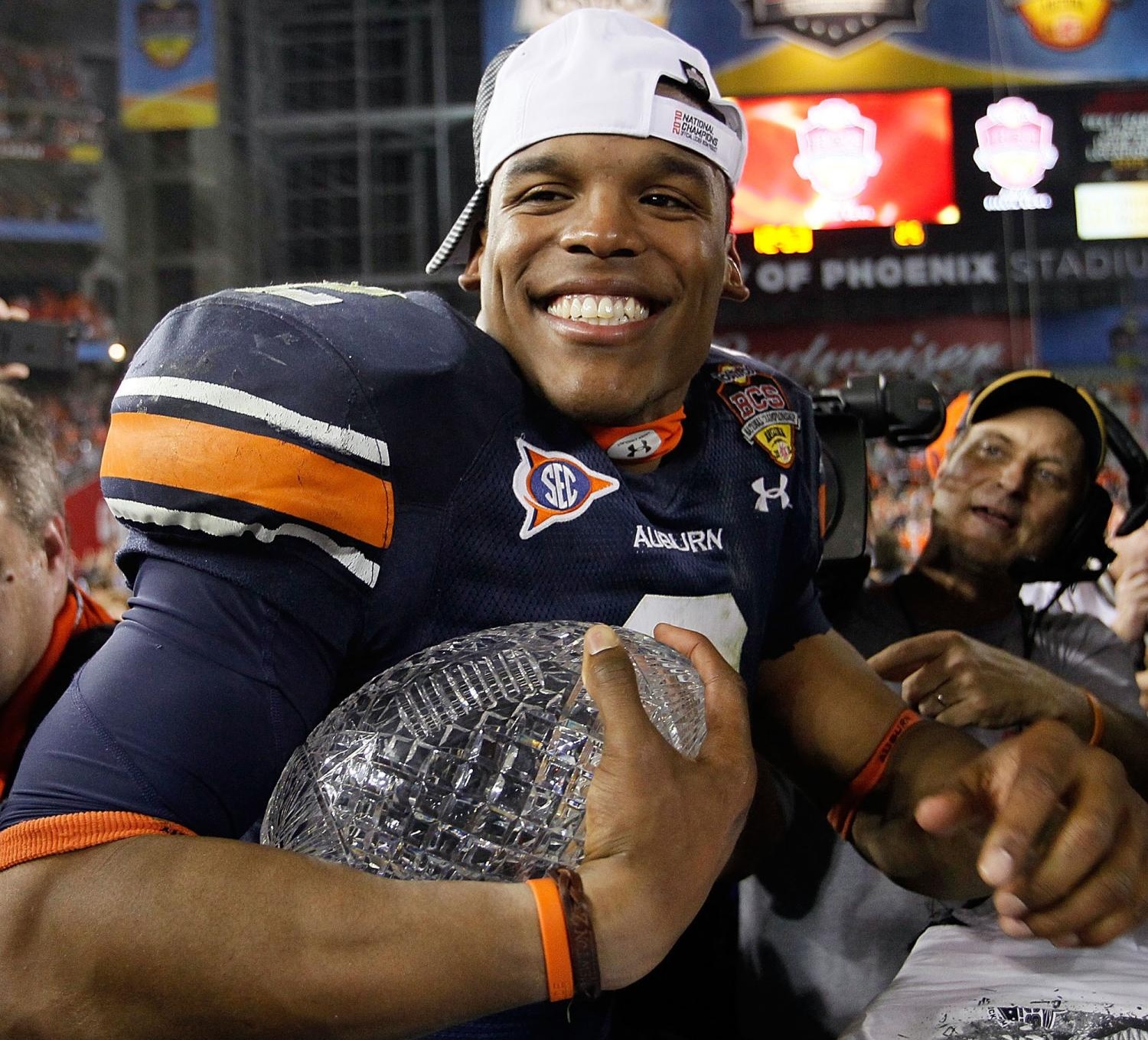 Auburn's 2010 squad came out of nowhere - ranked #22 to start the season (no other member of this list started lower than #11), the Tigers took out five SEC opponents ranked in the top 20 en route to their BCS Championship matchup with Oregon.
While the defense might not have been stacked (they allowed at least 24 points in nine of their 14 games), the 2010 Tigers made up for it with a powerful, high-octane offense led by eventual Heisman winner Cam Newton.
4. 2013 Florida State (14-0, won National Championship Game 34-31 vs. Auburn)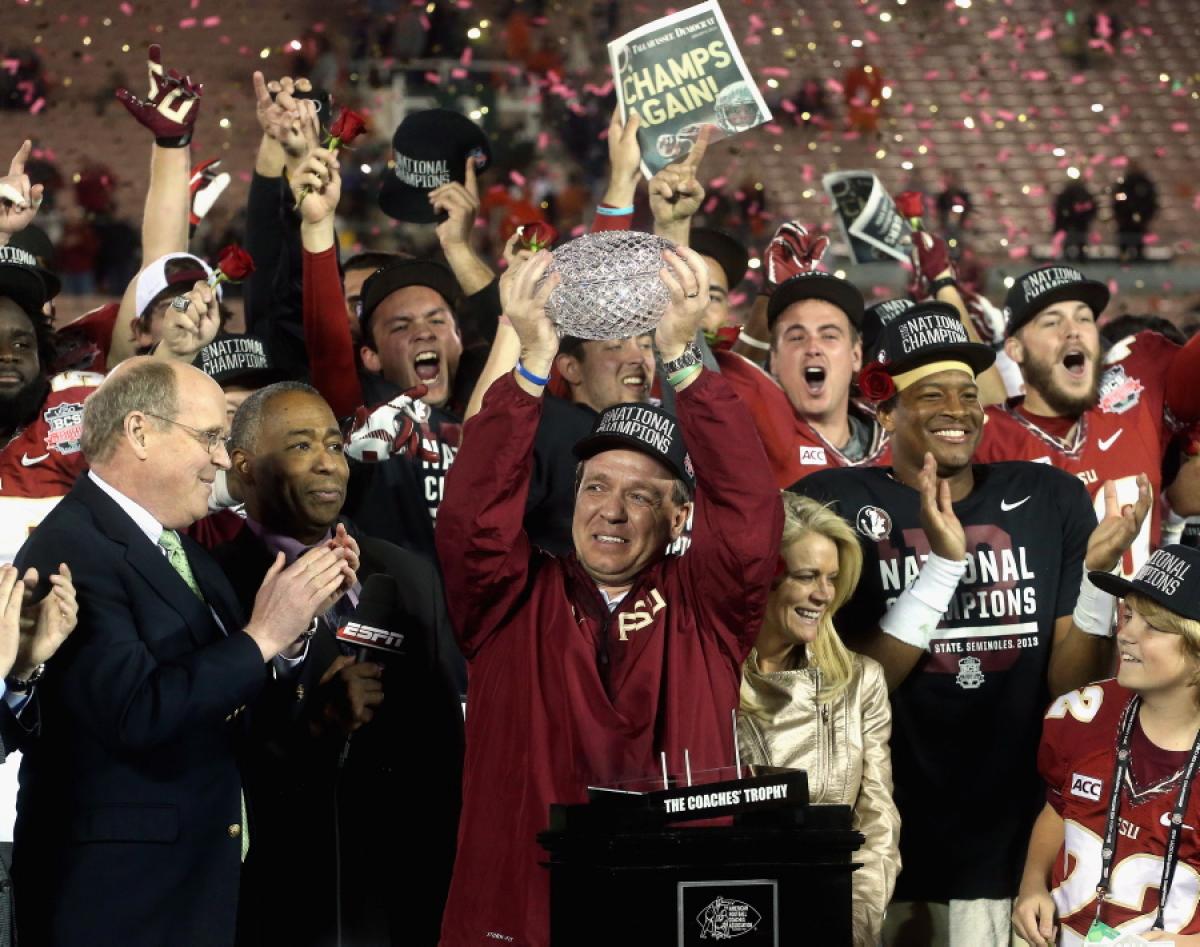 Take a look at the 2013 Florida State team's regular-season results against ranked teams:
- 63-0 vs #25 Maryland
- 54-14 at #3 Clemson
- 41-14 vs #7 Miami
- 45-7 vs #20 Duke
The 2013 Seminoles might not have won any popularity contests outside of Tallahassee, but no one can take away from just how dominant they were. With stars like WR Kelvin Benjamin and DT Timmy Jernigan already tearing up the NFL as rookies, this team might look even better a few years down the line.
3. 2005 Texas (13-0, won National Championship Game 41-38 vs. USC)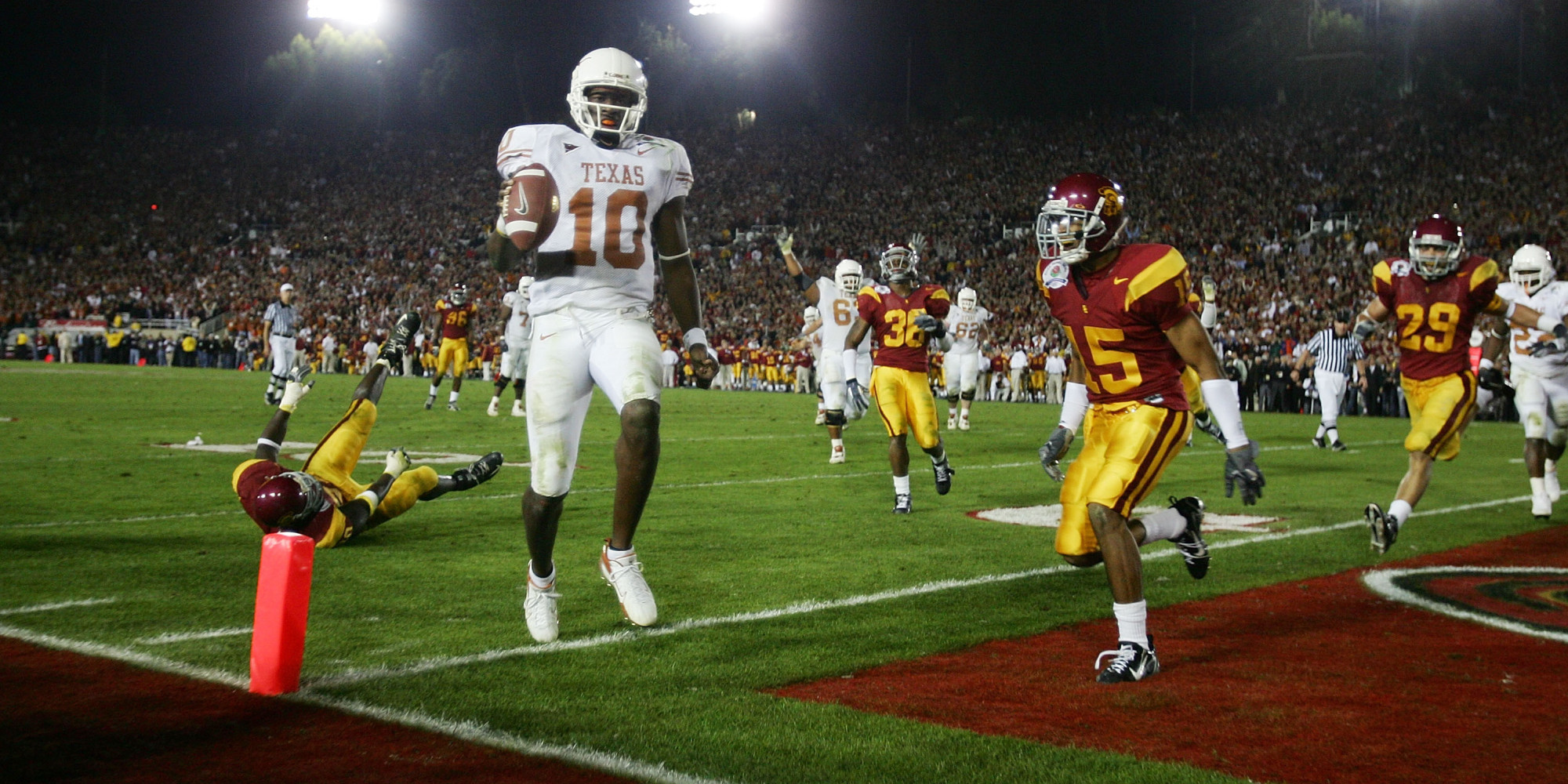 The 2005 Longhorns weren't loaded with NFL talent on both sides of the ball, but it didn't matter - with an explosive offense led by the unstoppable Vince Young, the 'Horns only scored less than 40 points in one game all year long. The '05 Longhorns beat Oklahoma, Texas Tech and Baylor by a combined score of 159-29.
Ranked #2 behind the defending champion USC Trojans all season long, Texas came out on top when the two teams met in the national title game...and that game will go down in history as one of the greatest of all time.
2. 2009 Alabama (13-0, won National Championship Game 37-21 vs. Texas)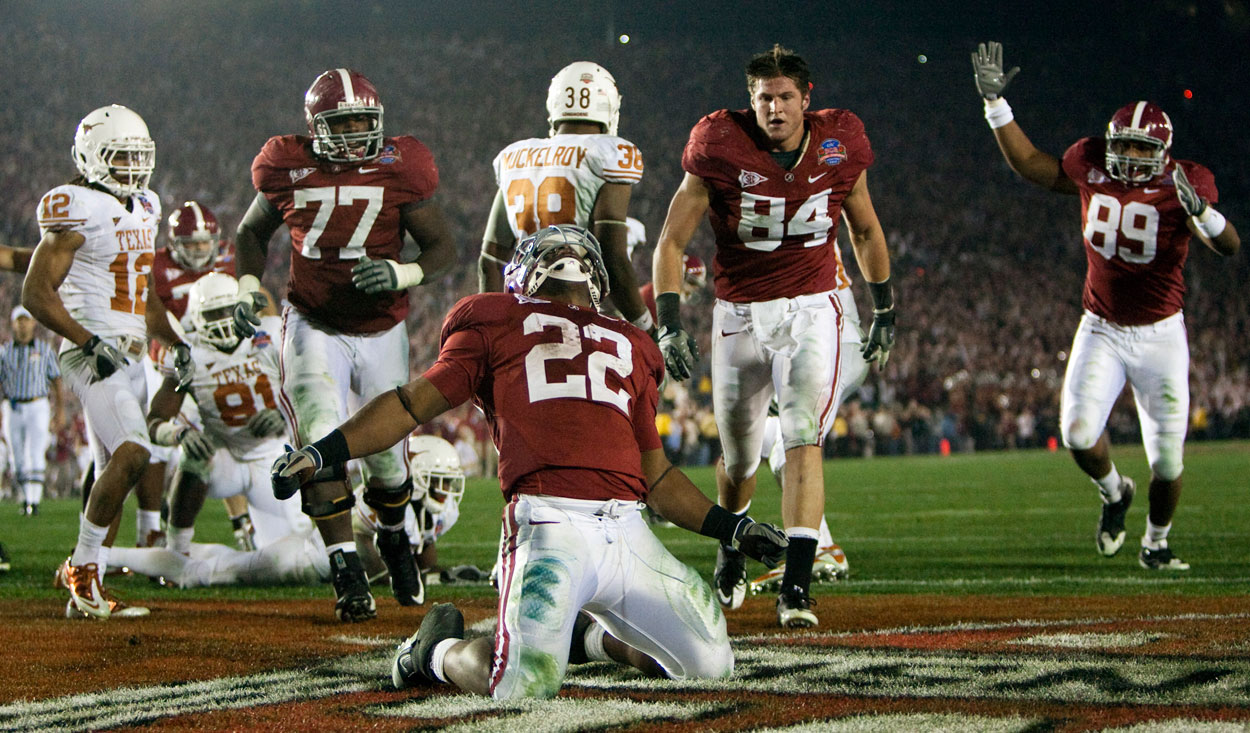 The 2009 Crimson Tide  were a force of nature - only two games were decided by fewer than 10 points, and they followed a 32-13 win over then-#1 Florida in the SEC Championship by blowing out #2 for the BCS title.
All but one defensive starter went on to the NFL, and nine of Alabama's 22 starters from the 2009 season currently start in the league. The absurd amount of talent on this roster easily makes Alabama's 2009 squad one of college football's greatest ever.
1. 2004 USC (13-0, won National Championship Game 55-19 vs. Oklahoma)
Yes, the title was eventually vacated because Reggie Bush was taking gifts from agents. No, that doesn't make USC's 2004 season any less impressive. The Trojans absolutely bulldozed their way through the competition, and they were the only team on this list to be ranked #1 from the preseason straight through the final polls.
While the Pac-12 wasn't as strong then as it is now (only three teams finished the season ranked), USC's obliteration of #2 Oklahoma showed just how far ahead of the pack they really were.
MORE:
3 Teams That Could Be Ranked #1 In College Football In 2015
4 Relative Unknowns Who Could Win The Heisman Trophy Next Season
Back to the NCAA Newsfeed