In what was arguably the headliner of Saturday's bowl games the #22 ranked Utah Utes (8-4) of the Pac-12 took on the Colorado State Rams (10-2) of the Mountain West. These teams were familiar with each other as they have been opponents in both the WAC and Mountain West Conference and this marked the 80th matchup between the two. The game ended up being entirely one-sided as Utah defeated Colorado State 45-10.
Similar to last year's Las Vegas Bowl, there were plenty of names to keep an eye on for the NFL Draft.
Colorado State Draft Prospects:
1. Ty Sambrialo, OT, Senior
Sambrialo has been the anchor along the Ram's offensive line for the past two seasons. Missing only two games this year, the left tackle has helped lead the Rams offense to record breaking numbers. Got an invite to the Reese's Senior Bowl.
What I Liked:
Showed the ability to get down filed and find blocks at the next level.
Did a decent job blocking the nation's top pass rusher.
What I didn't like:
Got pushed back numerous times from Orchard's bull rush.
Had a false start against him.
Got beat on a speed rush late in the game, showed mediocre lateral movement.
Stock Report: Down
Currently sitting as a second round pick, I just don't think I saw a second rounder out there today when watching him.
Draft Day Projection: Second Round
I believe he will slide a little bit before the draft, has some questionable traits in his technique and his lateral speed isn't the greatest. These things could show up in the evaluation process.
2. Garrett Grayson, QB, Senior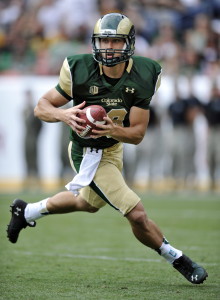 Grayson came in with a lot of experience and has not disappointed behind a talented offensive line. His numbers are outstanding with a completion percentage of 64.8% for 3,779 yards and a 32/6 TD/INT ratio. Grayson's career at Colorado State has been impressive and he now looks to take his game to the NFL level. Invited to play in both the East/West Shrine game and the Reese's Senior Bowl.
What I Liked:
Good arm strength, showed on numerous 10 yard out routes and hitting the deep slants up the middle. Also showed good touch on short crossing routes.
Smart decision making, only held the ball too long one time and never forced any throw even when trailing.
What I didn't like:
Costly mistake in fourth quarter after failing to fall on botched snap and refumbling it for the Utes to recover.
Didn't show well under constant pressure from the attacking Utes defensive line.
Stock Report: Neutral
It wasn't a great effort by any means but you could see signs of positives, but bottom line his offensive line was outworked and outplayed.
Draft Day Projection: Round 3-4
Grayson could be a solid middle round selection that could be a solid backup and possible starter with the proper grooming.
Utah Draft Prospects:
1. Nate Orchard, DE, Senior
Orchard was the biggest name to watch coming in to today as he should have been. All he did was win the Ted Hendricks Award, given to the top DE in the college game. After leading the nation with 17.5 sacks coming in to this game, Orchard has a lot of potential. His size is in question at 6' 4" but only 255 pounds, he may need to change positions. Something that may be done at the Resse's Senior Bowl.
What I Liked:
No quit, constantly working even when unsuccessful on pass rush and once play came his way he was ready to make the play.
Showed confidence in both his power and finesse moves.
Lined up all over the defensive line, both end positions and inside on a couple occasions.
What I didn't like:
Dropped back in coverage but didn't look too comfortable doing so.
Stock Report: Neutral
Can you really go up or down with his current draft projection.
Draft Day Projection: Round 1-5
It really depends on who you ask at this point. Questions include his size and if he make a position change if needed? I see him as a late first but sure second round pick. Good fit in an aggressive 3-4 pass rushing scheme.
2. Eric Rowe, CB, Senior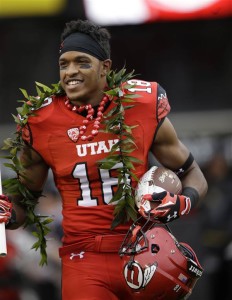 Rowe spent his first three years as a starting safety for the Utes before switching over this season. Still listed as a starter at both positions. Has five career double-digit tackle games and 21 career pass break ups.
What I Liked:
Didn't really see a lot of balls thrown his way as Grayson and Higgins attacked the other side.
Has good instincts and play recognition.
Showed his great speed to recover and knock away a pass along the sideline.
What I didn't like:
Not enough action to see something unlikable.
Stock Report: Neutral
Again, just not enough action to make any judgement from this game.
Draft Day Projection: Round 3-4
Probably going to be found to be one of the better tackling cornerbacks in this draft with his experience at safety. Still so young in his transition though, his stock will probably not move very much.
Other Notes:
Utah WR Dres Anderson who is out for the season with a knee injury is projected to go in rounds 3-4 according to CBSSports.com. Utah Jr. RB Devontae Booker has yet to decide if he is going to the NFL or back to school. Booker averaged 5.1 YPC with 1350 yards rushing and 9 touchdowns. He put up an impressive 26/162/1 stat line in this bowl game.
Colorado State RB Dee Hart and WR Rashard Higgins are two names to keep an eye on for the 2016 NFL Draft. Hart still has the option to come out this year if he elects to.
Back to the NCAA Newsfeed