Nine of our Top 10 Heisman contenders were in action on Saturday, and while some helped their chances, quite a few saw their campaign take a serious hit. We're using last week's latest Heisman Power Rankings to map these out, so if your guy had a big day but isn't listed here...he probably will be next week. Here's the breakdown:
10. Bryce Petty, Baylor QB
Stock: DOWN. By his own standards, Petty was very average against an Oklahoma State team that he was expected to absolutely torch. He earns some points for getting the job done and winning the game, but at this point, he needed huge numbers in every remaining game to remain a viable candidate. That didn't happen today.
Stats: 18/29 for 262 yards, 2 TDs and 2 INTs, 5 carries for 23 yards and a TD in a 49-28 win over Oklahoma State
9. Brett Hundley, UCLA QB
Stock: Up. Despite an early pick-six, Hundley found his footing and put USC to the sword. In UCLA's biggest game of the season, both he and the Bruins came up big.
Stats: 22/31 for 326 yards, 3 TDs and 1 INT, 7 carries for 2 yards and a TD in a 38-20 win over USC
8. Duke Johnson, Miami RB
Stock: DOWN. Johnson was solid, but didn't put up the monster game he needed as Miami took a bad loss to Virginia. While he can still finish with an impressive season, Johnson can no longer be considered a realistic Heisman contender.
Stats: 15 carries for 88 yards, 5 catches for 44 yards in a 30-13 loss to Virginia
7. Dak Prescott, Mississippi State QB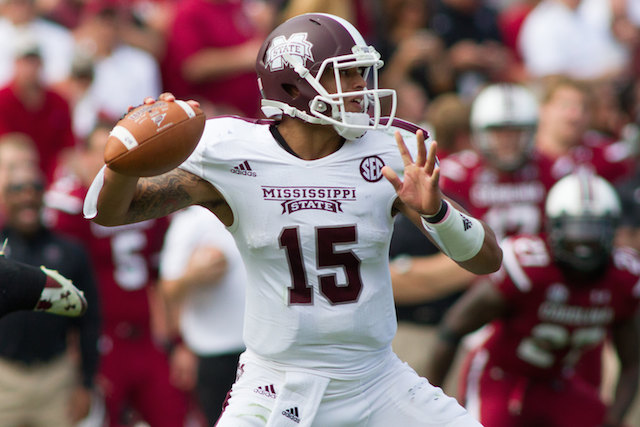 Stock: Up. Prescott led the Bulldogs to an easy win over Vanderbilt, and while that might not have been a surprise, he moves up by virtue of everyone around him moving down. Prescott isn't a frontrunner at this stage, but two more big games like this one could put him back in the mix.
Stats: 17/24 for 201 yards, 3 TDs and no INTs, 6 carries for 29 yards and a TD in a 51-0 win over Vanderbilt
6. Jameis Winston, Florida State QB
Stock: DOWN. Winston once again overcame a sloppy start to do just enough to win, and Florida State moved to 11-0 after a last-second field goal helped them scrape by Boston College. Winston won last year because he and his team weren't just winning games - they were dominating them. This year, the only two teams FSU has dominated are Wake Forest and Citadel.
Stats: 22/32 for 281 yards, 1 TD and 1 INT in a 20-17 win over Boston College
5. Amari Cooper, Alabama WR
Stock: DOWN. A knee injury limited Cooper to just three catches today, and while Nick Saban told reporters he could have returned during the second half, Alabama was up by so much that he stayed on the sidelines. As a wide receiver, the odds were always going to be stacked against Cooper winning the Heisman, and today's result puts another dent in his chances.
Stats: 3 catches for 46 yards in a 48-14 win over Western Carolina
4. J.T. Barrett, Ohio State QB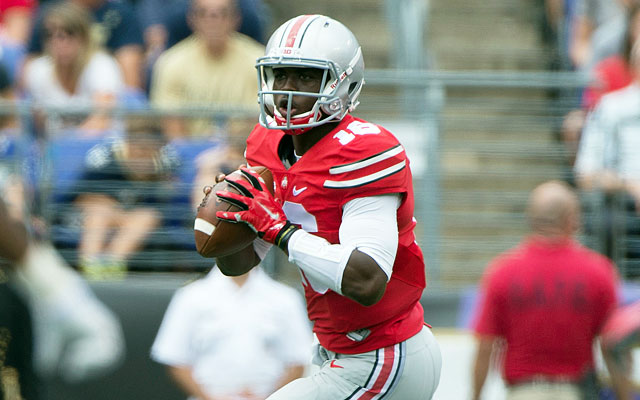 Stock: Slightly down, but not much. Barrett had some very good moments against Indiana and put up a ton of yardage, but his inexperience showed in a few bad plays and unforced errors. Ohio State should have beaten this Indiana team with ease, but came into the fourth quarter trailing and needed a late rally to put the Hoosiers away.
Stats: 25/35 for 304 yards, 4 TDs and 2 INTs, 20 carries for 78 yards in a 42-27 win over Indiana
3. Trevone Boykin, TCU QB
Stock: Unchanged. TCU had the day off, but Boykin's hold on third place improved thanks to some rough results for his competition.
Stats: N/A
2. Melvin Gordon, Wisconsin RB
Stock: UP. Gordon might have lost his NCAA record for rushing yards in a game after just one week (Oklahoma freshman Samaje Perine unseated him with 427 today), but he helped his Heisman chances with a one-man show against Iowa. Gordon was responsible for 264 of Wisconsin's 405 offensive yards today, and he reached the 200-yard mark on the ground for the third consecutive game. He now has 921 total yards and 8 touchdowns over his last three games.
Stats: 31 carries for 200 yards and 2 TDs, 4 catches for 64 yards in a 26-24 win over Iowa
1. Marcus Mariota, Oregon QB
Stock: Up. Colorado certainly isn't the strongest opponent out there, but Mariota had the big day everyone expected and got plenty of rest heading into next week's Civil War matchup against Oregon State. As long as he puts up video game numbers in Oregon wins, he'll be hard to dethrone.
Stats: 24/32 for 323 yards with 3 TDs and no INTs, 8 carries for 73 yards and a TD in a 44-10 win over Colorado.
Back to the NCAA Newsfeed