Leading up to the Heisman Trophy presentation on December 13, we'll take some time each Saturday to look at how each contender did in the day's action. We're using the previous week's Heisman Power Rankings here, so if your guy didn't make the cut today, he'll probably be here next time around. Let's get to it:
10. Ameer Abdullah, Nebraska RB
Stock: Down. It wasn't just that Abdullah had a rough game - in a battle of two Heisman hopefuls, Wisconsin's Melvin Gordon absolutely blew him out of the water. We'll get to Gordon's big day later, but it made Abdullah's average performance look substantially worse.
Stats: 18 carries for 69 yards, 1 catch for 26 yards in a 59-24 loss to #20 Wisconsin
9. Bryce Petty, Baylor QB
Stock: Unchanged. Baylor had a bye this week.
Stats: N/A
8. Duke Johnson, Miami RB
Stock: Unchanged. Johnson did well enough to hold his position, but not quite well enough to move up. At this point, he'll be out of contention unless he can put together some Melvin Gordon-esque performances in Miami's remaining games.
Stats: 27 carries for 130 yards and a TD, 4 catches for 37 yards in a 30-26 loss to #3 Florida State
7.  J.T. Barrett, Ohio State QB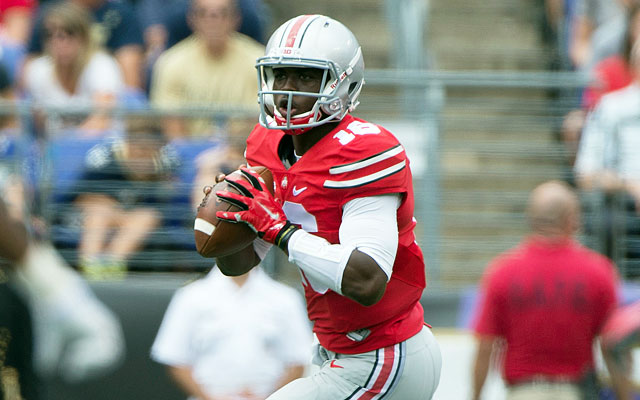 Stock: UP. Barrett was immense for the Buckeyes today, and despite an interception, he gets full credit for how Ohio State hung on to win the game. Of Ohio State's 489 total yards, Barrett was personally responsible for 389, or just under 80%.
Stats: 15/25 for 200 yards with 3 TDs and 1 INT, 17 carries for 189 yards and a TD in a 31-24 win over #25 Minnesota
6. Jameis Winston, Florida State QB
Stock: Unchanged. Winston had a very good second-half performance in a hard-fought win, but to reclaim the Heisman trophy after a slow start to the season, he'll need to put up gaudy numbers every night.  While rough days for Dak Prescott and Trevone Boykin help his case, he'll need to do better to catch up with the other guys currently ahead of him.
Stats: 25/42 for 304 yards with 1 TD and 1 INT, 2 rushes for 3 yards in a 30-26 win over Miami
5. Amari Cooper, Alabama WR
Stock: Unchanged. Cooper had a solid game against Mississippi State, catching a touchdown pass and setting up a rushing TD with a beautiful 50-yard strike from Blake Sims. It might not be fair, but as a wide receiver, Cooper will need to light up the highlight reel AND the stat sheet to gain ground against the QBs and RBs in the running.
Stats: 8 catches for 88 yards and a TD in a 25-20 win over #1 Mississippi State
4. Melvin Gordon, Wisconsin RB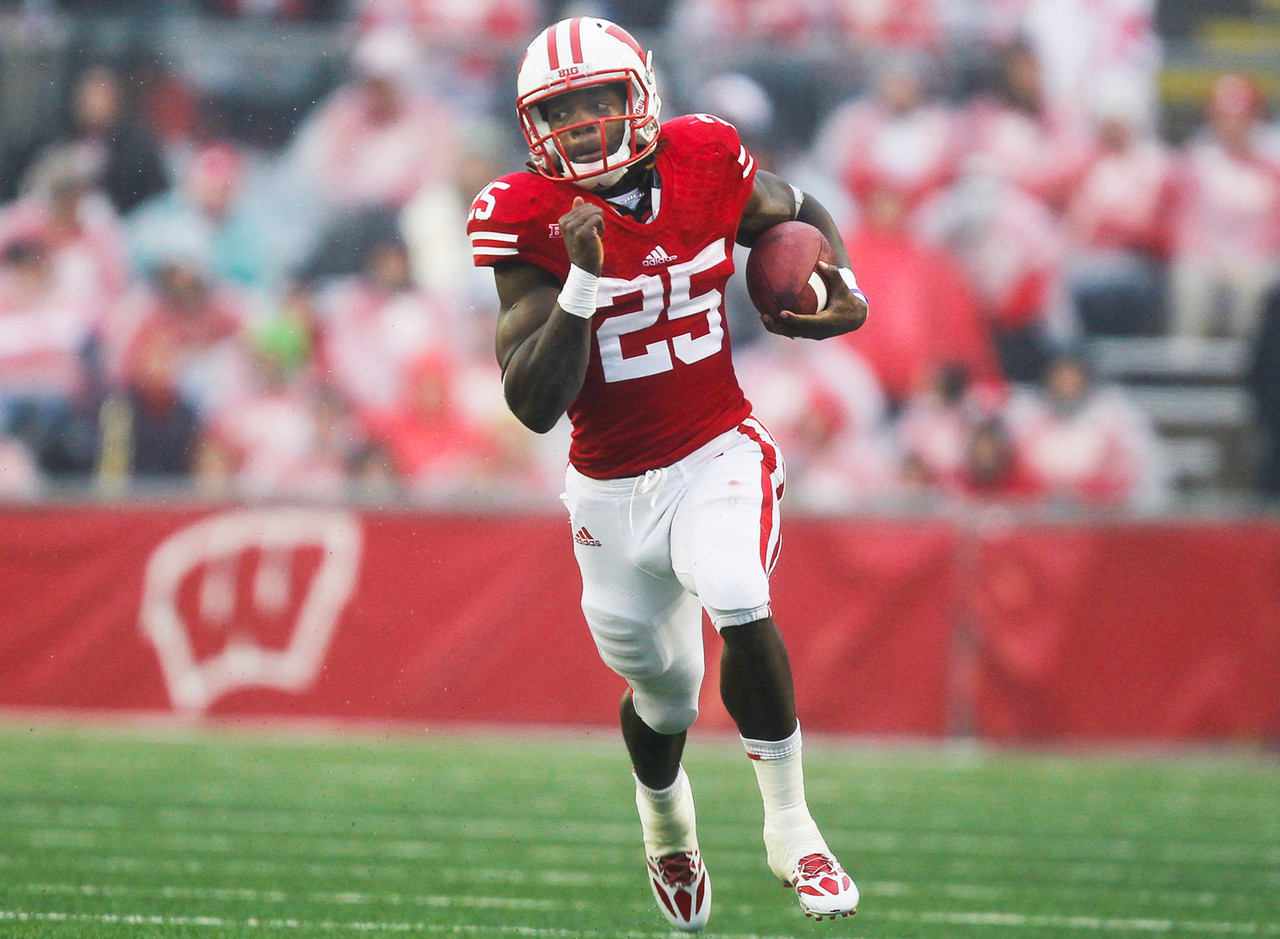 Stock: WAY UP. How was your Saturday? Melvin Gordon's was pretty good. Gordon racked up an NCAA-record 408 yards in just three quarters against the #20 rushing defense in the country, scoring four touchdowns as his Badgers embarrassed Nebraska on national TV. If it hadn't gotten so ugly he sat out the fourth quarter, we might have seen the first 500-yard rushing performance in NCAA history.
Stats: 25 carries for 408 yards and 4 TDs in a 59-24 win over #16 Nebraska
3. Trevone Boykin, TCU QB
Stock: DOWN. Boykin had a decent game in a close win over Kansas, but he needed to do more to impress the voters. Because of TCU's comparatively small fanbase, the odds have been stacked against Boykin from the beginning, and underdogs can't afford to have merely above-average performances like the one he put on today.
Stats: 26/36 for 330 yards with 1 TD and 1 INT, 11 carries for 2 yards in a 34-30 win over Kansas
2. Dak Prescott, Mississippi State QB
Stock: DOWN. Prescott came up empty in an absolutely vital game for his Heisman hopes and his team's playoff chances. While he was personally responsible for 87% of Mississippi State's offensive yardage, three bad interceptions made it impossible for the Bulldogs to close the gap.
Stats: 27/48 for 290 yards with 2 TDs and 3 INTs, 22 carries for 82 yards in a 25-20 loss to #5 Alabama
1. Marcus Mariota, Oregon QB
Stock: Unchanged. Mariota and the Ducks had the weekend off.
Stats: N/A
Never miss another story on one of your favorite teams - sign up for a free Chat Sports account today!
Back to the NCAA Newsfeed