It was one of the most entertaining weeks of college football ever - let's take a look at some top performers:
QB Dak Prescott, Mississippi State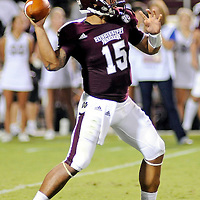 Prescott threw for 268 yards through the air, with two touchdown strikes and no interceptions. Prescott was also the premier rusher for the Bulldogs, totaling 77 yards and three touchdowns on 23 carries. Mississippi State sits at number three in the AP Top 25, and Prescott is the main reason why.
RB Todd Gurley, Georgia
Gurley gets a sticker again this week after wrecking Vanderbilt's defense for 163 yards and two touchdowns on 25 carries. Gurley also completed a pass for 50 yards, which is the longest pass completed by the Bulldogs this season.
WR Justin Hardy, East Carolina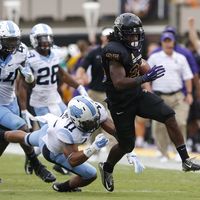 Hardy caught eight passes for 120 yards and three touchdowns in a 45-24 win against SMU. Hardy topped the career 3,500-yard mark with this performance, and is the only player in East Carolina's history to catch over 300 passes.
RB Devon Johnson, Marshall
Johnson was able to help the Thundering Herd blow out Old Dominion 56-14 this weekend by slashing the Monarchs for 198 yards and three touchdowns on 20 carries. Johnson has rushed for over 100 yards in four of five games this season.
QB Jake Waters, Kansas State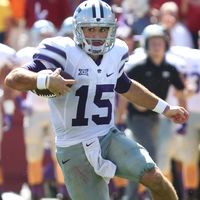 Waters went 24 of 31 for 290 yards and four scores in a 45-13 spanking of Texas Tech. Waters also added 105 yards and a touchdown on 17 carries as the Wildcats improved to 2-0 in the Big 12.
Play of the Week: QB Everett Golson, Notre Dame
[embed]https://www.youtube.com/watch?v=rDUvS88s_cY[/embed]
Notre Dame's Everett Golson completed an unbelievable pass to give the Irish a 17-14 victory over Stanford. Golson has to be considered a Heisman contender at this point, but there's plenty of time left for that race to shake out.
Related: Week 6 Heisman Power Rankings
Be sure to give me a follow on twitter @griffaldo.
Back to the NCAA Newsfeed