Week seven provided us with some great games and amazing performances. Let's take a look at the top performers in college football this past weekend:
Antwan Goodley, WR, Baylor
Goodley hauled in eight catches for 158 yards and two touchdowns in a 61-58 win over ninth-ranked TCU Saturday. He was the top receiver for Bryce Petty, who tossed for 500 yards and led the Bears back from a 21-point deficit. Baylor recorded 782 yards of total offense against TCU in the win.
Jameis Winston, QB, Florida State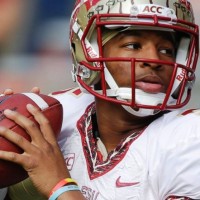 Winston threw the ball with a robotic precision against Syracuse in a 38-20 win inside the Carrier Dome. Winston went 30 of 36 for 317 yards and three scores. One of his 30 completions helped Seminoles' wide receiver Rashad Greene set the career receptions record at Florida State.
Kevin White, WR, West Virginia
White was extremely busy Saturday, catching 13 passes that allowed to gain 123 yards and a touchdown for the Mountaineers in a 37-34 victory over Texas Tech. White has been one of the most productive wide receivers in the country this year, catching 61 passes for 888 yards already this season.
Melvin Gordon, RB, Wisconsin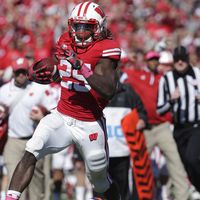 Gordon's 27 carries for 175 yards and four touchdowns helped the Badgers secure a conference win over Illinois on Saturday. Gordon's performance put him over the 1000-yard mark for the 2014 season, which is the second-best total in the entire FBS.
Nick Chubb, RB, Georgia
In a brutal week for the Georgia backfield, Chubb ran the ball 38 times for 143 yards and a touchdown. He was one of two SEC Freshman running backs to shine this weekend, and Georgia blasted Missouri on the road 34-0.
Leonard Fournette, RB, LSU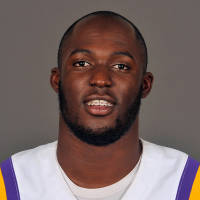 The second SEC Freshman running back to shine this weekend was Fournette, who ran for 140 yards on 27 carries. Fournette found the end zone twice, helping the Tigers escape from Gainesville with a 30-27 win over the Florida Gators. In the victory, Fournette averaged an incredible 5.2 yards per carry.
Javorius Allen, RB, Southern California
Allen rushed the ball 26 times for 205 yards and three touchdowns, as the Trojans were able to knock off the tenth-ranked Arizona Wildcats 28-26. This game was a crazy one, and Arizona's quarterback Anu Solomon attempted 72 passes in a losing effort.
Play of the Week: Clemson Tigers' Defense
[embed]https://www.youtube.com/watch?v=suvD6gksDhs[/embed]
Clemson was able to hold the Louisville offense in a goal line stand during the final seconds of the fourth quarter of Saturday's 23-17 win in Death Valley.
Be sure to follow me on twitter @griffaldo!
Back to the NCAA Newsfeed