There was plenty of excitement in week nine of college football. Let's take a look at the to performers from week nine:
Nick Marshall, Auburn, QB
Marshall led the juggernaut Auburn offense to a 42-35 win against South Carolina in Jordan-Hare Stadium on Saturday. While only throwing the ball 14 times, Marshall completed 12 passes for 139 yards and a touchdown. Marshall did most of his damage to the Gamecocks' defense on the ground, rushing the ball 10 times for 89 yards and three touchdowns. On one of those touchdowns, Marshall kept the ball on a read-option play and wasn't touched as he scampered 37 yards for the score.
Pharoh Cooper, South Carolina, WR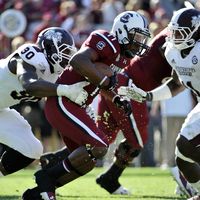 Cooper scorched the Auburn secondary with seven catches for 127 yards and two touchdowns, despite a 42-35 loss on the Plains Saturday. Cooper also included two rushes for 10 yards, making his presence known with 137 all-purpose yards.
Patrick Towles, Kentucky, QB
Towles completed 24 of 43 passes for 390 yards and two touchdowns, not throwing a single interception. He also added 23 carries for 76 yards and two touchdowns, totaling a four-touchdown day in a losing effort to number one Mississippi State 45-31.
Trevone Boykin, Texas Christian, QB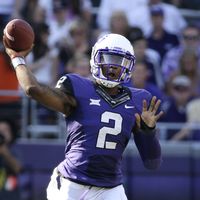 Boykin had the best performance of the year by any quarterback in the FBS on Saturday, tossing seven touchdowns in the Frogs' 82-27 rout over Texas Tech on Saturday. Boykin completed 22 of 39 passes for 433 yards and rushed the ball seven times for an additional 28 yards on a day where Texas Christian's offense could do no wrong. The Horned Frogs finished the day with 785 yards on 96 plays.
Dravon Henry, West Viriginia, S
The freshman safety had two interceptions against Oklahoma State on Saturday, including a pick six. The two picks were the first in Henry's collegiate career, as he helped his Moutaineers complete a 34-10 win over Oklahoma State.
Ameer Abdullah, Nebraska, RB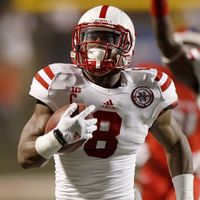 There's not many weeks that go by where Abdullah doesn't make our list, and this week is no exception. Abdullah rushed for 225 yards on 19 carries, including three touchdowns. His amazing performances are quickly putting him into Heisman Trophy talks, and this was the fourth time this season that he's rushed for over 200 yards. Abdullah leads the FBS in rushing yards with over 1200 yards on 180 carries this season. Nebraska defeated Rutgers, 42-24.
Amari Cooper, Alabama, WR
Another name that's common in this article, Cooper was a one-man show against Tennessee in Knoxville Saturday, catching nine passes for 224 yards and two touchdowns. Like Abdullah, Cooper is another name that's slowly rising as a candidate for the Heisman Trophy, and he's second in the FBS in receiving yards with 1132 this season.
Josh Robinson, Mississippi State, RB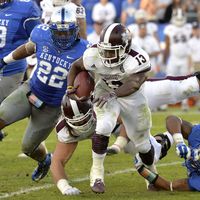 Robinson was a workhorse for the Bulldogs on Saturday, carrying the ball 23 times for a 198 yards and two touchdowns in Mississippi State's 45-31 win against Kentucky. Robinson busted through the line for 73 yards on one of his scores and added a reception for 11 yards to finish the day. Mississippi State utilized their running game effectively on Saturday, running the ball 51 times.
Melvin Gordon, Wisconsin, RB
Gordon posted his usual superb numbers in a 52-7 beating of lowly Maryland this weekend. Gordon rushed for 122 yards on 22 carries for three touchdowns, averaging over five yards per carry. Gordon continues to grind out terrific numbers week-in and week-out.
Matt Breida, Georgia Southern, RB
Breida averaged an astounding 16.8 yards per carry in Georgia Southern's 69-31 pounding of Georgia State. The Eagles rushed the ball 63 times, including Breida's 12 carries for 201 yards and four touchdowns. The Eagles' feature a triple-option attack that's extremely explosive.
Tyree Holder, Ball State, CB
Holder pulled down two interceptions in a 35-21 win over the Akron Zips. The two picks put Holder's total this season to three interceptions.
Play of the Week: Utah's Travis Wilson tosses a late touchdown to beat Southern Cal
[embed]https://www.youtube.com/watch?v=H1tG4_9G6zo[/embed]
Utah beats Southern Cal on a Travis Wilson touchdown pass with eight seconds left in the fourth quarter that gave the Utes a 24-21 win over the Trojans.
Be sure to follow me on twitter @griffaldo for more sports analysis!
Back to the NCAA Newsfeed