Week five in college football was filled with game-breaking performances. Let's highlight some of the high-caliber players from Saturday:
Blake Frohnapfel, QB, UMass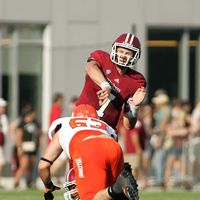 The 6'-6" senior quarterback threw 61 times and piled up 36 completions for 589 yards, which set the UMass single game passing record. Frohnapfel tossed for five scores and allowed for a couple receivers, Tajae Sharpe and Jean Sifrin, to achieve over 100 yards receiving. The Minutemen lost to Bowling Green 47-42.
Todd Gurley, RB, Georgia
Gurley stole the show yet again on Saturday. On 28 carries, he rushed for a whopping 208 yards and scored two touchdowns. Georgia was able to hold off a tough performance from Tennessee, winning 35-32 in Athens. Gurley averaged 7.4 yards per carry in a dominating showcase against the Vols' defense. Georgia regains control of their own destiny in the SEC East as South Carolina dropped their second conference game of the season Saturday against Missouri.
[embed]https://www.youtube.com/watch?v=MssWkBZ4gkk[/embed]
Deshaun Watson, QB, Clemson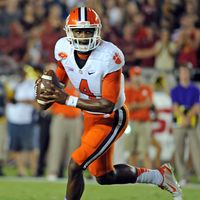 Saturday against the North Carolina Tarheels, Watson dazzled the crowd at Memorial Stadium by throwing for a school record six touchdown passes in his first start. Like Blake Frohnapfel, Watson had two receivers, Germone Hopper and Mike Williams, each catch for over 100 yards on the day. Watson completed 27 of 36 passes for 435 yards in Clemson's 50-35 win against North Carolina.
Ameer Abdullah, RB, Nebraska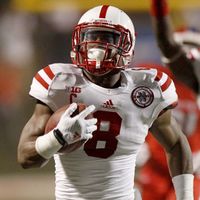 In a 45-14 win against Illinois, Abdullah rushed for 208 yards on 22 carries, scoring three touchdowns. Abdullah and Todd Gurley are easily the best running backs in the FBS at the moment. Nebraska's offense relies on Abdullah to be the workhorse, and his statistics are usually a benchmark of the Cornhuskers' success. If Abdullah continues to dominate opposing defenses, he's going to be a potential sleeper for the Heisman Trophy.
Quan Bray, WR/PR, Auburn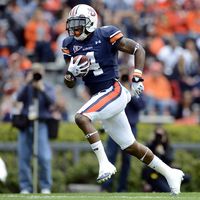 Bray had three catches for 91 yards and two touchdowns on offense in Saturday's 45-17 win against Louisiana Tech. Bray also contributed on special teams, returning a punt 76 yards for a touchdown. The win against the Bulldogs moves Auburn's record to 4-0 on the season.
Play of the Week: Jacoby Brissett, QB, NC State
[embed]https://www.youtube.com/watch?v=lo52lThgVro[/embed]
Brissett makes a phenomenal escape from Florida State defenders to deliver a touchdown pass. Florida State was able to hold on in Raleigh for the 56-41 win over the Wolfpack.
Disagree? Be sure to let me know who to single out as a top performer by tweeting me @griffaldo. 
Back to the NCAA Newsfeed