Week eight brought us some impressive performances along with some incredible plays. Let's take a look at the best showings from an entertaining weekend of college football:
Nick Chubb, Georgia RB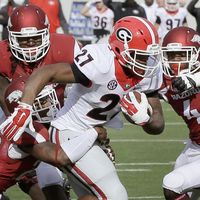 Chubb's tough running in the absence of Todd Gurley has earned him an enormous workload for the Bulldogs. The freshman took 30 carries for 202 yards and two touchdowns in Georgia's 45-32 win over Arkansas. The highlight of the game came on Chubb's explosive 43-yard sprint to the end zone in the second quarter. After that, Georgia never looked back.
Amari Cooper, Alabama WR
Cooper lit up the box score yet again for the Crimson Tide in their most impressive win of the season. Cooper caught eight passes totaling 140 yards and two touchdowns, and Alabama never let off the gas, beating Texas A&M 59-0. Many scouts have compared Cooper to former-Alabama receiver Julio Jones, and he's easily the best receiver in the country at this point of the season as well as a serious Heisman Trophy contender.
Kevin White, West Virginia WR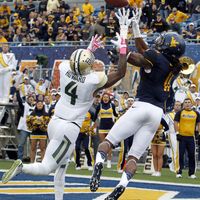 White's numbers have been astounding this season, and things weren't any different in the Mountaineers' 41-27 upset of Baylor. White caught eight passes for 132 yards and two touchdowns in a huge win in Morgantown. This game marked the seventh straight game that White has accumulated over 100 yards receiving, and it was the fifth straight game that White has caught a touchdown pass.
Cody Kessler, Southern California QB
Kessler dominated Colorado through the air, completing 19 of 26 passes for 319 yards and seven touchdowns. Yes, you read that correctly, he threw SEVEN touchdowns. The Trojans had no trouble with the Buffaloes, defeating them 56-28.
J.T. Barrett, Ohio State QB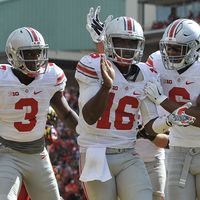 Barrett showed off his dual-threat capabilities against Rutgers Saturday, leading his team to a 56-17 beatdown of the Scarlet Knights. On the ground, Barrett carried the ball seven times for 107 yards and two touchdowns. Through the air, he tossed 19 completions for 261 yards and three touchdowns.
Marcus Cox, Appalachian State RB
Cox rushed 16 times for 123 yards and three touchdowns in a 53-14 win over Troy. The win was the first conference victory for Appalachian State since joining the Sun Belt conference this season.
Josh Doctson, TCU WR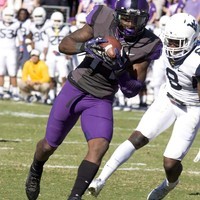 Doctson was a nightmare for the Oklahoma State defense Saturday, hauling in seven passes for 225 yards and two touchdowns. Doctson accounted for over half of TCU quarterback Trevone Boykin's 410 yards, and the Horned Frogs embarrassed Oklahoma State 42-9
Jay Ajayi, Boise State RB
The senior running back totaled 158 yards on 30 carries, including a couple of touchdowns for the Broncos in route to a 37-27 win over Fresno State. Ajayi now has over 800 yards on the ground this season.
Play of the Week: Mike Davis, South Carolina RB
[embed]https://www.youtube.com/watch?v=RMzUiz5JbjY[/embed]
Davis takes the ball into the end zone from five yards out against the Furman Paladins, contributing to a 41-10 win for the Gamecocks. Before he scores, however, Davis makes a spectacular stiff arm on Furman defensive end Gary Wilkins.
Be sure to follow me on twitter @griffaldo!
Back to the NCAA Newsfeed