College football's rivalry games produced some incredible performances this weekend. Let's take a look at the best showings from week 14:
Brandon Doughty, Western Kentucky QB
Doughty makes our list again this week after spoiling Marshall's undefeated season in a thrilling 67-66 win in overtime. Against the Thundering Herd, Doughty completed 34 of 50 passes for 491 yards with eight (yes, I said eight) touchdowns.
Amari Cooper, Alabama WR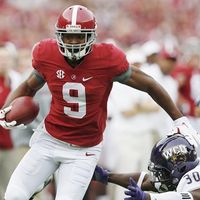 Amari Cooper took absolute control of this year's Iron Bowl, catching 13 passes for 224 yards and three touchdowns, as the Crimson Tide defeated Auburn in a 55-44 shootout. Cooper is near the top of the FBS in almost every receiving category. Can he make another impression on the Heisman voters in the SEC Championship game this weekend?
Jay Ajayi, Boise State RB
Ajayi was a workhorse in a 50-19 throttling of Utah State, carrying the ball 27 times for 229 yards with five touchdowns. This performance marked the ninth time that Ajayi has rushed for over 100 yards this season.
Artavis Scott, Clemson WR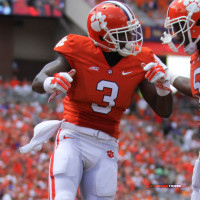 Scott was instrumental in a 35-17 win over in-state rival South Carolina, catching seven passes for 185 yards and two touchdowns. Scott, a freshman, helped the Tigers break the streak of losing five-straight to the Gamecocks.
Gerod Holliman, Louisville, DB
Holliman tied the NCAA Record for interceptions in a season, hauling down interception number 14 against Kentucky Saturday. The interception helped the Cardinals beat the Wildcats 44-40 in a very physical game.
Cody Kessler, Southern California, QB
Kessler led the Trojans in a 49-14 spanking of Notre Dame. Kessler hit 32 out of 40 passes, totaling 372 yards and six touchdowns. The Trojans utilized a lot of young talent this season, and it will be interesting to see how much growth this team will experience in the offseason.
Zach Laskey, Georgia Tech, RB
Laskey carried the ball 26 times for 140 yards and three touchdowns in Saturday's huge 30-24 over the Georgia Bulldogs in overtime. The Yellow Jackets will prepare themselves to try to foil Florida State's playoff hopes in the ACC Championship this Saturday.
Jaylen Walton, Ole Miss RB
Walton was electric in the Rebels 31-17 Egg Bowl win. On 14 carries, Walton was able to total 148 yards and a touchdown. Walton's touchdown scamper was 91 yards, and he simply refused to go down.
[embed]
Be sure to follow me on twitter @griffaldo.
Back to the NCAA Newsfeed