Week 13 of college football provided us with some astonishing performances, and even a record-setting effort. Let's check out which players made the biggest impacts during week 13:
Melvin Gordon, Wisconsin RB
Coming off his record-breaking performance against the Nebraska Cornhuskers, Gordon carried the football 31 times for 200 yards and two touchdowns. The junior running back also caught four passes for 64 yards in the Badgers' 26-24 win over Iowa. Gordon is a legitimate Heisman Trophy contender at this point, as he's already surpassed 2,000 yards rushing this season and leads all FBS players with 27 touchdowns.
Brison Williams, South Carolina DB
Williams helped the Gamecocks to a 37-12 win over South Alabama by intercepting two passes, one of which he took the distance for his second interception return for a touchdown this season. Williams finished the day with two interceptions, as the Gamecocks cruise into a showdown with their bitter rival, the Clemson Tigers, next weekend.
Semaje Perine, Oklahoma RB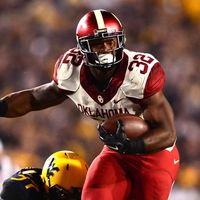 Perine broke the FBS single-game rushing record just a week after Wisconsin's Melvin Gordon set the mark against Nebraska. The Sooners' offense only completed three passes on a day where Perine rushed the football 34 times for 427 yards and five touchdowns during a 44-7 rout of Kansas. Perine is just a freshman, but the Jay Hawks couldn't find an answer for this dominating performance.
Demarcus Robinson, Florida WR
Robinson caught just four passes against Eastern Kentucky, but he finished the day with 137 receiving yards and two touchdowns. The Gators didn't have any trouble with the Colonels in Gainesville just a week after dropping an overtime game to South Carolina.
Robert Lowe, Texas State RB
Lowe had a field day against an Arkansas State defense that allowed him to rush 29 times for 236 yards and four touchdowns. The Bobcats defeated Arkansas State 45-27, as Lowe rushed over 200 yards for the first time in his college career.
Brandon Doughty, Western Kentucky QB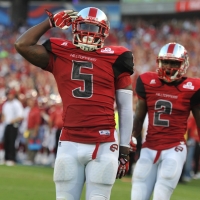 Doughty was lights-out against UT-San Antonio, completing 26 of 35 passes for 346 yards and five touchdowns. The Hilltoppers absolutely pounded the Roadrunners 45-7 in a game that was never close. Western Kentucky will try to ruin Marshall's perfect season this upcoming Friday.
Macrus Mariota, Oregon QB
Mariota was his usual-self against the Colorado Buffaloes, completing 24 of his 32 passes for 323 yards and three touchdowns. Mariota also rushed eight times for 73 yards and a touchdown, as the Ducks competed their 44-10 victory against Colorado.
Cameron Smith, Arizona State WR
Smith caught six passes for 131 yards and two touchdowns, averaging 21.8 yards-per-catch as the Sun Devils were able to contain a Washington State team that refused to quit. Arizona State kept their PAC-12 Championship hopes alive, winning 52-31. The Sun Devils need to beat in-state rival Arizona to make their second consecutive trip to the conference championship game.
Arkansas Razorbacks' Defense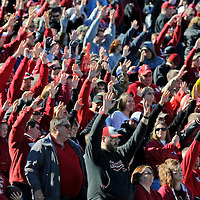 Again, the Razorbacks were lights-out on defense for the second-straight week, not allowing a single point against a Top 25 team. Arkansas also caused the Ole Miss offense to turn the ball over six times en route to a 30-0 win against the eighth-ranked team in the country. The past two weeks, the Razorbacks have allowed opponents to only convert nine of 25 third downs and forced seven turnovers.
Be sure to follow me on twitter @griffaldo!
Back to the NCAA Newsfeed