This past weekend of college football presented us with some absolute highlight performances. Let's check out this past week's top performers:
Melvin Gordon, Wisconsin RB
Gordon's 408-yard effort in a 59-24 thumping of Nebraska was enough to earn him the FBS record for rushing yards in a single game, which was previously held by TCU standout LaDainian Tomlinson. Gordon was able to score four touchdowns during a night where he averaged over 16 yards per carry. One has to consider him a legitimate Heisman Trophy contender at this point.
Josh Dobbs, Tennessee QB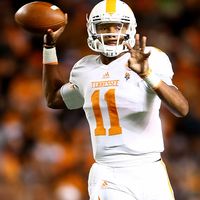 Dobbs completed 19 of 27 passes for 297 yards and three touchdowns in a 50-16 throttling of Kentucky. Dobbs also added 10 carries for 48 yards and a touchdown, as the freshman quarterback continues to create a ton of excitement for the Volunteers' fan base.
Russell Hansbrough, Missouri RB
Hansbrough helped the Tigers maintain control of their destiny in the SEC East by defeating Texas A&M 34-27. Hansbrough rushed 20 times for 199 yards and two touchdowns. Both touchdowns were scored in a big third quarter for Hansbrough, where he scored on runs that were both over 40 yards.
Arkansas Razorbacks' Defense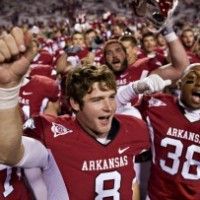 The Razorbacks' defense only allowed the LSU Tigers to gain 123-yards of total offense in a 17-0 win. The win snapped a 17-game SEC losing streak for Arkansas and was the first conference win for Head Coach Bret Bielema.
Tyler Boyd, Pittsburgh WR
Boyd caught five passes for 160 yards and a touchdown in a 40-35 loss to North Carolina. Boyd's performance marked the third-straight game he had went over the 100-plus yards receiving.
Cody Kessler, Southern Cal QB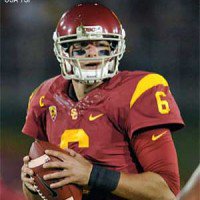 Kessler threw for 371 yards and four touchdowns on 31 completions in a 38-30 win over California. It was just another day at the office for Kessler, who has thrown 29 touchdowns  and only three interceptions this season.
Jimmay Mundine, Kansas TE
Mundine went off Saturday, as the Jayhawks gave TCU just about all the Horned Frogs could handle, despite losing 34-30. In the loss, Mundine caught seven passes for 137 yards and a touchdown.
Dy'Shawn Mobley, Eastern Kentucky RB
Normally, I just write about FBS players in this article, but Mobley's performance on Saturday was insane! To start, Mobley carried the ball 40 times for 224 yards and five (yes, five) touchdowns. But that's just the beginning, Mobley also caught four passes for 100 yards and another touchdown on a day where he was responsible for all six of the Colonels' touchdowns in a 43-36 win over Murray State.
Play of the Week: The blocked punt that got Will Muschamp fired.
[embed]https://www.youtube.com/watch?v=9VwnJbZHS_I[/embed]
Carlton Heard rushes through the Gator's punt protection to block a punt that allows Steve Spurriers' squad to extend the game into overtime, where they would eventually beat Florida, 23-20.
Be sure to follow me on twitter @griffaldo.
Back to the NCAA Newsfeed