Week 10 of college football provided us with some stunning performances and thrilling finishes to some high-stakes games. Let's see who had the biggest impact in week 10:
Kelvin Taylor/Matt Jones, Florida, RBs
The Taylor/Jones combination took a heavy toll on the Georgia defense, and the Gators only put the ball in the air six times during Saturday's 38-20 win in Jacksonville. Taylor and Jones accounted for 50 of the 60 rushing attempts, each totaling over 190-yards rushing and scoring two touchdowns. Both Taylor and Jones averaged over seven yards per carry, as the Gators stunned the eleventh-ranked Bulldogs.
Pharoh Cooper, South Carolina, WR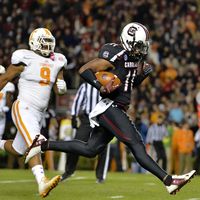 Cooper did it all for the Gamecocks on Saturday, despite the team's 45-42 overtime-loss to the Tennessee Volunteers. Cooper caught 11 passes for 233 yards and two touchdowns, also throwing a touchdown and rushing a touchdown. Cooper couldn't have been a bigger help to Steve Spurrier's offense, but South Carolina just didn't get the job done.
Daniel Lasco, California, RB
Lasco carried the ball 30 times in the Bears' 45-31 victory over Oregon State, totaling 188 yards and three touchdowns. Lasco also caught a pass that went for 20 yards. The win put Cal at 5-4 this season, as the Bears search for a bowl bid.
Corey Coleman, Baylor, WR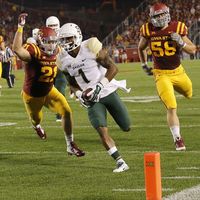 Coleman only caught three passes in Baylor's 60-14 thumping over lowly Kansas, but he scored two touchdowns and amassed 167 yards. Coleman's average yards per reception was a whopping 55 yards per catch, and the Jayhawks couldn't stop him whenever he became an open target.
Duke Johnson, Miami (FL), RB
Johnson was his usual self in a 47-20 divisional-win against the North Carolina Tarheels on Saturday, rushing 19 times for 177 yards and 2 touchdowns. Johnson broke a 90-yard run for a score in the second quarter, allowing him to spend most of the second half on the bench as the Hurricanes cruised to victory.
Josh Dobbs, Tennessee, QB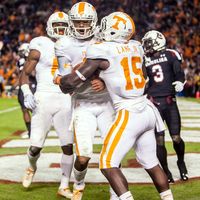 Dobbs started against the Gamecocks due to an injury to starter Justin Worley, and he lead the Vols to 45-42 win that caused Steve Spurrier to walk out of his post game press conference without fielding a single question. Dobbs completed 23 of 40 pass attempts for 301 yards and added 166 rushing yards, accounting for three touchdowns. It will be interesting to see if Butch Jones uses the young quarterback more this season, as the Volunteers take one step closer to being bowl eligible.
Praise Martin-Oguike, Temple, DT
Martin-Oguike ruined East Carolina quarterback Shane Carden's day Saturday, as the Owls completed a 20-10 upset over the twenty-third ranked Pirates. Martin-Oguike had four tackles, three going for a loss, and caused two fumbles as the Owls' defense shut down the impressive Pirate-offense.
Play of the Week: TCU beats West Virginia on last-second FG
[embed]https://www.youtube.com/watch?v=AoGfmpCJIzs[/embed]
TCU kicker Jaden Oberkrom nails a 37-yard field goal against the Mountaineers giving the Horned Frogs their first lead of the game and the win.
Be sure to follow me on twitter @griffaldo!
Back to the NCAA Newsfeed