This year, college football's top division will finally decide a champion through a playoff system...even though it's just four teams. I've picked a winner for each conference, and followed that up with my picks for the first ever College Football Playoff:
American Athletic Conference
The Golden Knights set a very high standard in 2013 when they shocked the Baylor Bears in the Fiesta Bowl. Central Florida will start redshirt freshman Pete DiNovo at quarterback in an offense that's well-experienced at every other position.
Central Florida's defense returns nine starters from 2013. Last season, the Golden Knights were an overlooked defense, only allowing 17.3 points per game. If this defense can repeat its 2013 performance during conference play, expect Central Florida to be in a top-tier bowl game.
Atlantic Coast Conference
The pick: Florida State 
Jimbo Fisher's Florida State Seminoles are designed to make another run to the National Championship. Florida State returns 2013 Heisman Trophy Winner Jameis Winston, who is poised to have a monster season in 2014. Florida State returns a lot of depth to a defense that has two of the best cornerbacks in the FBS, Ronald Darby and P.J. Williams.
The Seminoles will have their first true test in week four when the Clemson Tigers travel to Tallahassee. If Florida State can defeat Clemson and Louisville, there won't be a team from the Coastal Division who can challenge them in the ACC Title Game. This makes the Seminoles an obvious choice for the playoff.
Big 12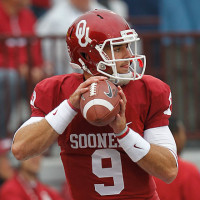 The Pick: Oklahoma
The Sooners return a lot of depth in 2014, and have a schedule that will help them assert themselves as a serious contender. Oklahoma faces their toughest games in the upcoming season at home, and the Sooners will play much easier non-conference teams than the rest of their Big 12 counterparts.
Trevor Knight will take the reins of Bob Stoops' offense this season, and he could have another explosive target if Dorial Green-Beckham is cleared to play this season. Even without Green-Beckham, Knight will have junior receiver Sterling Saunders, who caught 51 balls in 2013. If he can play to his potential, Knight will have the best season by a Sooners' quarterback since Sam Bradford in 2008.
Big 10
The Pick: Michigan State
The season-ending injury to Braxton Miller will affect the Ohio State offense tremendously...and open the door for another team to take the Big 10. Many experts (including me) thought that Miller would be one of the favorites to win the Heisman Trophy in 2014. Without Miller, Ohio State will still be a dangerous opponent for any team, but the Buckeye offense won't be able to draw on the experience of a player named Big 10 Offensive Player of the Year in consecutive seasons.
Michigan State loses some players from one of the nation's stingiest defenses in 2013, but the Spartans will fill those gaps with fresh talent. Michigan State's defense will be tested early when the Spartans face Marcus Mariota and the Oregon Ducks in week two.
MSU's biggest test will come in the Big 10 Championship Game, where they'll most likely face the Wisconsin Badgers. Wisconsin will feature an offense revolving around sensational junior running back Melvin Gordon. However, the Badgers are replacing all seven players on their defensive front, forcing me to side with Michigan State.
Conference USA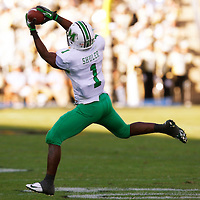 The pick: Marshall
This was the one of the easiest picks I had to make while writing this article. The Thundering Herd return 20 starters on both sides of the ball. One of those is quarterback Rakeem Cato, who had an astounding season in 2013 throwing for 39 touchdowns and rushing for six. Cato is a dual-threat quarterback and will have his favorite target, Tommy Shuler, back this season. Shuler has caught over 100 passes from Cato over the past two years.
Marshall ended on a high note last season, defeating the Maryland Terrapins 31-20 in the Military Bowl. The Thundering Herd have a great chance to be undefeated going into bowl season.
MAC
The pick: Bowling Green
The Falcons will get a crack at the Wisconsin Badgers in week four at Camp Randall. Other than Wisconsin, Bowling Green won't have a true test until they travel to Toledo in mid-November.
The Falcons' offense will build on a respectable 2013 campaign, as returning starter Matt Johnson will once again try to surpass the 3,000-yard mark through the air. Junior running back Travis Greene will try to top the massive 1,604 yards rushing that he accumulated on the ground last season.
Mountain West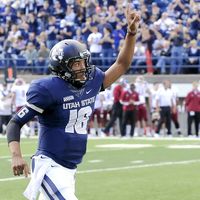 The Pick: Utah State
The Aggies will debut some fresh faces in 2014, but senior quarterback Chuckie Keeton's experience will be absolutely vital for Utah State. Keeton was having a phenomenal 2013 before blowing out his knee against BYU, and Utah State finished strong last season, winning five of their final six games. The Aggies topped things off with a bowl win over NIU and Heisman candidate Jordan Lynch - look for them to land an even bigger opponent when 2014 bowl season rolls around.
PAC-12
The Pick: Oregon
The Oregon Ducks are known for their loud uniforms and high-octane offenses. This year's team won't be any different, as Marcus Mariota will try to get the Ducks over the hump and into the National Championship. The Ducks will have to get through a difficult stretch from week seven to week 11, when they'll have to face three preseason top-25 opponents. This brutal stretch starts on the road against the UCLA Bruins, who I picked to win the South Division.
After UCLA, the Ducks play Washington, Cal and Stanford in a three-game homestand. The Washington Huskies are a dark horse under the leadership of Chris Petersen, and no Pac-12 teams should take them lightly.
SEC
The Pick: Alabama
When I make these picks each year, it's extremely hard to pick against Nick Saban's Alabama Crimson Tide. This year isn't any different, as the Crimson Tide are absolutely loaded with talent. Alabama's ability to recruit talented skill position players at running back and receiver will boost whichever quarterback ends up starting in Tuscaloosa, whether it be Blake Sims or Jacob Coker. As with every year, however, the Tide will have to make it through the hellacious SEC West.
I'm picking South Carolina to win the East Division in a race that won't be settled until the last week of the season, similar to how things went down over the past few years. Steve Spurrier appears to finally have the mold of his old Florida teams in South Carolina, and this team could bounce Alabama from the playoff if the two meet in Atlanta.
Sun Belt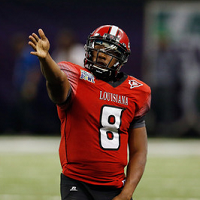 The Pick: Louisiana-Lafayette
Senior quarterback Terrance Broadway will lead his team through a weaker Sun Belt schedule with the additions of Appalachian State and Georgia Southern. Weeks two through four are going to be tough on the Ragin' Cajuns, but they can easily rebound thanks to a soft Sun Belt schedule.
Playoff
(1) Florida State beats (4) Michigan State
(2) Alabama beats  (3) Oregon
National Championship Game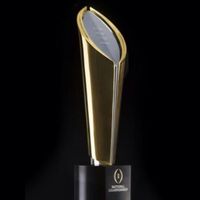 Florida State 35 Alabama 27
Be sure to follow me on Twitter @griffaldo for updated analysis and insight during this year's 2014 College Football Season.

Back to the NCAA Newsfeed