University of Florida head coach Will Muschamp is trying his hand at recruiting on Twitter...and the results have been mixed.
This evening, Muschamp clearly meant to send a direct message to a recruit...but instead, he sent that message to his 55,000 Twitter followers.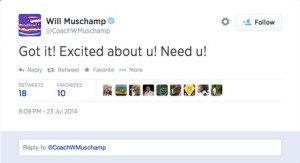 There are other contexts where this message might have made sense, so we guess it must have been meant for a recruit...but only because the alternatives are, well, not very pleasant (do you really want Muschamp to be excited about you? Need you? Think about it).
The tweet was quickly deleted.
Relevant:
The 10 Hottest Seats In College Football
Back to the NCAA Newsfeed