As the 2015 NFL Draft is less than a work week away, former college football players across the nation with dreams of playing at the next level will soon know their fate. Each athlete has their own story of how they got to this point, and all need hard work to progress. But, not all stories involve a brother that's working out for the same draft.
Tyrone Taylor and Bryan Douglas are stepbrothers who grew up under the same roof and played high school football together in Los Angeles. Taylor found his way to football before Douglas who showed interest in many sports at a young age. Though college football separated them, it's when they began a relationship much stronger than they had before. It's a relationship they are thankful for today as the two approach the 2015 NFL Draft.
"We had two different sets of friends in high school," Douglas said. "So, he would be with his friends and I would be with my friends. We would only see each other at home and sometimes not even that. So, once we really got serious and strapped down about ball, we realized we needed each other more than anything else."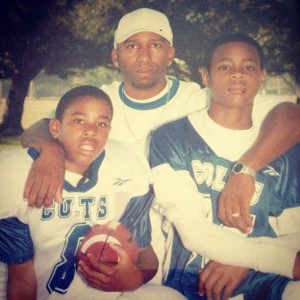 The brothers play the same position - cornerback. Taylor played football for California University of Pennsylvania, while Douglas played college ball at Boise State. During school breaks, the duo reconvened at home to train.  The end of their college football careers marked the longest time they had been together since high school. Instead of training for college ball, they prepared together for the NFL Draft at Parabolic in New Jersey.
"Going in with him, it was more motivating," Taylor said. "I mean, we pushed each other hard every day. We kind of like competed with each other every day just to get each other better. I mean he's a hard worker, I'm a hard worker, so it was fun. I'd rather work out with him than going by myself. It was a good experience being with him the whole time."
It's no shock to the brothers that their names most likely won't get called in Chicago during the Draft. But, they do believe they deserve a chance.
"I'm just hoping for a shot really, we both are," Douglas said. "We know we're not getting drafted because I mean all the adversity we have been through, we know it's not realistic to even get drafted. All we really are looking for is a shot from the right team to showcase our talent."
Adversity for Douglas was suffering a knee injury that affected part of his senior season. For Taylor, it was working out for just one scout during his Pro Day. Advice has helped them get through those tough times.
"You've just got to keep your head down and really just do what you love," Douglas said. "It's not about anything else. No matter how you feel that day, no matter what's going on in your life, it's all about getting up every day and doing what you love, and that's how I approach every day now."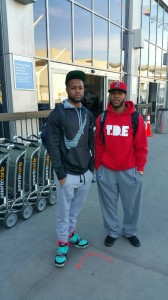 Douglas ran an unofficial 4.26 in the 40-yard dash during Boise State's Pro Day. The brothers believe they bring something special to the field.
"I'm like a diamond in the rough," Taylor said. "I mean once they find me, I'm golden, for sure. I know I am. I'm really confident about my play, I'm physical, I've got good ball skills. I just know that once somebody finds me they're going to keep me."
"I'm very consistent," Douglas said. "You know what you're going to get when I hit the field. I'm always in the film room. I'm a student of the game, actually. I'm not just okay with just going to practice and just leaving practice when everybody else is done. I want to know what I did wrong that day, what I need to work on. I want to talk to the coaches. If I could talk to a coach after every play, I would."
No matter what news the Draft brings, they are thankful for the opportunities from the past and present.
"I'm more humbly eager just for it to come more than anything," Taylor said." "I'm not really nervous about who's going first or second. I'm just looking to get picked up, or waiting for an opportunity."
"You're playing video games as a kid, and you see all these big names," Douglas said. "You play football in the street, and you're just talking saying, 'I'm going to play in the NFL one day.' When the reality as a kid is you're just speaking stuff into existence. We're just blessed to actually be in this position whether we get drafted or not. I'm just happy I got to enjoy this process. Even being exposed, having interviews, got to go off and train somewhere, got to go off and do a pro day for one of the biggest schools in the nation. You know I'm just blessed to be in the position I'm in."
The two are even more blessed that football has brought them closer together than they could have ever imagined. Still, the brothers have their differences within the sport. Taylor said his play is most similar to Darrelle Revis', while Douglas thinks his style is like Brent Grimes. If the two could choose a way to workout, Taylor would hit the gym and Douglas would hit the field.
Their paths have crossed during training and they would love for their paths to cross again in the future.
"Our relationship is tight," Taylor said. "If we ever played on the same team, that would be crazy."
Back to the NCAA Newsfeed