On Monday morning, College Football Playoff Executive Director Bill Hancock unveiled the trophy that will be awarded to the first winner of the new playoff system, six months from now in Arlington.
A new era, a new trophy.

— CFB Playoff (@CFBPlayoff) July 14, 2014
The trophy is separate from the black base - together, adding up to about three feet and a combined weight of 65 pounds. Taking over three months to finalize, Hancock said that as many as four dozen designs were considered.
As for the Coaches' Trophy - the old Waterford Crystal trophy that was traditionally presented to the champion of the BCS National Championship?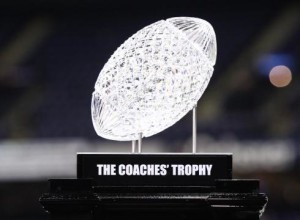 Many coaches adamantly insisted that the No. 1 ranked team in the final Coaches' Poll of the season will have a separate ceremony at their home stadium to award the trophy. The College Football Playoff commissioned its own trophy to indicate a new era - something the BCS had previously not done.
Back to the NCAA Newsfeed