For every college football team that exceeds expectations early in the season (see: Florida, Utah), there is another that couldn't back up the preseason hype and are disappointments. These teams fall into the latter category. In no particular order, here are 9 college football teams that have been huge disappointments this season.
Strong didn't inherit a great situation; few upperclassmen are producing and there isn't likely to be a single Longhorn senior taken in the NFL Draft. However, that doesn't mean Texas should be this bad. The offense, even with the switch to Jerrod Heard, has been anemic for much of the season. The defense, Strong's specialty, has allowed at least 30 points in every game this season. Special teams miscues have shown up in the last three games and cost Texas at least a chance at overtime in two games this season. The Longhorns are 1-4 and will likely start the season 1-5 with a game against Oklahoma coming up. Texas already had one player tweet about transferring at halftime of the Longhorns' blowout loss to TCU. There is a real chance that Strong could be fired if he can't get his team turned around quickly. 
Auburn was a popular College Football Playoff selection in the preseason and the Tigers haven't come close to living up to those expectations. With losses to LSU, Mississippi State and a near loss to Jacksonville State, Gus Malzahn's seat is getting a little warm. QB Jeremy Johnson was supposed to be the next Cam Newton, but he's already been benched for redshirt freshman Sean White. It's been a very disappointing season for Auburn. 
Arizona was expected to contend for a Pac-12 title this season, but are 0-2 in conference play. The Wildcats have suffered back-to-back blowouts at the hands of UCLA and Stanford. The defense has been nonexistent, while the offense really missed Anu Solomon, who has thrown only 10 passes in the last two games because of a head injury.
Losing by 3 on the road to Michigan State is one thing. Getting blown out 62-20 at home against Utah is another. Oregon was expected to compete for Pac-12 title, but with major QB issues, that likely won't happen. The Ducks have fallen out of the Top 25 and haven't done anything this season to prove they should be ranked.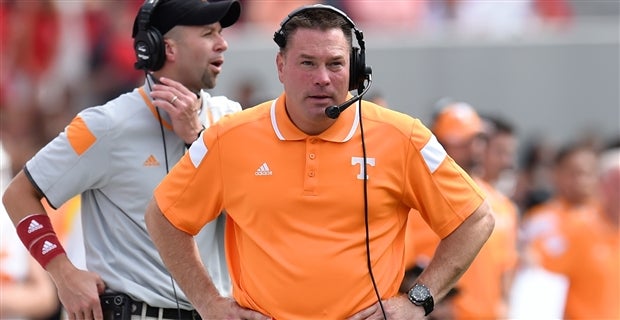 The Volunteers were a popular pick to win the SEC East. Instead, they've blown late leads against Oklahoma and Florida and lost a winnable game against Arkansas. This Tennessee team is close to being an SEC contender, but they've failed to take the step expected of them this season. 
Losing to Illinois is not okay for Nebraska. That's a game Nebraska should win every season. Especially this year, when Illinois is already on an interim head coach. Mike Riley simply might not be the right coach for Nebraska. 
Many expected Georgia Tech to make a run at the ACC this season, and the Yellow Jackets started the season with blowout wins over their cupcake opponents. Since then, Georgia Tech has disappointed with losses to Notre Dame, Duke and North Carolina. Clemson and Florida State are two of the next three opponents, so Georgia Tech needs to improve quickly.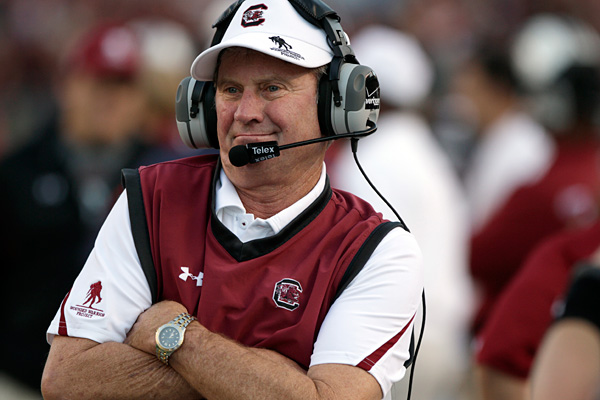 It's been a rough season for South Carolina. A hard-fought win over North Carolina gave the team hope, but losses to Kentucky, Missouri and a blowout at the hands of Georgia destroyed much of that hope. The Gamecocks' SEC schedule doesn't get any easier either. It might be time for South Carolina to replace Steve Spurrier. 
A win over Tennessee was big for Arkansas, but it doesn't mean the Razorbacks haven't been a huge disappointment. Losses to Toledo, Texas Tech and Texas A&M were unexpected at the start of the season for a team that was a popular dark horse pick to win the SEC West. 
Back to the NCAA Newsfeed
Related Topics: College Football, Arkansas Razorbacks News, Texas Longhorns News, Tennessee Volunteers News, Nebraska Cornhuskers News, Oregon Ducks News, South Carolina Gamecocks News, Arizona Wildcats News, Georgia Tech Yellow Jackets News, Auburn Tigers News