The new college basketball season tips off on Friday, and there are some major matchups to start things off. Michigan State will play Arizona and Kansas will play Indiana as part of the Armed Forces Classic on Friday, with the Champions Classic (Michigan State vs. Kentucky, Duke vs. Kansas) coming on Tuesday.
While last year was ruled by upperclassmen like Oklahoma's Buddy Hield and Michigan State's Denzel Washington, a new crop of freshmen is poised to take over the headlines - and it also has a couple of blue-blood programs back at the top of the rankings. Still, if we know one thing about college basketball, it's that craziness and chaos will ensue for the next five months until we crown a champion.
So, what are some of the crazier things that will happen this season? Here are 8 bold predictions:
8) Grayson Allen will win National Player of the Year
Really "bold" to get things started, huh? Allen is the preseason favorite to win the Wooden Award, and for good reason. Allen is a versatile player who flashed his all-around game last season with 4.6 rebounds, 3.5 assists and 1.3 steals per game, but it's his scoring ability that makes him a special player. After being buried on the bench as a freshman on Duke's national championship team, Allen broke out in a big way, finishing 15th in the country and second in the ACC in scoring with 21.6 points per game. He is an excellent shooter (41.7 percent from three-point range) capable of creating his own shot, but he also proved to be very good at attacking the rim off the dribble. Allen will use both of those skills to be one of the country's top scorers again.
While it goes without saying that individual greatness is required to win the Wooden Award, team success also plays a major role in determining the winner. Only two of the last 11 winners (Jimmer Fredette - BYU, Kevin Durant - Texas) have played on teams that did not finish the regular season ranked in the top 20, and eight of those winners had their teams finish in the top 10. With Duke projected to be one of the top team's in the country all season long (they'll likely be favored in every game they play this season), Allen will certainly be at the center of the national spotlight. 
Being the best player on the best team will get you a lot of recognition, and for Allen, it will include the Wooden Award. I picked Buddy Hield last preseason - let's see if we can make it two in a row.
7) Devonte' Graham will be the biggest breakout star in the country
Speaking of Hield, he was one of the biggest breakout players in the country last season, along with players like NC State's Cat Barber, Kentucky's Tyler Ulis and, of course, Grayson Allen (which were also predicted by yours truly). This year, several other new stars will emerge, the biggest of whom will be Kansas' Devonte' Graham.
Overshadowed by Wayne Selden and Perry Ellis last season, Graham shot 46 percent from the field and 44.6 percent from three-point range on his way to averaging 11.3 points per game. However, he's not just a scorer - he also averaged 3.7 assists and 3.3 rebounds per contest. Graham also saved his best for the biggest games of the season. He averaged 24.5 points in Kansas' two games against Oklahoma, scored a career-high 27 points in the Big 12 Championship Game and was KU's best player on the floor in their Elite 8 loss to Villanova. And, he did all of that despite being the third or fourth option on the floor at any given time.
He is part of the Jayhawks' two point-guard backcourt with Frank Mason III, who is more of a distributor than a scorer, meaning Graham will be the team's go-to option on the offensive end. He will likely have to split that role with freshman Josh Jackson (more on him in a second) later in the season, but Graham is more than ready to flourish in an increased role.
6) Josh Jackson will win National Freshman of the Year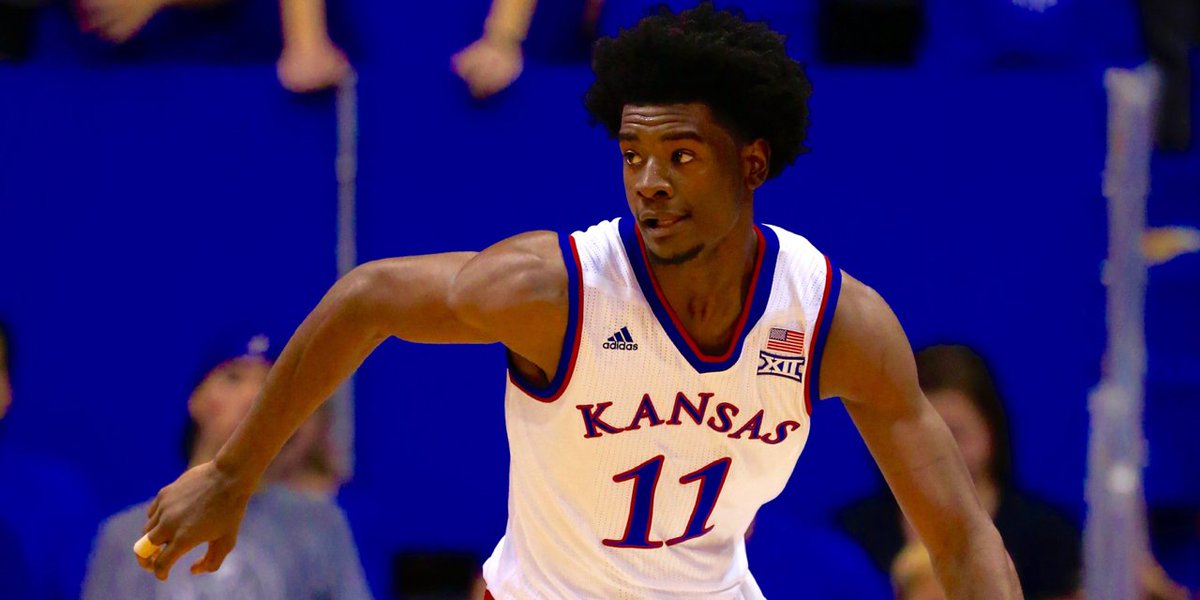 Yes, Washington's Markelle Fultz - the projected No. 1 pick in the draft - is going to dominate this season (trust me, you're going to want to stay up late to watch him play every chance you get), but the ultra-competitive Jackson isn't that far off. Jackson needs to add a bit more muscle to his 6-foot-8, 203-pound frame, but that's about the only negative thing you can say about his game.
He's as athletic as anyone in the country and is great at breaking down his defender in one-one-one situations. Attacking the basket is no problem, and he can finish in a variety of ways. That alone makes him similar to a lot of other top prospects in past years, but it's everything else that he also has in his game that makes him special.
In college, players are usually either slashers or shooters. Very rarely do you find the explosive athlete with a polished jumper, but that's Jackson. Even though he has a little hitch in his motion (which Bill Self is working on him with), he knocks down long-range shots with ease, and while he isn't an elite shooter, he will make you pay if you give him some space. Jackson also has the passing and ball-handling abilities to play point forward, making him that much more valuable.
It will be a close race between Fultz and Jackson all year. However, with Kansas likely having a lot more team success, Jackson gets the nod.
5) Xavier, not Villanova, will win the Big East
Villanova, the defending champs, get a lot back from last year's team, including preseason Big East Player of the Year favorite Josh Hart and national championship shot-making Kris Jenkins. However, they were counting on freshman Omari Spellman to be their big man in the middle, but he wasn't cleared to play this season by the NCAA. Now, they're a team full of guards with no big man, leaving them ready to be exploited.
The team who will make the most of that is Xavier. Led by 6-foot-6 point guard Edmond Sumner (another player who will have a breakout season) and star forward Trevon Bluiett, the Musketeers have an experienced group of returners and depth that make them extremely dangerous. It will be a heated battle between both teams throughout the season, but I give Xavier the edge.
4) UCLA wins the Pac-12
Not Oregon, not Arizona, not the Fighting Markelle Fultz's of Washington. UCLA is coming off a dreadful 15-17 campaign, but it wasn't for a lack of talent. Star guards Isaac Hamilton and Bryce Alford are back for their senior seasons, and they will be joined by talented freshmen Lonzo Ball, T.J. Leaf and Ike Anigbogu.
Ball is the kind of versatile point guard (he averaged a triple-double in high school) that can control a game without scoring, which also frees up Alford to play more efficiently in his natural off-ball position. Head coach Steve Alford is using all of the athleticism on his roster in a more wide-open, up-tempo offense. UCLA will be more than just fun to watch - they're going to be virtually impossible to stop.
3) Dayton will make a serious postseason run
Most of the talk around the Atlantic 10 has revolved around Rhode Island, and for good reason - they're a very good team. That being said, this Dayton team is flying under the radar - and are even more dangerous.
Dayton has several things going for them. Head coach Archie Miller is perhaps the hottest young coaching candidate in the country, they return almost all of their players from a year ago and have won 25+ games in three straight seasons. They also have several things going against them, including having to replace last year's leading scorer Dyshawn Pierre and center Steve McElvene, who died tragically in the offseason.
That, in particular, will be tough to overcome both on and off the court, but the Flyers are more equipped than most to deal with it. They are one of the most experienced teams in the country with eight upperclassmen, including six seniors, all of whom see the court. It's also the same group who helped guide Dayton to the Elite 8 in 2014.
Dayton is not a big team, but they have an outstanding backcourt led by Scoochie Smith, Kyle Davis and Charles Cooke - all seniors who combined to average 35 points per game last season. Add in an underrated recruiting class, headlined by versatile four-star forward Kostas Antetokounmpo (Giannis Antetokounmpo, the "Greek Freak"s little brother), and the Flyers have the combination of experienced guard play and talent that makes them a dangerous group.
2) Florida State will, too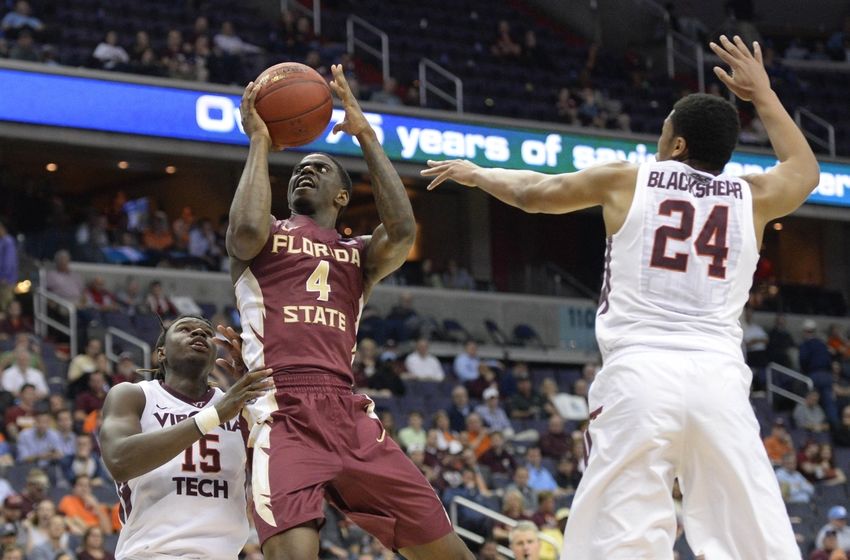 I am higher on Florida State than most coming into the season, mostly because I love their backcourt. Dwayne Bacon was the highest-rated commit in Florida State history, and put up 15.8 points and 5.8 rebounds per game last season. He's accompanied by Xavier Rathan-Mayes, an excellent playmaker who averaged nearly 15 points per season as a freshman two seasons ago (that dropped to 11.8 last year).
However, what pushes FSU into this conversation is the arrival of freshman Jonathan Isaac, who overtook Bacon's mark as the highest-rated commit (#8 recruit) in school history. At 6-foot-10, his length and athleticism make him a very capable defender on the perimeter (the kind head coach Leonard Hamilton loves), and allow him to get to the rim with ease. Plus, he also has an incredibly smooth jump shot.
FSU is counting on a rotating cast of big men to help make their frontcourt viable, which is all they'll need to be. Guard play usually determines how good a team is (or isn't) in college basketball, and the Noles have one of the most underrated units in the country.
1) Duke will beat Kansas in the national title game
Duke will make the Final Four led by Grayson Allen and their four star freshmen (Harry Giles, Jayson Tatum, Marques Bolden and Frank Jackson), and Kansas will cruise there as well on the backs of Graham and Jackson. I see Kentucky also making it because of their amazing talent level (even though they're mostly freshmen), and another spot will go to either Dayton or Florida State as a dark horse (depending on how the brackets shake out).
Of that group, Duke and Kansas have the strongest teams, and in the title game, the Blue Devils will claim their sixth title. They are a group with no holes or apparent weaknesses. They have experience in Allen and senior forwards Amile Jefferson and Matt Jones, quality role players in sophomores Luke Kennard and Chase Jeter, and, of course, a dominant freshmen class. All four of those freshmen were top 20 recruits, and three (Giles, Tatum, Bolden) are projected lottery picks.
No other team can go nine deep with that level of talent. When all is said and done, the Blue Devils will be cutting down the nets in April.
Back to the NCAA Newsfeed
Related Topics: Big 12 Basketball, Xavier Musketeers Basketball, Big East Basketball, Devonte' Graham, Kansas Jayhawks Basketball, Edmond Sumner, Josh Jackson, UCLA Bruins Basketball, ACC Basketball, NCAA Basketball, Grayson Allen, Duke Blue Devils Basketball, Pac-12 Basketball, Villanova Wildcats Basketball