The start of the college football season is still several weeks away, but with fall practices starting up soon, it's time to take a look at who could win the Heisman Trophy. The favorites are pretty well known at this point, but who could come from outside the top group to snag the Heisman in 2017? 
This is for dark horses only, meaning the current group of favorites and/or those with good odds don't count. The likes of Derrius Guice, Saquon Barkley, Baker Mayfield and so on are too popular to be dark horses. 
This is by no means a comprehensive list. If a young QB, like Shane Buechele of Texas, Nick Fitzgerald of Mississippi Sate, Jacob Eason of Georgia or someone else, gets hot early and leads their team to plenty of wins, they could easily be in the race. The list is in alphabetical order. With that in mind, here are seven Heisman Trophy dark horse candidates for 2017. 
QB Luke Falk, Washington State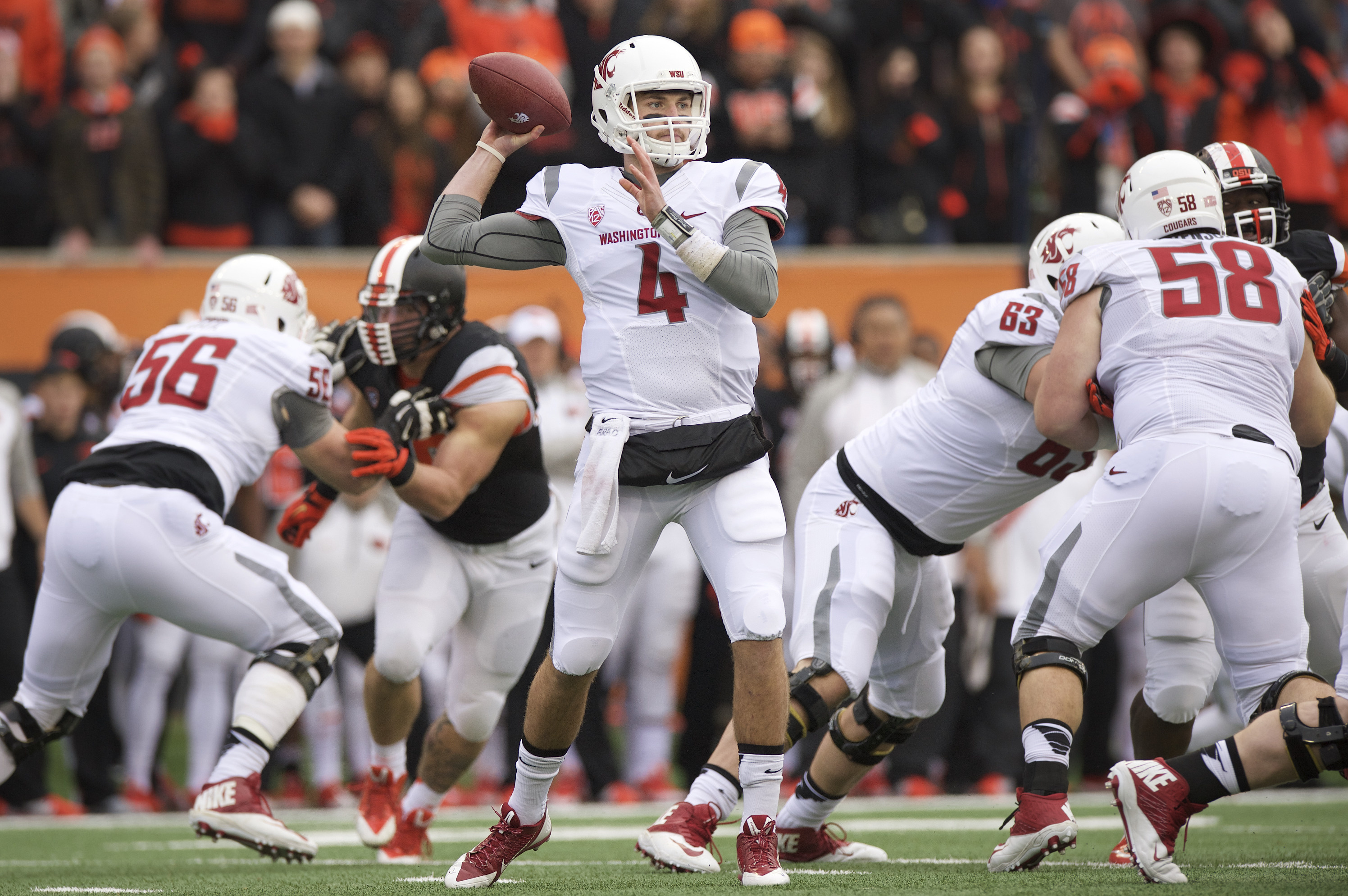 Falk plays in a very pass happy offense, but that shouldn't negate just how good he was last year. He completed 70 percent of his passes for 4,468 yards, 38 TDs and 11 picks last year. Falk could have turned pro, but elected to return to Washington State for one more year. The Cougars need a historic season for Falk to win the Heisman, but they at least have a chance to start the season hot. They do play Boise and USC in the first five weeks, but win those games and Falk will jump way up the Heisman standings. 

More: Chat Sports' Crunchbase Page
QB Quinton Flowers, South Florida
What's a darkhorse list without a Group of 5 player? Flowers isn't a household, but he's one of the best players you've never heard of before. His passing numbers are solid: 2,551 yards, 22 TDs, 6 INTs with 61.5 completion percentage. But he thrives in the ground game, where he racked up 1,425 yards and 15 TDs. He's Lamar Jackson-lite and one heck of a player. To win the Heisman, he'll need to up those numbers and have South Florida go undefeated (or close to it) to win the Heisman. 
RB Royce Freeman, Oregon
Another player who could have gone pro, Freeman elected to return for another year. There's a new staff at Oregon, led by head coach Willie Taggart. His last stop was at South Florida, where RB Marlon Mack ran all over defenses. Now Taggart gets Freeman, who had just 945 yards and 9 TDs last year. Injuries were a big part of that, but if Freeman can stay healthy, he could approach his 1,836 yards and 17 TD line from 2015. If he does that and Oregon competes for a Pac-12 crown, Freeman should be in the mix. 
S Derwin James, Florida State
Defenders simply don't win the Heisman trophy. So while it's a long shot, James has the best chance of winning the Heisman this year. He missed essentially all of last year because of injury (he still recorded his first pick) and the FSU defense suffered because of it. But his true freshman campaign was absurdly good as he racked up 91 tackles, 9.5 TFLs, 4.5 sacks, two forced fumbles and two fumble recoveries. James needs everything to go right to even finish near the top of the Heisman standings, starting with forcing more turnovers, finding the end zone a few times and for Florida State to be at or near the top of the polls. FSU QB Deondre Francois is a Heisman contender and he'll draw plenty of buzz if FSU plays well, but James has a chance to make an impact right away with a big game against Alabama to open the season. 
QB Trace McSorley, Penn State
RB Saquon Barkley (rightfully so) is getting plenty of preseason Heisman hype. But don't forget about the PSU QB either. McSorely didn't light up opposing defenses like other QBs in pass-happy offenses, but he still had 3,614 yards, 29 TDs and just 8 INTs. He can also run a but and showed the improvement throughout the season. With defense focused on Barkley, that could free up McSorley to have a big season. And if Penn State has another big year, their QB will surely get some of the credit. 
QB Mason Rudolph, Oklahoma State
The Vegas odds like Rudolph, but he's still overlooked on many top 10 lists and by many fans. Perhaps that's because Baker Mayfield has received all the hype over at Oklahoma. That's understandable, but Rudolph is no slouch. He threw for over 4,000 yards last year, with 28 TDs and just four picks. Mayfield's numbers are better, but Rudolph still has room to grow. With star WR James Washington back, the Cowboys could be in a for big year. If Oklahoma State can beat OU, Rudolph should become the top Heisman threat in the Big 12. 
QB Jarrett Stidham, Auburn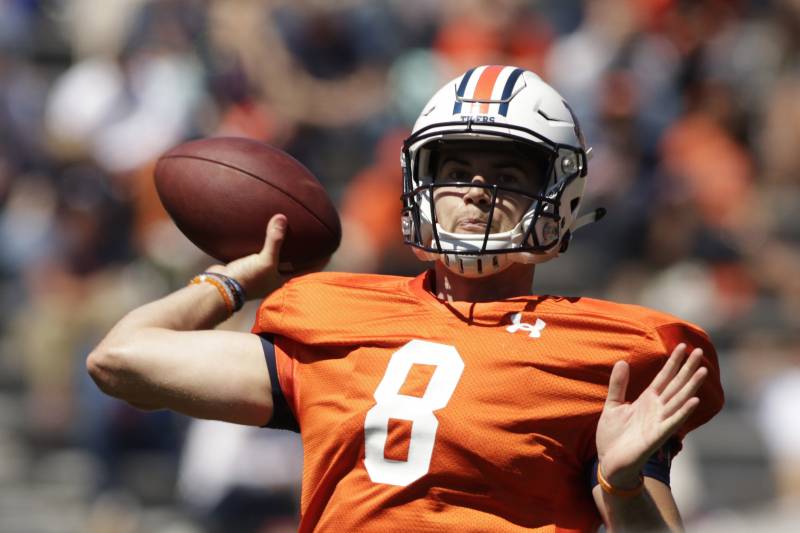 We've been burned by Auburn QBs with preseason hype before (cough Jeremy Johnson cough). Of course, there was also some dude named Cam Newton. Stidham will hopefully be in the middle of those two QBs and closer to Newton. The hype around Stidham is steadily building, as he's looked sharp in the spring and has drawn plenty of praise. The Baylor transfer showed plenty of promise in his lone year playing for the Bears, racking up 1,265 yards, 12 TDs and two picks on 109 attempts. He can run a bit too and could put up big numbers in the Tigers' offense. If Auburn makes a run at SEC West title, Stidham will get Heisman consideration. 
Check out our College Football page for everything you need on college football or download the Chat Sports App!
Back to the NCAA Newsfeed
Related Topics: Luke Falk, Trace McSorley, 2017 Heisman Trophy, Derwin James, Heisman Trophy, Mason Rudolph, Royce Freeman, Jarrett Stidham, Quinton Flowers, Heisman Trophy Dark Horse