Tomorrow is the first day of December, which means the NFL season is getting closer to the end and college football is preparing for conference championship week and bowl season. Over the next few weeks, Chat Sports will prepare you for the 2018 NFL Draft with player profiles, mock drafts, and more. With my weekend plans filled with watching football all day Saturday and Sunday, here is my latest projection on the seven best wide receivers that will be selected in the 2018 NFL Draft.
College Football Fans - Download Chat Sports on iPhone today for breaking college football news, rumors, scores and more - Chat Sports iPhone App!
1.) Calvin Ridley - Alabama
Entering the 2018 NFL Draft, there is a name that seems to be frequent one when talking about the best wide receiver in college football - and that name is Alabama junior Calvin Ridley. He is 6'1" and 190 pounds with freakish athletic ability. This season for the Crimson Tide he has 55 receptions, 896 yards, and three touchdowns. A great NFL comparison for Ridley is Minnesota Vikings receiver Stefon Diggs.
2.) Courtland Sutton -SMU
I live in Dallas, Texas and have gone to SMU football games just to watch Sutton play and let me tell you something, this kid is the real deal. He is 6'4" and 215 pounds with surprising speed due to his long strides. On the season, he has 62 receptions for 1,017 yards and 12 touchdowns. When watching Sutton, he reminds me of Vincent Jackson.
3.) Auden Tate - Florida State
He is 6'5" and 225 pounds and an absolute mismatch for any defender in the red zone. He has 33 receptions for 441 yards and seven touchdowns this season but has great upside with his size and athletic ability. If there is a weakness to his game, it's his acceleration and NFL teams will be watching his 40-yard dash times very closely.
4.) Christian Kirk - Texas A&M
This season, Kirk had 58 receptions for 730 yards and seven touchdowns. Since his freshman year, he has proven to be a reliable red-zone option scoring seven plus touchdowns every single season. He is 5'11 and carries 200 pounds very well, boxing out defenders in the red-zone like a tight end. Kirk has the upside to be a wide receiver one, and so much upside that the comparison of Odell Beckham Jr. has been thrown around.
5.) Antonio Callaway - Florida
Callaway led the Gators in receiving yards in 2016 but was suspended for 2017 along with six other teammates who agreed to a pre-trial intervention that could lead to the dismissal of the felony charges they face from a credit card scandal. Callaway has the talent and great speed to be a reliable wide receiver in the NFL. When watching the tape, he compares to a slightly bigger and a little slower version of DeSean Jackson.
Video Podcast For You: The Fantasy Football Rumors Podcast
6.) Parris Campbell - Ohio State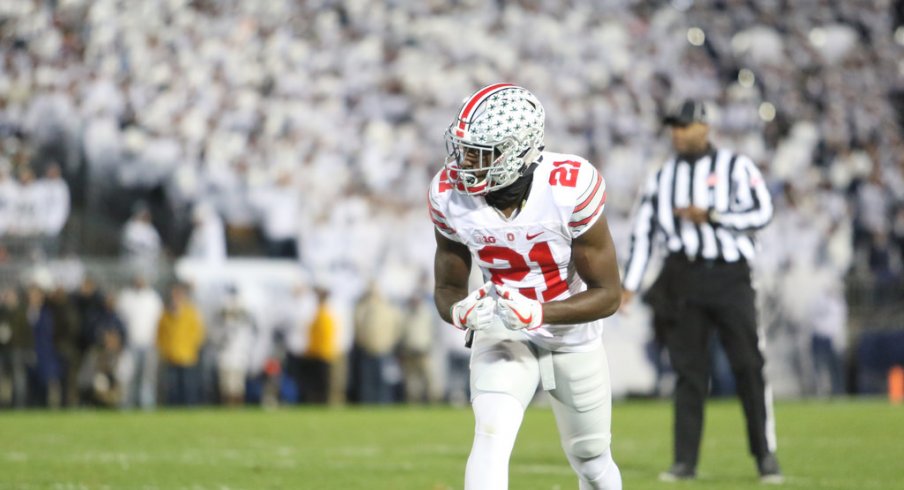 He is 6'1" and 210 pounds and can absolutely fly down the field. He struggles to catch the ball but has speed that you simply can't teach. This season, he has 38 receptions, 530 yards, and two touchdowns. He profiles out to be more of a gadget player in the NFL, much like Percy Harvin.
7.)  Simmie Cobbs Jr. - Indiana
Cobbs missed all of 2016 with an ankle injury but has been healthy this year. He was impressive when I watched him against Ohio State, and in that game, he caught 11 balls for 149 yards and one touchdown. He is 6'4" and 220 pounds but he may remain at Indiana for one more year if he is given a medical redshirt for the 2016 season.
Follow our NCAA page for all the latest college football news & rumors!
Mitchell Renz is the Senior Writer & On-Air Host at Chat Sports check out his article archive and live videos on Chat Sports Facebook page. Please follow him on Twitter @MitchellRenz365.
Back to the NCAA Newsfeed
Related Topics: 2018 NFL Draft, Courtland Sutton, Simmie Cobbs Jr., Calvin Ridley, Best wide receivers in college football, Parris Campell, 2018 NFL Draft WR, Antonio Callaway, NFL Draft WR, D.J. Chark, Christian Kirk