Upsets are the lifeblood of college football, and without a preseason for teams to shake off the rust, we often see several upsets during the opening weekend of the season. Here are six teams that are on upset alert this weekend:
(2) TCU at Minnesota - Thurs., 9:00 p.m. ET, ESPN
TCU is the favorite to represent the Big 12 in the College Football Playoff and quarterback Trevone Boykin is the preseason favorite to win the Heisman trophy, but they open the season with a tough one on the road. The Gophers nearly beat out Nebraska and Wisconsin for the Big Ten West division title last year before losing three of their last four games, and return 13 starters led by QB Mitch Leidner.
Road games are always tough in college football, and Minnesota is looking for a victory to signal that they've arrived as a program. If TCU isn't sharp, Minnesota will take advantage.
(23) Boise State vs. Washington - Fri., 10:15 p.m. ET, ESPN
While it may not be considered an upset if a Power 5 school knocks off a team from a lesser conference, but it will look that way in the rankings. Washington head coach Chris Peterson is making his return to Boise, where he coached from 2006-2013, adding another level of excitement to this showdown.
(15) Arizona State vs. Texas A&M (in Houston) - Sat., 7:00 p.m. ET, ESPN
Arizona State is one of the favorites to win the Pac-12 this year, while Texas A&M is expected to finish near the bottom of the SEC West. However, with both teams employing up-tempo, pass-happy offenses, there should be plenty of points to go around. Sun Devils QB Mike Bercovici and Aggies QB Kyle Allen both started significant games last season (even though they came into the year as backups), and whoever performs better will likely lead his team to a victory.
(11) Notre Dame vs. Texas - Sat., 7:30 p.m. ET, NBC
The Irish are hosting Texas in one of the big heavyweight bouts of opening weekend, but the game is there for the taking for the Longhorns. Notre Dame will be starting Malik Zaire at quarterback, who only has one start on his resume, and are returning a defense that ranked 75th against the pass and 72nd against the rush last year (out of 128 teams).
Neither of those things scream "contender" for Notre Dame, and Texas should be much improved in head coach Charlie Strong's second season. The Longhorns return 13 starters from last year's team, including six from a defense that ranked 25th in the country. Reports indicate that quarterback Tyrone Swoopes has greatly improved from last season, and if he can have Texas' offense playing at a respectable level, the Longhorns should pull the upset.
(3) Alabama vs. (20) Wisconsin (in Dallas) - Sat., 8:00 p.m. ET, ABC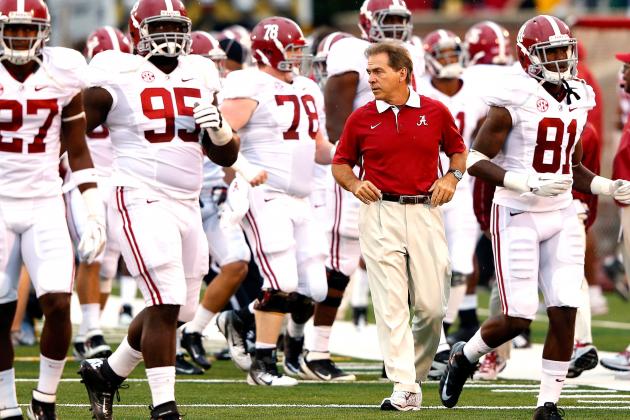 Alabama is much more talented that Wisconsin across the board, but their quarterback questions leave this one in the air. Head coach Nick Saban has yet to name a starter, and the Tide could play as many as three QB's in the game. Alabama nearly lost to West Virginia in their opener last year, and the Tide are expected to take a small step back this year. If Alabama's offense sputters all game, the Badgers could take advantage with their potent rushing attack.
(1) Ohio State at Virginia Tech - Mon., 8:00 p.m. ET, ESPN
Could lightning strike twice? The Hokies handed the defending champs their lone loss of the season last year in Columbus, and now the Buckeyes have to travel to Blacksburg. Virginia Tech returns 17 starters from last year's team, including nine from a defense that severely limited Ohio State's offense in 2014. 
The Buckeyes will be without All-American defensive end Joey Bosa, explosive wideout/running back Jalin Marshall, Corey Smith and Dontre Wilson for this game, all of whom were suspended. Ohio State will still be favored heavily, but the loss of those players will undoubtedly have a negative effect on them. VT's defense will give them a chance to win this game, and if their offense can find some magic, the could very well knock off Ohio State again.
Follow our NCAA page for all the latest College Football news and rumors!
Back to the NCAA Newsfeed
Related Topics: College Football, NCAA Football, College Football Playoff