The 2016 race for the #1 overall football recruiting class is as tight as we've ever seen, with a handful of top programs jockeying for position less than 24 hours before National Signing Day. We're here to run down the field of contenders with our list of the 6 Teams With A Chance At 2016's #1 Football Recruiting Class.
(All rankings courtesy of 247Sports.)
LSU Tigers (#1)
The Current Skinny: LSU has 23 commits already, with five-star defensive tackle Rashard Lawrence headlining a class that also has 17 four-star recruits and is balanced with upside on both sides of the ball. More on LSU's recruiting efforts inside Chat Sports' iPhone and Android apps!
Who Can Put Them Over The Top? The Tigers are in line to pick up their second five-star talent in cornerback Kristian Fulton, and they've got a good chance of supplementing his signature with another top secondary talent -- four-star CB Trayvon Mullen.
If they land both Fulton and Mullen, and can pull off an expected flip of three-star defensive ScI Martin from TCU, they can hold fast to the #1 spot.
Ohio State Buckeyes (#2)
The Current Skinny: Ohio State has 23 commits lined up right now, led by five-star defensive end Nick Bosa. There's also 16 four-stars from a wide swath of regions and on-field positions.
Who Can Put Them Over The Top? The Buckeyes just landed four-star athlete/quarterback Jordan Fuller (who is one piece of a big puzzle) and have a beat on three-star athlete Malik Harrison. If they can somehow flip four-star cornerback Damar Hamlin, these three pledges could be enough to push them to #1.
The Current Skinny: FSU has gained a ton of ground over the past few weeks, and with five-star cornerback Levonta Taylor and 12 four-stars in hand, they've put themselves in position for a fantastic finish. More Florida State recruiting info inside our Chat Sports Android and iPhone apps!
Who Can Put Them Over The Top? We can virtually guarantee that four-star offensive tackle Landon Dickerson is headed to Tallahassee. Four-star defensive end Brian Burns and four-star cornerback Brian Burns may not be far behind. If FSU can add three to four more four-star gets, they could jump the field.
Ole Miss Rebels (#4)
The Current Skinny: Ole Miss' 2016 22-commit class is top heavy with three five-stars on board: quarterback Shea Patterson, defensive tackle Benito Jones and offensive tackle Gregory Little. The class isn't as deep as others on this list, but that can change quickly.
Who Can Put Them Over The Top? The Rebels could pick up their fourth four-star in defensive end Jeffrey Simmons. That alone could be enough to get them to #1, but they've also got an inside track at #1 JUCO prospect Jonathan Kongbo and four-star safety Deontay Anderson.
Alabama Crimson Tide (#5)
The Current Skinny: Bama has just 17 commits right now, with five-star offensive tackle Jonah Williams and ten four-star recruits on hand. However, Nick Saban is known for furious finishes in recruiting, so this haul is misleading right now.
Who Can Put Them Over The Top? There's about seven or eight top recruits who could find their way to Tuscaloosa on Wednesday. Five-star linebackers Ben Davis and Lyndell Wilson are virtual locks. Four-star defensive end Terrell Hall continues to lean this way. Sign those three and add a handful of three- and four-stars and this class rockets to #1.
Michigan Wolverines (#6)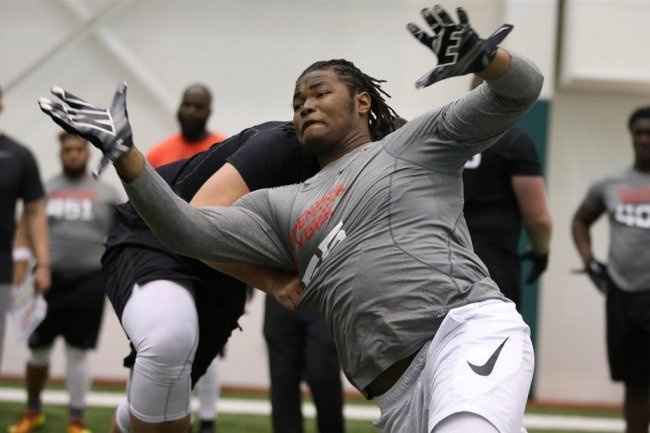 The Current Skinny: Michigan's near the top of the nation when it comes to the sheer volume of their current class. 25 commits are already lined up, with 12 of those (including QB Brandon Peters and RB Kareem Walker) have four-star rankings.
Who Can Put Them Over The Top? Rashan Gary. Rashan Gary. And more Rashan Gary. The #1 overall prospect in the nation reportedly has Michigan as a heavy favorite over Clemson, and his signing alone transforms this class from great to once-in-a-generation awesome. If four-star cornerback Lavert Hill and #1 overall kicker Quinn Nordin head to Ann Arbor too, UM will challenge for the #1 slot.
Back to the NCAA Newsfeed
Related Topics: Shea Patterson, Kareem Walker, Rashan Gary, Kristian Fulton, National Signing Day, 2016 National Signing Day, Jeffrey Simmons, Brandon Peters