Many college football fans around the country have been quick to deem the SEC's reign atop the sport over considering that the conference hasn't won a national championship in either of the last two seasons after winning seven in a row.
However, that isn't the case quite yet. Here are seven reasons why the SEC is still the king of college football:
6) SEC West
Let's start with the most obvious reason, which is the best division in the country. All seven teams (Alabama, Auburn, LSU, Ole Miss, Mississippi State, Arkansas, Texas A&M) could realistically compete for a spot in the College Football Playoff this year, and six of the seven are expected to be ranked in the preseason top 25 polls.
5) Overall depth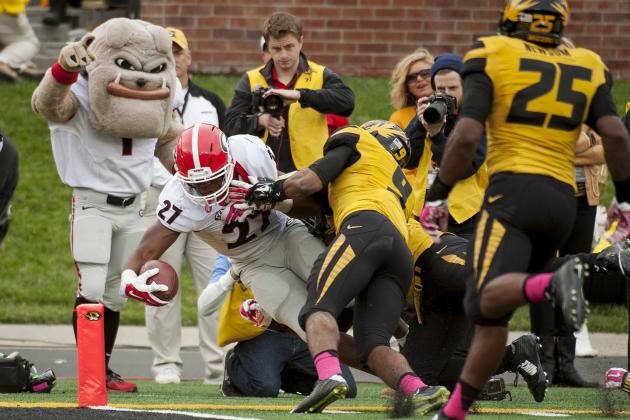 Building on that, the SEC East isn't too bad either. Sure, it's nowhere near as good as the West, but Florida, Georgia, South Carolina, Tennessee, Missouri, and Kentucky could all realistically win 10 games in 2015.
The SEC had 12 teams make a bowl game last year, more than anyone else in the country, and they could have 13 this season. They were also one of just three conferences to post a winning record in bowl season - not bad for a conference having a "down" year.
4) Home field advantages
No conference in the nation can match the tradition and attendance of the SEC on a weekly basis. Despite decreasing attendance numbers across the country, the SEC averaged a record 78,018 fans per game.
3) Elite coaching
Nick Saban. Gus Malzahn. Steve Spurrier. Les Miles. Kevin Sumlin. Mark Richt. Dan Mullen. Bret Bielema. Hugh Freeze. Butch Jones. Gary Pinkel.
All of these guys are stars in the coaching profession, and all call the SEC home. No other conferene can boast a plethora of coaches like that.
2) Top talent
The top-to-bottom quarterback talent in the SEC may not be what it was two years ago, but they've made up for it in having the country's best running backs. LSU's Leonard Fournette, Georgia's Nick Chubb, Alabama's Derrick Henry, Arkansas' Alex Collins, and Tennessee's Jalen Hurd are all legitimate Heisman candidates in the backfield, while the conference also hasn't seen any drop off in their elite defensive talent.
1) National prominence
It's been two years since the SEC last won a national title, but the conference's standard of excellence is undeniable. Last season was the first time in decade no team from the conference was in the championship game, but SEC champ Alabama was still the top seed in the College Football Playoff. 
Heading into the 2015 season, ESPN has 10 SEC teams ranked in their preseason top 25 - twice has much as anyone else.
While the conferece is looking for their first national championship since 2013, it's clear the the SEC's reign as the best conference in college football is not over.
Back to the NCAA Newsfeed
Related Topics: SEC, SEC Football, NCAA Football