Every year, college football teams start the season hot only to fall apart as the season progresses. Sometimes those teams are riddled with injuries and other times it turns out that the teams simply weren't as good as we thought. Here are six teams who are destined for a late-season collapse. 
Yes, Michigan State is undefeated. However, a closer look at their games reveals most have been hard-fought victories over less-than-great teams. A three point win over Oregon looked great at the time, but Oregon isn't as good as everyone thought. Air Force, Central Michigan and Western Michigan all hung around much longer than they should have. But it's the two most recent games against terrible Purdue and Rutgers teams that is the biggest indicator of the MSU's impending swoon. Those a game Sparty should win by three scores or more. Don't be surprised when the Spartans lose to Michigan, Ohio State and suffer an upset later this season. 


Oklahoma's only notable win this season came over Tennessee, a game the Vols should have won. Plus, Tennessee is 2-3 this season, so that's not much of a resume-builder for the Sooners. Had OU lost that game, everyone would have a completely different view of the Sooners' season. The upset at the hands of Texas is a clear sign the Sooner Swoon is coming. Oklahoma will end up losing 2-3 games this season and won't pick up a Big 12 title.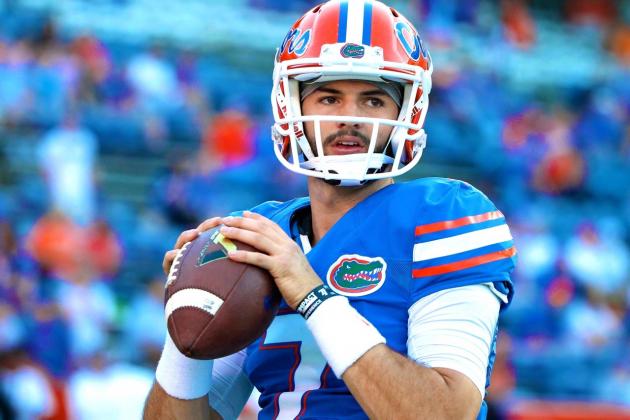 The Gators have an impressive win over Ole Miss, but this is the same team that barely beat Tennessee, Kentucky and ECU. The offense will start too look more like it did earlier this season than it did against Ole Miss soon enough. The Gators still have much of their SEC schedule left, and they'll drop enough games that they won't win the SEC East. A win over Missouri was expected. The Gators will still drop a few games, especially now that QB Will Grier will miss the rest of the season. 
Utah won big over Oreogn and held on to a win over Michigan in Week 1, but does anyone really believe Utah will finish the year in the Top 5 like they are now? There are four games the Utes could easily drop in Pac-12 play and don't be surprised when they finish the season with three losses. Utaha nearly lost to California this weekend, and they'll drop a game soon enough. 
This isn't a knock on TCU's offense, but a statement about their injured defense. TCU is down eight defensive starters already this season. That won't impact the team during games against anemic offenses (looking at you, Texas), but it will against better teams. The Horned Frogs have the offense, but the injuries are going to cost them games at some point. Expect TCU to drop at least two games during the rest of the season. The Horned Frogs were nearly upset by Kansas State. TCU's luck will run out soon. 
Remember how Everett Golson's turnovers killed Notre Dame's season last year? The same thing is going to happen this year to Florida State. RB Dalvin Cook is great, but he can't do everything. There will be games where defenses bottle up Cook and force Golson to beat them. When that happens, FSU won't be able to squeak out wins like it did against Boston College and Wake Forest. Florida State narrowly beat Miami (FL), so it's just a matter of time before they fall. The Seminoles will drop at least three games this season. 
Back to the NCAA Newsfeed
Related Topics: Michigan State Spartans News, College Football, Utah Utes News, Everett Golson, Florida State Seminoles News, Florida Gators News, TCU Horned Frogs News