With seven weeks of the college football season complete, we have a better idea of which coaches are on the hot seat. Several of the coaches will be fired at the end of the season, or even before. That's simply the reality of college football. Heck, Steve Sarkisian has already been canned by USC and Randy Edsall was shown the door at Maryland - plus Steve Spurrier has resigned at South Carolina.
If these six head coaches want to avoid suffering a similar fate, they need to pick up a win this weekend:
6) Mike Riley - Nebraska Cornhuskers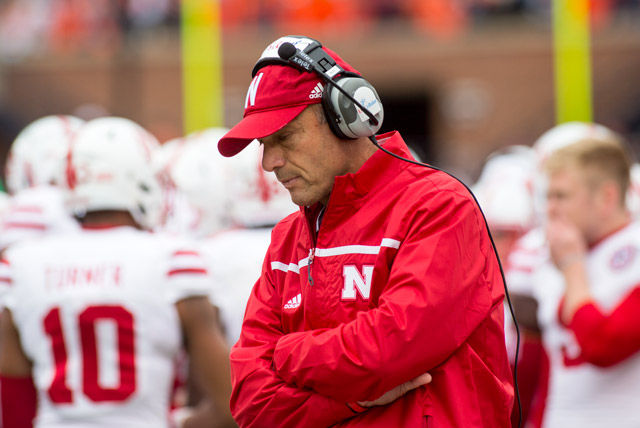 Nebraska finally got back in the win column against Minnesota last weekend, but that did nothing to offset a horrible start that has Nebraska sitting at 3-4. Cornhuskers fans are already starting to wonder if Riley was a wrong hire, and since Northwestern is struggling, a loss to them this weekend would only make those concerns louder in Lincoln.
5) Charlie Strong - Texas Longhorns
Want to find a way to erase all of the good feelings you created by beating Oklahoma? Lose to a Kansas State team that the Sooners beat 55-0 last weekend. It won't take much for the rumors to start swirling around Strong again if they suffer another disappointing loss.
4) Bret Bielema - Arkansas Razorbacks
This was supposed to be the year that Arkansas broke through and became a true SEC West contender, but that has been far from the case this season. A loss to Toledo highlights their 2-4 start, and they still haven't hit the heart of their schedule that features road trips at Ole Miss and LSU. Arkansas needs a win over fellow SEC West bottom-dweller Auburn on Saturday to show some sort of improvement, otherwise Bielema could be out of a job this offseason.
3) Kyle Flood - Rutgers Scarlet Knights
We don't know what it takes for this man to get fired. He completely violated NCAA rules regarding academics and then tried to hide it in the worst possible way. Oh, his team has also been plagued by arrests. Flood is almost guaranteed to be fired after this season, BUT - a home win over Ohio State this weekend would essentially erase all of that.
2) Mike London - Virginia Cavaliers
If it seems like London has been on the hot seat the past three seasons, it's because he has. He's lost at least seven games in four of his five season at the helm of Virginia. At 2-4, he's trending toward another season with no bowl game, which is something that is widely believed to determine whether he keeps his job or not. Another loss would put that goal in serious jeopardy.
1) Al Golden - Miami Hurricanes
A hefty buyout in his contract likely saved Golden's from being canned last year, but that won't be the case this season if the Hurricanes continue their mediocre play. If Miami can't find a way to match the nine wins Golden posted two seasons ago (they're 4-2 with No. 6 Clemson on deck), he might lose his job. However, a big win over Clemson this weekend would go a LONG way in showing that Miami is on the right track and get Golden out of the doghouse for the first time in two years.
Back to the NCAA Newsfeed
Related Topics: College Football, Rutgers Scarlet Knights Football, NCAA Football, Bret Bielema, Mike Riley, Al Golden, Mike London, Nebraska Cornhuskers Football, Arkansas Razorbacks Football, Miami Hurricanes Football, Kyle Flood, Texas Longhorns Football, Virginia Cavaliers Football, Charlie Strong