The college football season still hasn't hit the halfway point, but there are already rumors swirling around potential head coach openings at several top programs. There's already one marquee position available at LSU, but several more top programs - Auburn, Notre Dame, Oregon, Penn State, Texas and USC - could make coaching changes as well. Here are the six biggest names on the coaching hot seat - and how/if they can save their job:
Clay Helton, USC Trojans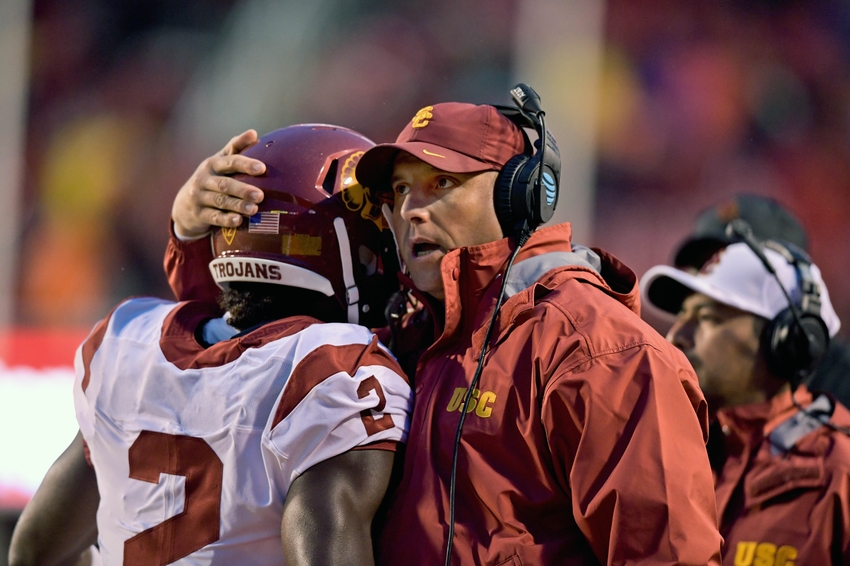 Clay Helton is only in the first year of a five-year deal with USC, but a dismal start has fans already wondering about his future. Two straight wins over ranked teams has brought them back to 3-3 and quelled most of the rumors, but if reports of him losing the locker room are true, the Trojans may swing again for a big-name coach. As long as USC goes .500, Helton should be good.
MUST READ: Top 10 Potential Replacements For Clay Helton (If He Gets Fired)
Gus Malzahn, Auburn Tigers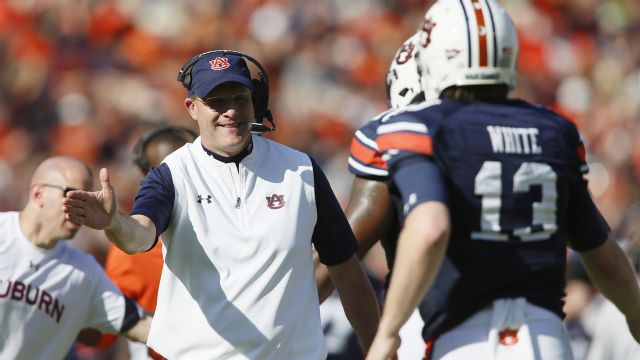 Head coach Gus Malzahn is currently on the hot seat despite a 4-2 mark because of his recent inability to compete with top teams in the country, and another average season could mean he's out. Big wins over LSU and Mississippi State have certainly helped him out, but he needs to reel off two wins against Arkansas, Ole Miss, Georgia and Alabama to really feel safe. Losing to all four would certainly make him (and fans) uncomfortable.
James Franklin, Penn State Nittany Lions
James Franklin is on his last legs in Happy Valley, and it's becoming more and more obvious that he may not be the right choice to lead this program going forward. The Nittany Lions are 4-2 and are coming off a convincing win over Maryland, but a loss to Pitt and embarrassing loss to Michigan put him on the hot seat. To keep his job, Penn State needs to play well (even in a loss) to Ohio State and beat either Iowa or Michigan State - while avoiding losses to Purdue, Indiana and Rutgers.
Brian Kelly, Notre Dame Fighting Irish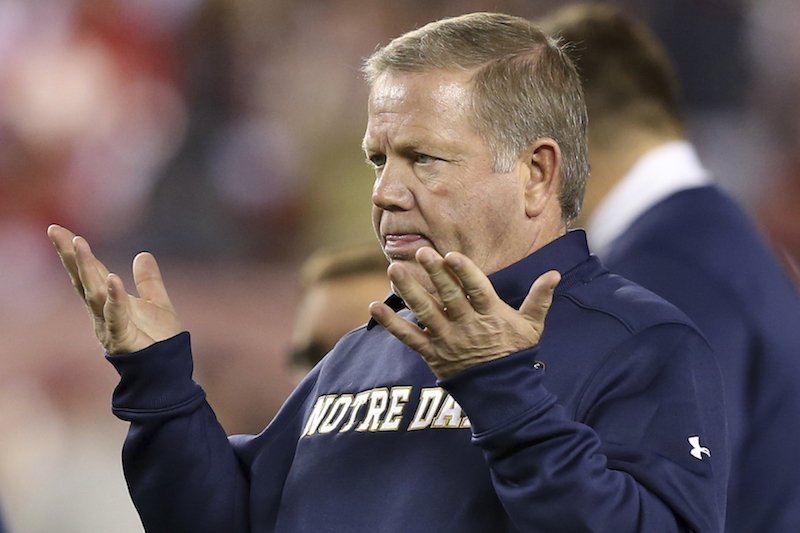 There are rumblings that Brian Kelly is on the hot seat after a 2-4 start to the season for Notre Dame, which has been marred by embarrassing losses to Duke and NC State. The bad record is enough to get Irish fans upset, but Kelly's demeanor (deflecting blame and placing it on his players, often picking out a certain player or two) and several questionable coaching decisions has some looking for a change. That outrage may be justified, but Kelly may earn another year because of his 57-27 record in South Bend. Still, he needs to make a bowl game to feel safe about his job.
MUST READ: Top 10 Potential Replacements For Brian Kelly (If He Gets Fired)
Mark Helfrich, Oregon Ducks
The sky is currently falling on Helfrich. Oregon has underachieved every since reaching the national championship game two seasons ago - with Chip Kelly's roster and recruits - and their massive fall off since can be solely blamed on Helfrich and his seeming inability to keep the program at a high level. Their 2-4 start is bad, but a 70-21 loss to Washington is even worse. With plenty of winnable games down the stretch, Oregon needs to make a bowl game for Helfrich to keep his job.
Charlie Strong, Texas Longhorns
There are already reports that Texas plans to fire head coach Charlie Strong at the end of the season, and they already have their eye on several potential replacements. The team appeared to be headed in the right direction under Strong after they defeated Notre Dame in the season opener, but after three consecutive losses - plus the realization that Notre Dame really isn't that good - Strong finds himself back on the hot seat. He saved his job last year with some wins down the stretch, but he needs to do more this year - he needs to win five or six of their remaining regular games, plus their bowl game to have any chance at keeping his job.
MUST READ: Top 10 Potential Replacements For Charlie Strong (If He Gets Fired)
Back to the NCAA Newsfeed
Related Topics: Notre Dame Fighting Irish Football, Penn State Nittany Lions Football, Clay Helton, NCAA Football, Auburn Tigers Football, James Franklin, Brian Kelly, USC Trojans Football, Texas Longhorns Football, Oregon Ducks Football, Mark Helfrich, Gus Malzahn, Charlie Strong