The US Army All-American Bowl is one of the premier showcases for top prep football talents on the road to National Signing Day, and this Saturday's edition is chock full of impact players who're still on the fence when it comes to their college destination. Here's our list of the Top 5 Uncommitted Recruits In The US Army All-American Bowl (And Where They May Land).
5) LB Caleb Kelly -- Fresno, CA (Clovis West)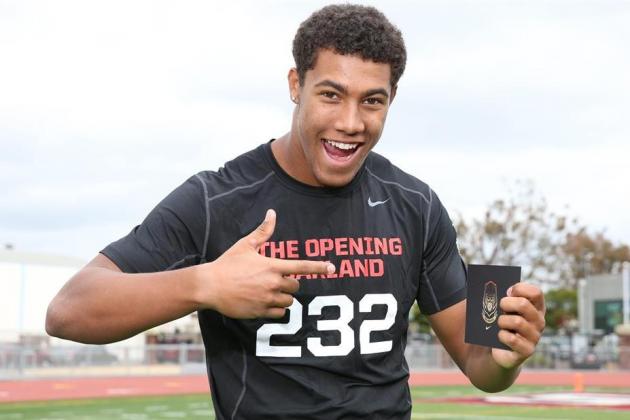 Michigan, Oklahoma, Oregon and Notre Dame have all hosted Kelly for official visits, but there's one clear favorite to bring him into the fold on National Signing Day -- the Sooners. OU was the first school to offer Kelly and he's never wavered on them while other schools have risen and fallen on his shortlist. Plus, they're losing five linebackers. That just screams opportunity for Kelly.
Prediction: Oklahoma Sooners
4) ATH Mecole Hardman Jr. -- Elberton, GA (Elbert County)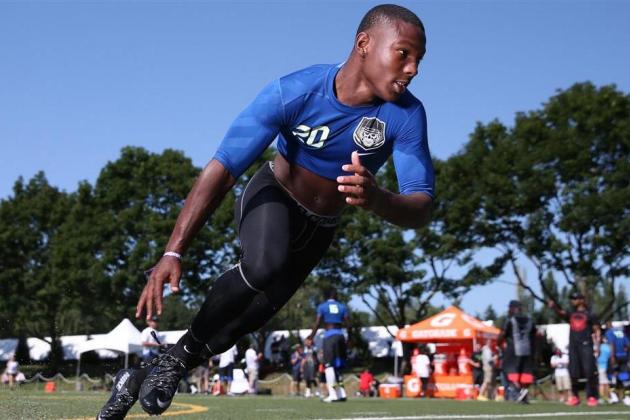 Hardman can do it all -- on the first day of practice for the All-American Bowl, he torched cornerbacks over and over while playing at receiver. He moved on to playing more cornerback on Monday, and also is an electric kick returner. Alabama is his reported favorite right now, but in-state Georgia has been all in on him for awhile and the Vols have also been pushing hard. It's basically a UGA/Alabama showdown, and we're sticking with the team he calls his favorite -- at least for now.
Prediction: Alabama Crimson Tide
3) LB Mique Juarez -- Torrance, CA (North High School)
USC lost out on a linebacker who could up being a generational talent in the middle of last season, and they're likely going to lose him to their Southern California rivals -- the UCLA Bruins. Jim Mora's got this one on lockdown, unless an SEC school (or Oklahoma) swoops in at the last second and stuns everyone.
Prediction: UCLA Bruins
2) TE Isaac Nauta -- Buford, GA (IMG Academy)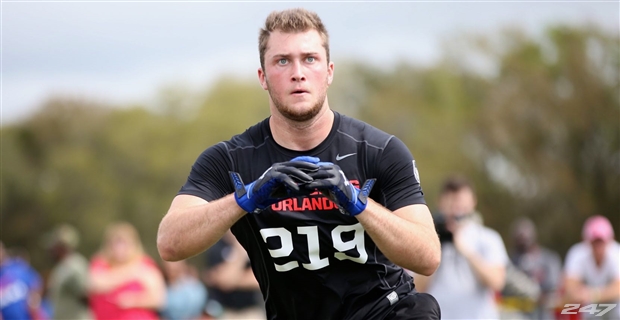 He's a fantastic blocker and a perfect prototype for the modern tight end on offense. Nauta is going to vault some lucky collegiate quarterback's stock into the stratosphere. Many assume that quarterback will be suiting up for in-state Georgia, but the Michigan Wolverines and Alabama Crimson Tide are also hot on the trail. We're leaning towards in-state UGA, although the Wolverines have emerged as a real contender.
Prediction: Georgia Bulldogs
1) DT Derrick Brown -- Buford, GA (Lanier)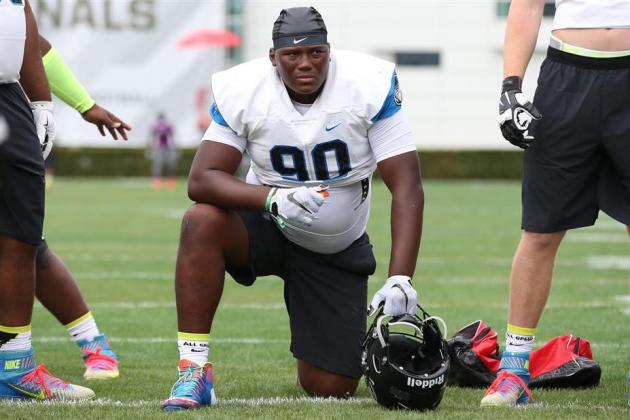 Brown is an absolute beast, totaling 101 tackles and 7.5 sacks as a junior. Considered by most recruiting services to be a consensus top-eight recruit, Brown appears to be a lock to stay in state at UGA. Auburn, Tennessee and Mississippi State are all in the running as well, but they are way behind in the race.
Prediction: Georgia Bulldogs
Back to the NCAA Newsfeed
Related Topics: Demetris Robertson, Isaac Nauta, Caleb Kelly, Mique Juarez, Mecole Hardman Jr, Derrick Brown